No kid says "No" to a pasta dish, and my kids are no different. However, as a health-conscious mother, I do my best to get as many vegetables in their diet as possible. Also, I try to limit our animal protein intake as much as possible to make it easy on our digestive system.
Since I am a gardener, I try to follow the season and what's available in my garden to feed the family the freshest and most nutritious meal.
In this recipe, we are using summer vegetables such as zucchini, tomatoes, and peppers. Mushrooms add extra flavor and meatiness, but they are not an absolute necessity.
What vegetables can we use to make veggies bolognese?
During the summer, the garden is full of colorful vegetables. Peppers, eggplants, and zucchini make a great bolognese sauce. They are easy to handle and give you a choice to grate or chop them up. Either way, they soften up nicely after cooking, rendering a nice thick sauce.
The variety of vegetables we may use in the wintertime is much different from the summer. We have cauliflower, broccoli, turnips, rutabaga, and kohlrabi in the cool season. The vegetables also are easy to chop or grate to make a great bolognese.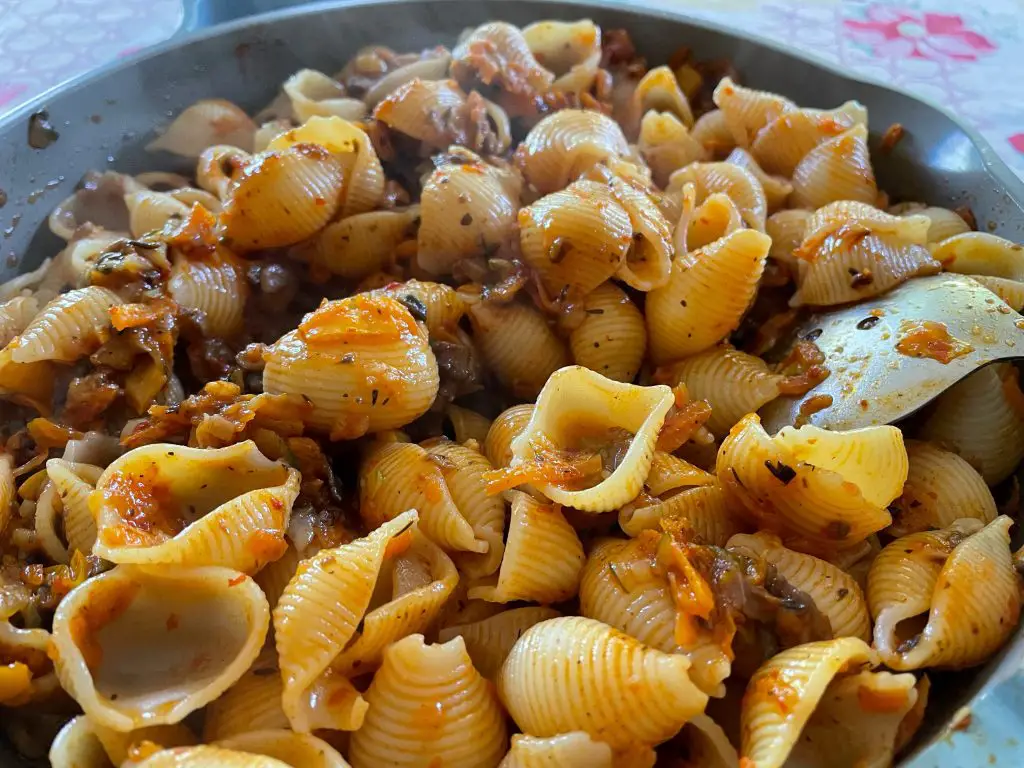 The basics of making vegetable bolognese sauce
The process of making this vegetarian bolognese is straightforward.
Sautee some chopped onions and minced garlic in olive oil or any other cooking oil you choose.
In the meantime, grate or chop the vegetables of your choice.
Add the veggies to the onions and garlic to saute and soften.
Depending on your preference, add a tablespoon of tomato or pepper paste. You can also add two cup cups of tomato puree.
Season with salt, pepper, and paprika.
Sprinkle some aromatic herbs such as basil, thyme, oregano, and bay leaf.
If the sauce is too thick, add some water. Although, it is best to use some of the pasta cooking water.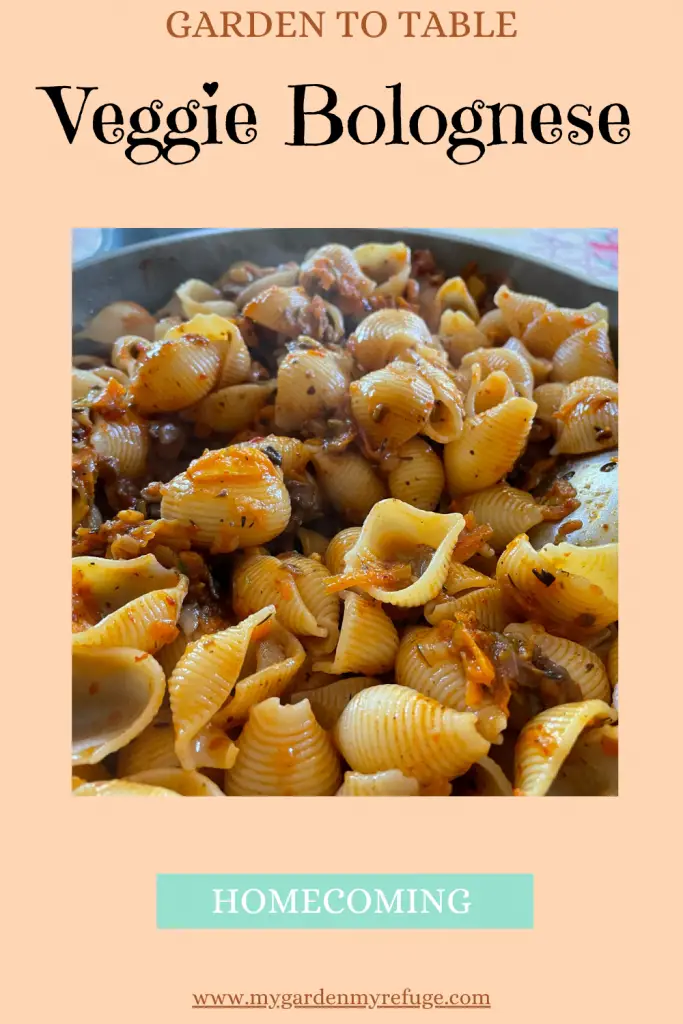 Why add mushrooms to the bolognese?
Mushrooms are often present in vegetarian dishes as a substitute for meatiness. Thanks to their glutamate content, which is also present in meats, they are a great vegetarian substitute for animal protein.
The fun fact about mushrooms is that they contain a substance called Elgostraol, which turn is to Vitamin D when exposed to UV lights. Unfortunately, most commercial mushrooms are grown in dark conditions, so their vitamin D content is much less than wild mushrooms. Nonetheless, they are still a good source of vitamin D for vegetarians and vegans.
Vegetable Bolognese
This vegetable bolognese sauce is hearty and filling; you would not miss the meat. It also coats pasta very.
Ingredients
3

tbsp

olive oil

Any cooking oil will do.

1

medium onion, chopped

4

garlic cloves, minced

2

carrots, grated or chopped

1

zucchini, grated or chopped

1

cup

diced sweet pepper

You may use hot peppers.

2

portobello mushrooms, chopped

2

bay leaves

1

tsp

thyme

1

tsp

salt

1/2

tsp

black peppers

1

tsp

paprika
Instructions
Preheat the oil in a shallow saucepan, then add the onions and garlic. Allow them to wilt without getting any color.

Wash and grate all the carrots and zucchini. Also, dice the peppers and mushrooms. Then add them to the onions.

Dilute one tablespoon of tomato or pepper paste in a cup of water, then pour it over the veggies.

If using tomato puree, add it straight into the pan.

Season with salt, pepper, and paprika, and add the herbs.

Cover and reduce the heat to a simmer. Allow cooking for 15 to 20 minutes, checking on the moisture level.

If the sauce is too dry, add some of the past cooking water.

It is best to use hollowed or textured pasta. It holds the sauce better than the smooth one.
Notes
Winter vegetables to use for this recipe are cauliflower, broccoli, turnips, kohlrabi, and rutabaga. 
If you are into ethnic seasoning, you may add a teaspoon of curry powder or garam masala. 
The choice of herbs is open. You may use oregano, parsley, basil, and curry leaves. 
Nutrition
Calories:
100
kcal
|
Carbohydrates:
9
g
|
Protein:
1.6
g
|
Fiber:
2
g