When you say beans, heavy and hearty winter dishes come to mind. However, that does not have to be the case. This bean soup is effortless and quick to make for a summer lunch or dinner. So come along to learn how to make this simple and easy shrimp and bean soup for your next meal.
What you need to make the shrimp and bean soup
Olive oil is the main oil in the Mediterranean diet. It has a low smoke point, so it is an excellent choice for stew-like cooking rather than frying. It adds a rich, fruity flavor to the dish, but you also use any other cooking oil you prefer.
Garlic is another crucial ingredient in Mediterranean cuisine. It is rich in antioxidants, vitamins, and other compounds that seem beneficial to our health.
Carrots add a nice color to the soup. I decided to grate to make the beans and the shrimp stand out more.
Parsley adds a lot of flavor to the soup, especially if it is homegrown.
Basil is the star of summer gardens. Adding basil to this soup is what gives it the summery flare.
Shrimp is lighter than using sausage or any red meat. Therefore, it makes the soup light for the summer days.
Pepper paste adds flavor and color. It is less acidic than tomato paste.
Beans are the main ingredient in this soup. However, I prefer white beans to dark-colored beans because they seem to fit better with summer colors.
Salt, pepper, cumin, and paprika are all you need to season this soup.
Lemon is a refreshing ingredient and adds a lot of flavor to the soup.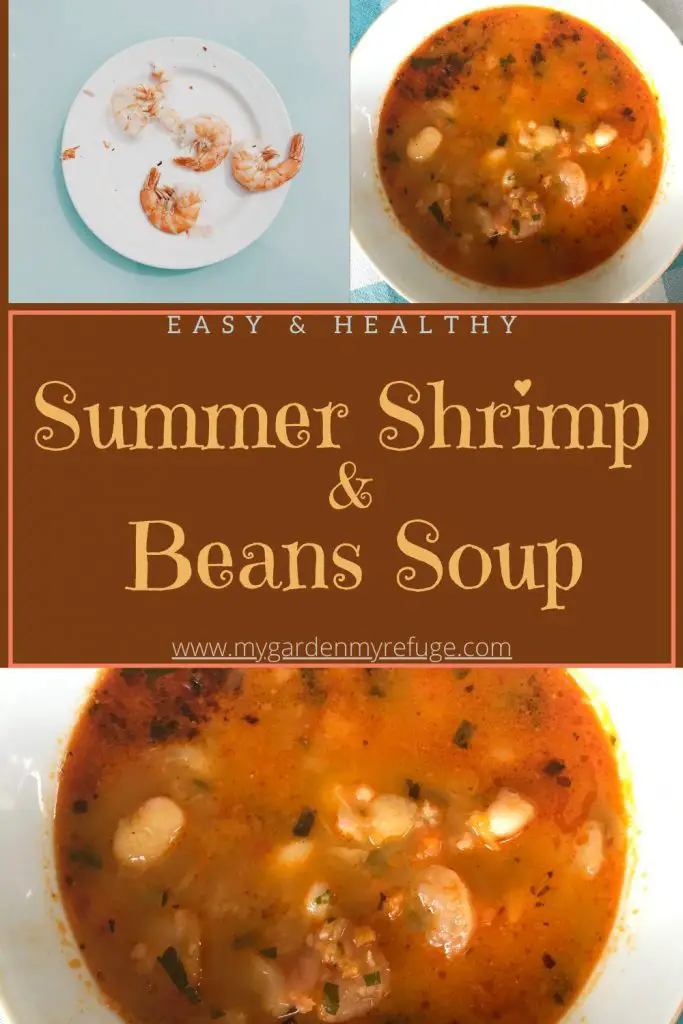 Dry bean vs. canned beans
Using dry beans is much better than using canned beans. However, you can use either. I would encourage you to use dried beans for they are much more affordable and cleaner. Here is how to prepare the dried beans for use at any time.
Wash the beans from any dust and debris.
Place the beans in a bowl, then fill with water to soak overnight.
The following day, drain them and rinse them once more.
Transfer the beans to a stock pot filled with water.
Do not add salt.
Put on fire and bring to a boil.
Reduce the heat to a simmer.
Allow cooking for 30 minutes. The beans should still have a bite to them.
Drain them from any remaining water.
Fill zip freezer bags with the desired amount. Flatter the bag for easy storage.
You can freeze beans for up to six months.
When needed, thaw them beforehand.
Can I freeze the soup?
You can freeze the soup in a container or a zip bag. Beware of liquid expansion when frozen, so don't fill the container or bag too much. You can also freeze it in small portions for easy individual use.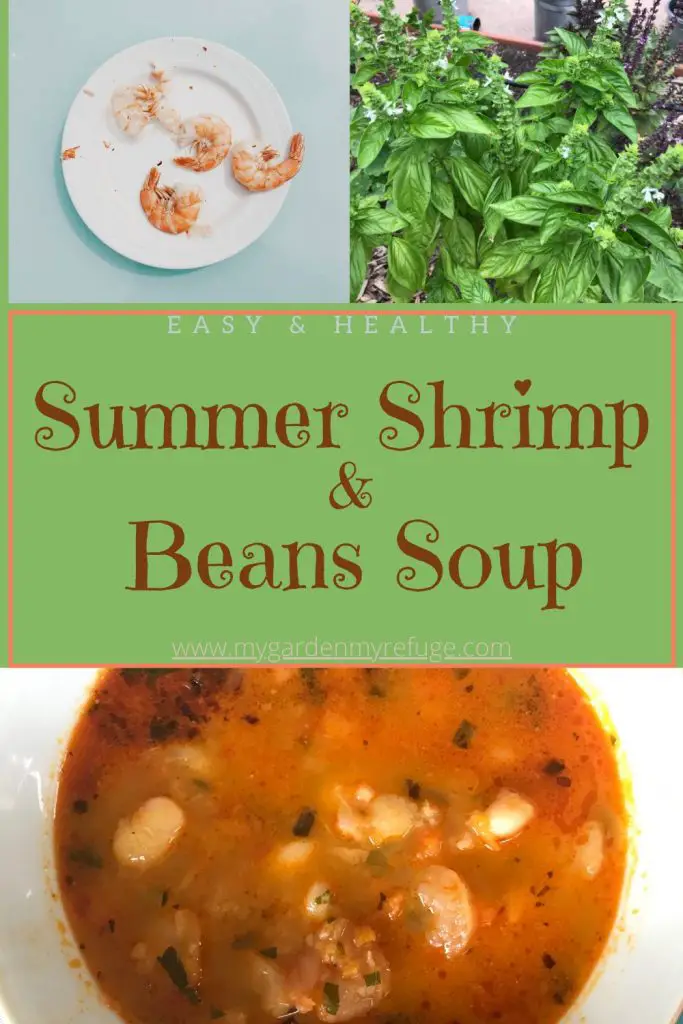 How to make the soup?
Prepare your ingredients by mincing the garlic, grating the carrots, and cleaning the shrimp.
Preheat a soup pot, and add the oil of your choice.
Add garlic, carrots, and sauté to give them color.
Add the beans and the pepper paste, stir to coat, then season with salt, pepper, cumin, and paprika.
Add enough hot water and bring to a boil. Reduce to a simmer and allow to cook for 20 minutes.
Ten minutes before the end of cooking, add the shrimp. Allow turning opaque.
Finish the soup by adding the herbs.
Serve with a loaf of crusty bread and a drizzle of olive oil.
Mediterranean Beans and Shrimp
This soup is a quick and easy recipe with simple ingredients yet very filling and flavorful. It is an excellent dish for a summer lunch or dinner.
Ingredients
1/4

cup

olive oil

5

garlic cloves, minced

1

cup

grated carrots

1

tbsp

red pepper paste

2

lb

shrimp, deveined

16

oz

white beans, precooked

2

tbsp

chopped parsley

2

tbsp

chopped basil

1

small lemon, zest and juice

3

tsp

salt

1/2

tsp

black pepper

1

tsp

paprika

1

tsp

cumin
Instructions
Preheat the oil in a soup pot, then saute the garlic and the carrots for one minute.

Incorporate the beans and the pepper paste, then give it a quick stir to coat.

Season with salt, pepper, cumin, and paprika.

Add enough hot water, then bring to a boil before reducing to simmer. It will be ready in about 20 minutes.

Add the shrimp last to prevent overcooking. It should take only a few minutes to turn opaque.

Finish it up by adding the basil and parsley.

Serve with a nice loaf of crusty bread.
Notes
You can add hot pepper if you prefer spicy soups. 
Use diced tomatoes to replace the pepper paste.
Substitute tomato paste for the pepper paste. 
If using canned beans, the cooking time is less than 20 minutes.
Nutrition
Calories:
388
kcal
|
Carbohydrates:
39
g