The vegetable garden is most colorful in the summer. Every crop variety offers an array of colors that expresses joy and cheerfulness. With the heat, everyone tries to cool themselves with light recipes and l refreshing drinks. This summer vegetable casserole is an easy dish to prepare in a bit of time.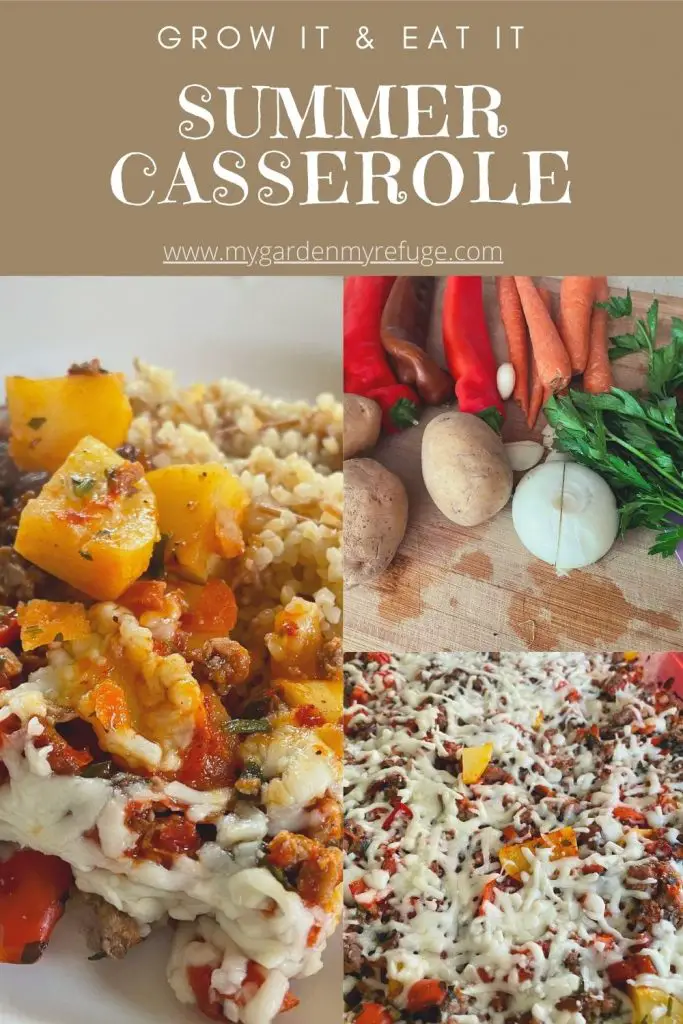 Nothing better than seasonal
Although the official start of summer is June 21st, in central Texas and the south in general, it begins in early June. Of course, some years are hotter than others, but primarily temperatures are already in the 100s by mid-June.
This time of the season, we are harvesting potatoes, peppers, tomatoes, garlic, onions, and the remaining bits of parsley. Also, if you grew carrots, you might be harvesting the last ones.
Eating in season is essential to me because vegetables have the highest nutritional value and flavor during their time.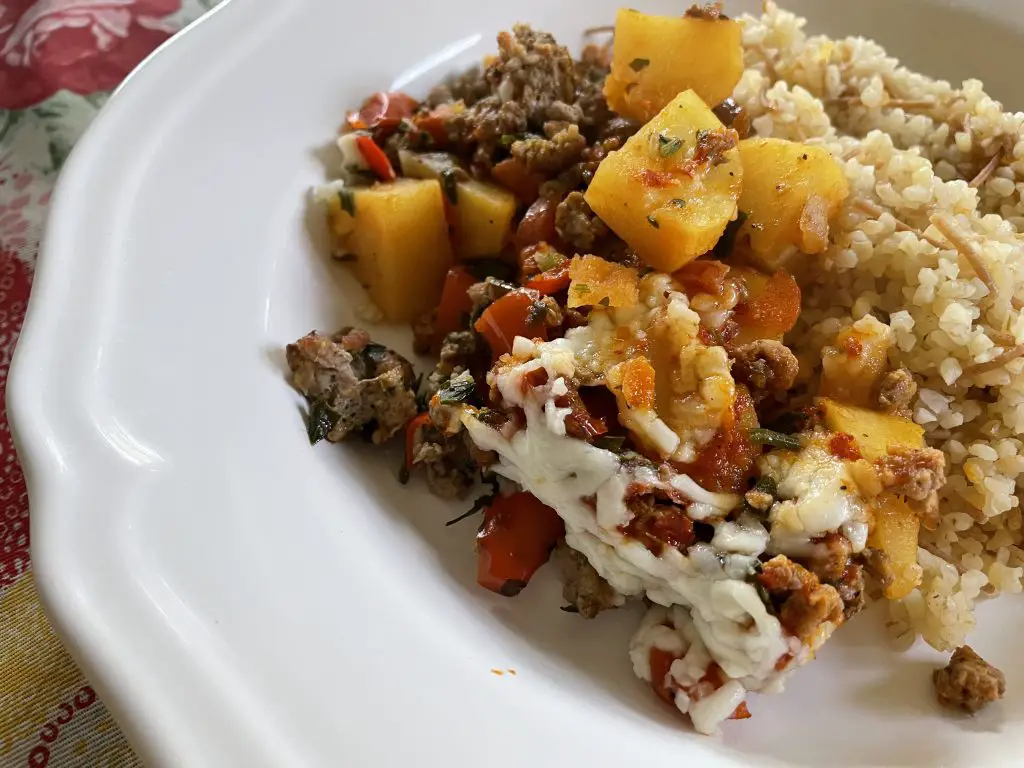 Nutritional value
Summer crops are the rainbow of the seasons since they come in more colors than any other time in the year. As you might already know, plants produce different phytochemicals that make these colors. For example, Carotenoids are responsible for yellow, orange, and red pigments we find in carrots, tomatoes, peppers, etc.
Anthocyanins are the phytochemicals responsible for the blue and purple hues we find in some fruits and veggies, such as eggplant and blueberries.
Although they are not considered essential nutrients, phytochemicals are believed to play a role in maintaining our vital systems healthy. But unfortunately, there is not enough evidence showing the specific effect they have on our bodies.
What you need to make this summer casserole
Onions: are among the easiest crops you might want to grow in your garden. In central Texas, we plant them around October for a June harvest. I usually grow enough to last me nine months of the year, which is plenty for my family.
Garlic: is another easy crop to grow at home. Like onions, we plant them in the fall for a long growing time of nine months.
Potatoes: depend a bit on luck when it comes to growing them at home. You may get a bumper crop or a total loss depending on the weather. In addition, for a home gardener, you never grow enough. However, homegrown potatoes have a flavor like no other. My favorite variety to grow is Yukon gold.
Peppers: are the star of summer after tomatoes. If you can grow peppers in your garden, do not hesitate. You don't need an in-ground garden; they do just as well in containers.
Carrots: are the most challenging crop to grow in central Texas, and that's not because they are demanding. Instead, their germination requires constant moisture, and our weather is not accommodating.
Tomatoes: are the number one homegrown vegetable in the USA. But unfortunately, it is not the easiest to grow.
Parsley: is one of the herbs anyone should try to have in their garden. It does well in containers as well as in the ground.
Ground meat: is an optional ingredient. If you are a vegetarian, you can easily skip it. Also, it does not have to be beef. Chicken and lamb are a great choice as well.
Spices: are the perfume of the dish. No Mediterranean recipe is complete without spice. However, since this recipe is so rich in vegetables, it does not need a lot of seasoning except for salt, pepper, and paprika ( you may use smoked paprika).
Cheese: is another optional but good to have ingredient.
How to make this summer casserole
This recipe was so easy that my teenage daughter was impressed by it. You start by chopping the onions, mincing the garlic, and then sauteing them in little oil. After that, you add the meat, allow it to be brown, and release its juices.
In the meantime, dice the carrots and peppers, then add them to the meat, giving them a quick stir. At this point, you can add the seasonings. Finally, place the lid and reduce the flame, allowing the veggies to soften slightly.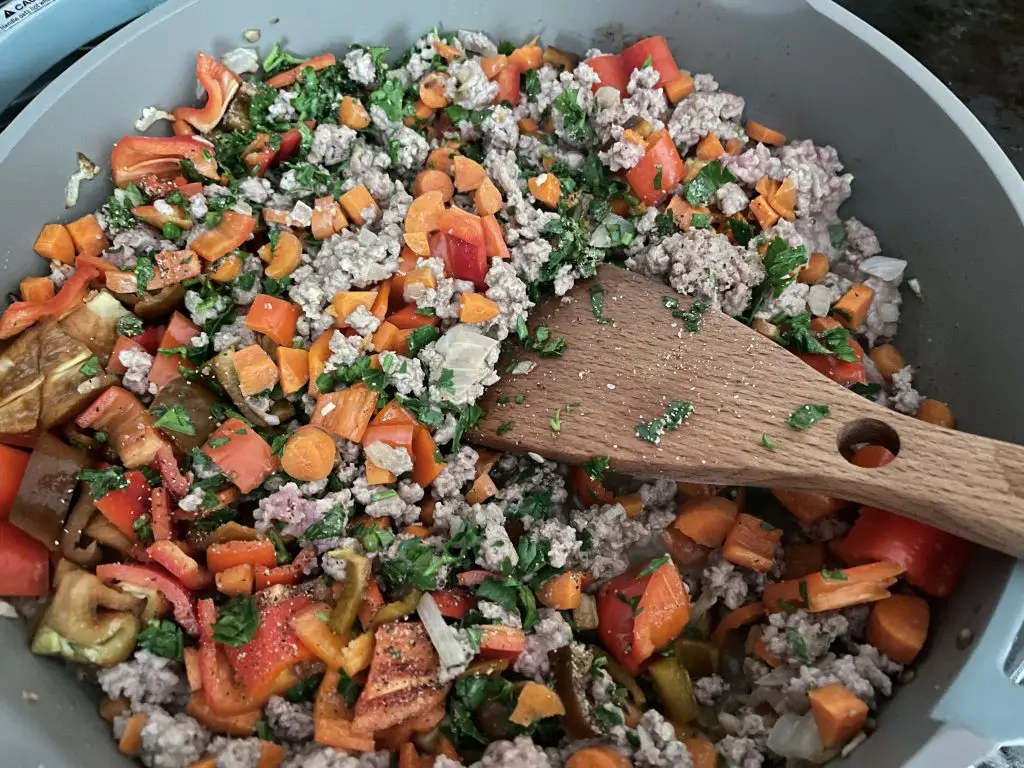 Make the sauce:
We need to make a quick red sauce. We will keep this recipe easy and simple by using tomato paste (or pepper paste). However, if you want to make a real tomato sauce, you can check my recipe eggplant casserole recipe for my quick tomato sauce.
To make the red sauce, dilute tomato paste in water and carefully pour it over preheated oil in the pan. You may use the same pan used for the meat and veggies. Finally, season with salt, pepper, and paprika.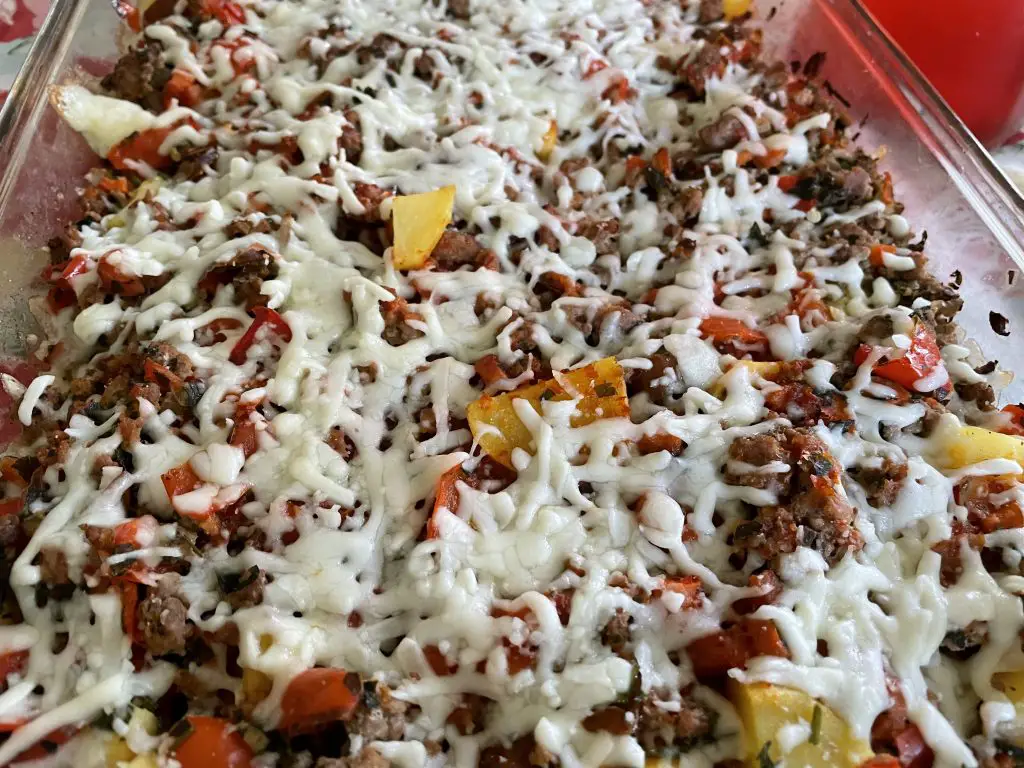 Assemble the dish
Now to put the dish together, we need to put the potatoes, meat and veggie mixture, parsley, and red sauce in a casserole dish.
Make sure to preheat the oven to 400F(200C). Then cover the pan with foil and bake for 25 minutes or until the potatoes are tender.
Uncover, sprinkle the cheese, and return to the oven for 15 minutes.
This recipe is very similar to my other pepper casserole, inspired by my favorite Turkish food blogger and vlogger, Aysenur Altan.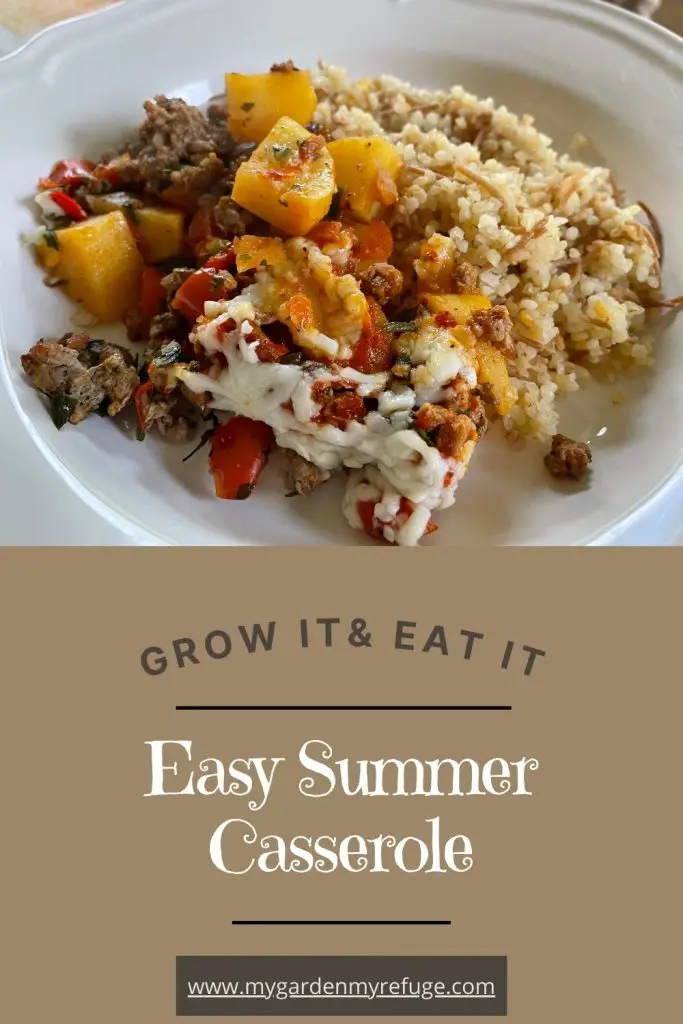 Summer Harvest Casserole
This recipe is quick and easy to make on a summer evening. It celebrates the early harvest of the hot season.
Ingredients
2

tbsp

cooking oil

1

onion, chopped

4

garlic cloves, minced

1

lb

ground or cubed meat

3

carrots, diced

3

sweet peppers, diced

4

potatoes, peeled and diced

1

cup

parsley, chopped

2

tsp

salt

1/4

tsp

black pepper

1/2

tsp

paprika
Red sauce
1

tbsp

cooking oil

2

tbsp

tomato or pepper paste

2

cups

water

1/2

tsp

salt

1/4

tsp

black pepper

1/2

tsp

paprika
Topping
1

cup

chredded cheese

1

cup

bread crumbs

optional
Instructions
Preheat the oil in a saute pan, then add the onions and garlic.

Once the onion turn translucent, add the meat and allow to brown.

Add the carrots, peppers, and seasoning. Then stir to coat and cover, reducing the heat to soften the vegetables for 10 minutes.

In the meantime, peel and dice the potatoes, then place them in a casserole dish.

Top the potatoes with the meat mixture and parsley.
Make the red sauce
In the same pan, add oil if needed and preheat.

Dilute the paste and seasoning in the water then pour into the pan.

Stir and cook till thickened and the oil starts to separate.

Pour the sauce over the vegetables, then top with cheese and bread crumbs.

Cover and bake in a preheated oven at 400F(200C) for 25 minutes.

Remove the cover and continue baking for 15 minutes to color the top.

Enjoy with a serving of burghul wheat, rice, or with bread.