In the summertime, the garden is at its peak of production. Tomatoes are usually the first harvest crop, and they tend to come in all at once. My kids love to eat tomatoes just like that, raw with no seasoning. When I get a few that are ripening too fast and risk going bad, I make tomato soup, which my little one prefers to call liquid pizza.
Simple and easy tomato soup
To make this soup, you won't need many ingredients. Its deliciousness lies in its simplicity. My ingredients come from my garden, giving the soup the freshest flavor. Here is what you need:
Fully ripe tomatoes. You can use any color tomato, not just the red ones.
A nice bundle of Italian basil.
Olive oil or butter.
Sugar, salt, and black pepper.
Garlic.
Heavy cream.
If you prefer thicker soups, add a potato as a thickening agent.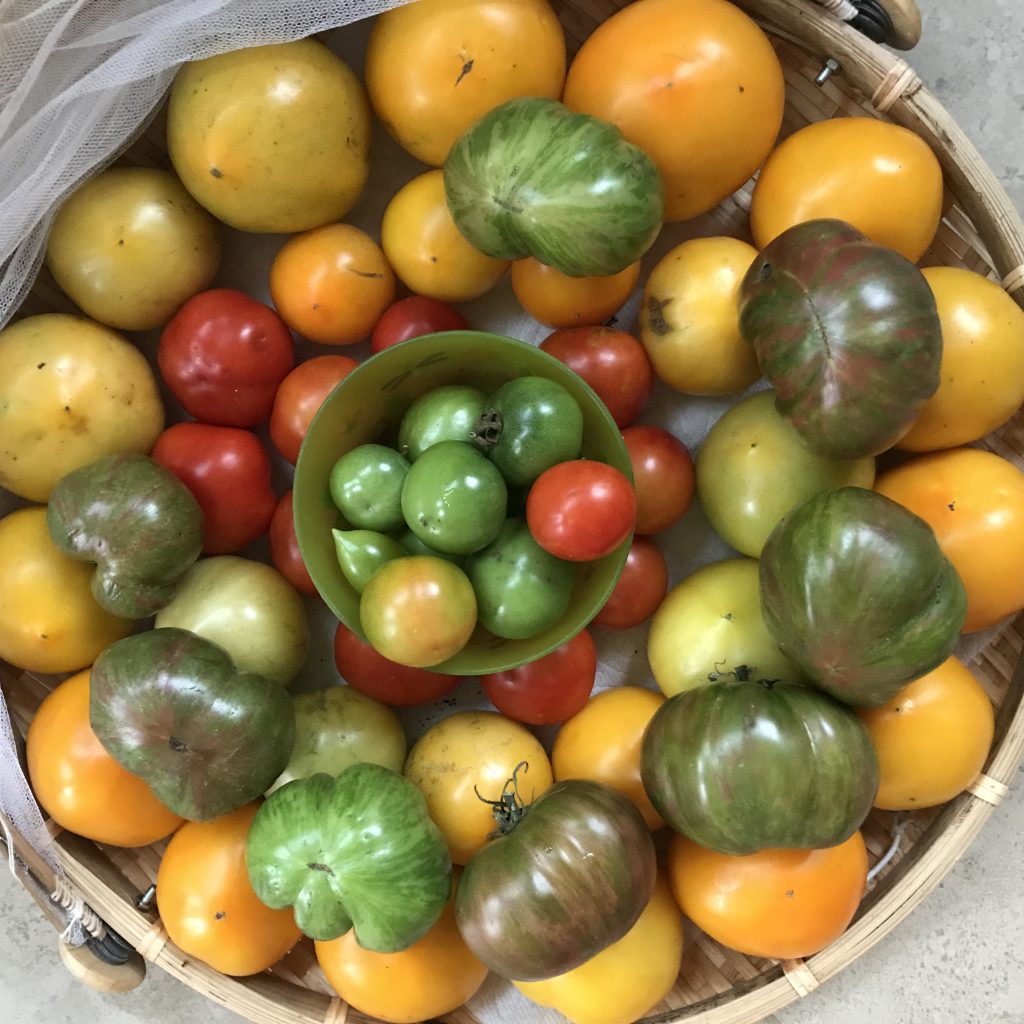 Why are homegrown tomatoes more flavorful than commercial ones?
You are missing a lot if you have not yet tasted homegrown tomatoes. There is no fair comparison between commercial and homegrown tomatoes. The latter is more concentrated in flavors and sugars.
Store tomatoes are picked unripe to keep them intact during their long travel. Then they are usually sprayed with artificial Ethelyn gas to get them ready for sale. Unfortunately, the spray turns them red quickly without developing the natural sugars, which results in less flavor. On the other hand, homegrown tomatoes emit ethylene gas naturally but slowly, giving the fruit enough time to develop its natural sugars.
What is the nutritional value of tomatoes?
Tomatoes are high in lycopene, which gives them the red color. The deeper the color, the higher content of lycopene. This compound is a powerful antioxidant believed to improve heart health, prevent cancer, and protect against sunburn.
It does not mean that other color tomatoes have less nutritional value. In addition to lycopene, tomatoes also contain Beta-carotene, which gives fruit their yellow or orange color. This compound breaks down into vitamin A, which is important for a healthy immune system.
Tomatoes are also high in soluble fiber and low in carbs, which makes them a wonderful snack for dieters. Their high water content also helps us stay hydrated in the heat of summer.
To read more about tomato's nutritional benefits check out this post.
How to make this tomato soup?
The process of making this soup is so simple and easy. The secret, however to its flavor is the caramelization process.
In a pot, preheat the oil or the butter.
Add in chopped tomatoes, hand-torn basil, pressed garlic, and sugar.
On medium flame, allow the tomatoes to melt and caramelize.
Then add some stock or just water, enough to cover the tomatoes.
Season with salt and pepper then simmer the soup for 20 minutes.
Once done, blend the soup smooth.
Transfer back to the fire, add in the cream, and stir.
Serve this soup with a toasted baguette round with melted cheese or a grilled cheese sandwich.
Tomato Soup
A light yet filling summer soup for your summer dinners or lunches.
Ingredients
3

tbsp

olive oil or butter

2

lbs

ripe tomatoes, roughly diced

basil leaves, washed and chopped

4

garlic cloves, pressed

1

tbsp

sugar

2

pints

vegetable stock or water

1

cup

heavy cream

3

tsp

salt

1/4

tsp

black pepper
Instructions
Preheat a soup pot, then add the butter or the olive oil.

Add the tomatoes, basil, garlic, and sugar. Give them a quick stir, cover, and reduce the flame to medium to allow them to caramelize. It should take from three to five minutes.

Uncover, add the liquid, season with salt and pepper, and simmer for 20 minutes.

After 20 minutes, blend the soup smooth.

Transfer back to the stove and stir in the cream.

Serve with a grilled cheese sandwich or croutons.
Nutrition
Calories:
129
kcal
|
Carbohydrates:
8
g