When this dish makes its way to my weekly meal plan, that's the declaration of the arrival of summer.
With all fairness, I got the recipe from Ina Garten's show Barefoot Contessa. At the time, I was not a gardener, but I had a passion for seasonal food.
Then when I started gardening to feed my family, this dish became a motivator. I remember promising my husband to make it from my homegrown veggies the following summer.
Indeed the year 2016 was the first time I made Veggie Tian all from my backyard.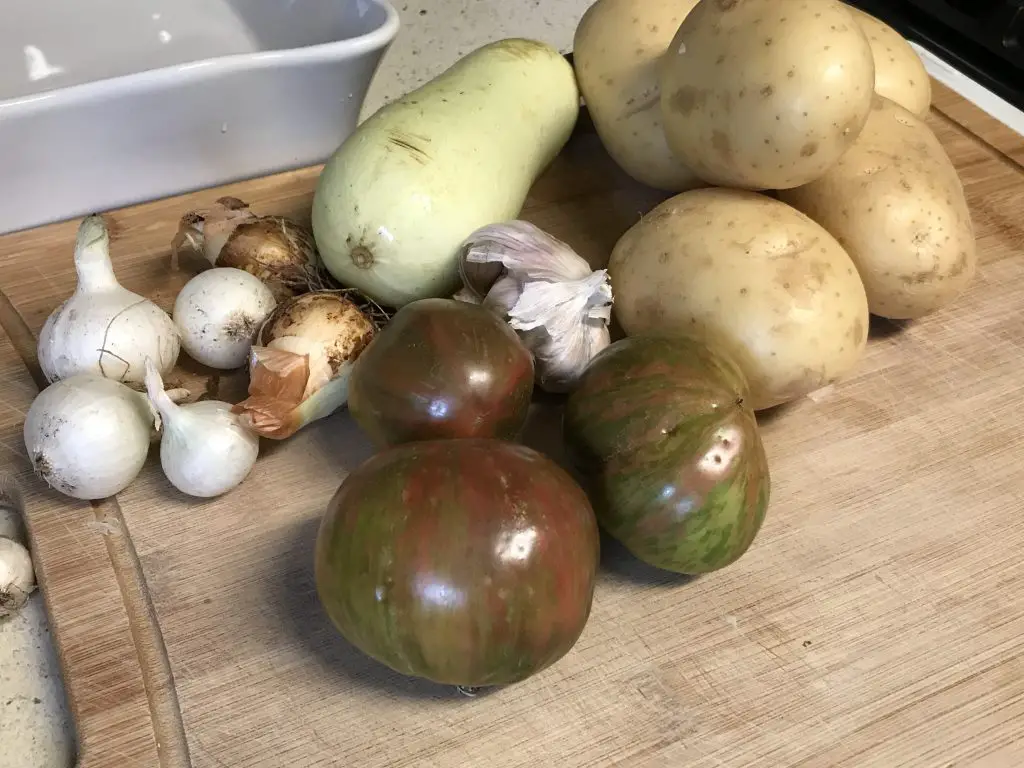 Harvest your Ingredients
The vegetables needed for this dish are easy to grow in the garden. Tomato and zucchini are summer crops that grow from April through the first frost. Potatoes and onions have a long growing period, but their harvest time is early in the summer. Thyme is a perennial herb that is available for harvest any time of the year.
Prepare the Veggies
Growing vegetables relieves the worry about pesticide residue in the food. Buying organic is also another option, but it is costly. Washing the produce under running water is more effective than dunking it in a bowl.
Using a soft bristle brush help remove more dirt and residue from the outer skin.
After cleaning the vegetables, slice them as thin as possible. Using a mandolin makes the job quick and easy.
In a preheated skillet, caramelize the sliced onion in some oil. This step needs some patience to allow the natural sugars to develop.
Meat or no meat?
Most of the time, I make this dish without meat. It goes well with grilled fish or meat. But for those who would like to make it richer, adding ground meat patties is an option.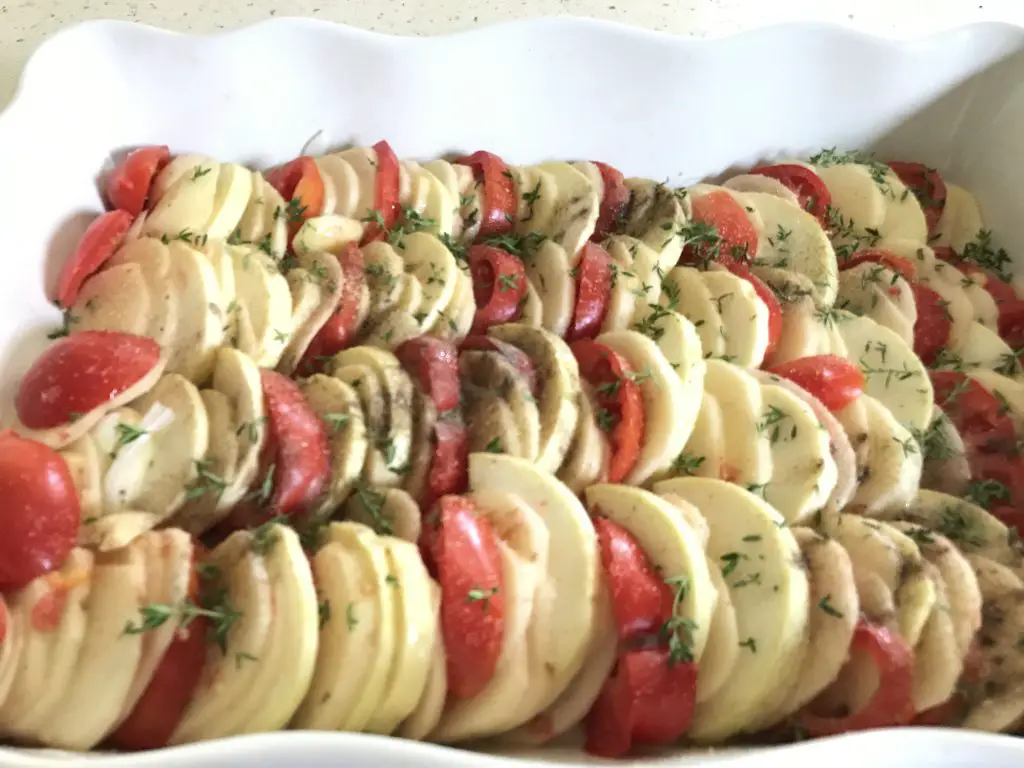 Put it Together
Lay the caramelized onions at the bottom of a casserole dish.
Arrange the vegetables on top of it, alternating potatoes, tomatoes, zucchini, and so on.
Season the vegetables with salt, pepper, a sprinkle of garlic powder, and thyme.
Drizzle with olive oil.
If adding meat patties, place them in between the vegetables.
Bake
Cover with aluminum foil and bake at 375F for 40 minutes. Then uncover and top with the shredded cheese, continue baking for 15 minutes.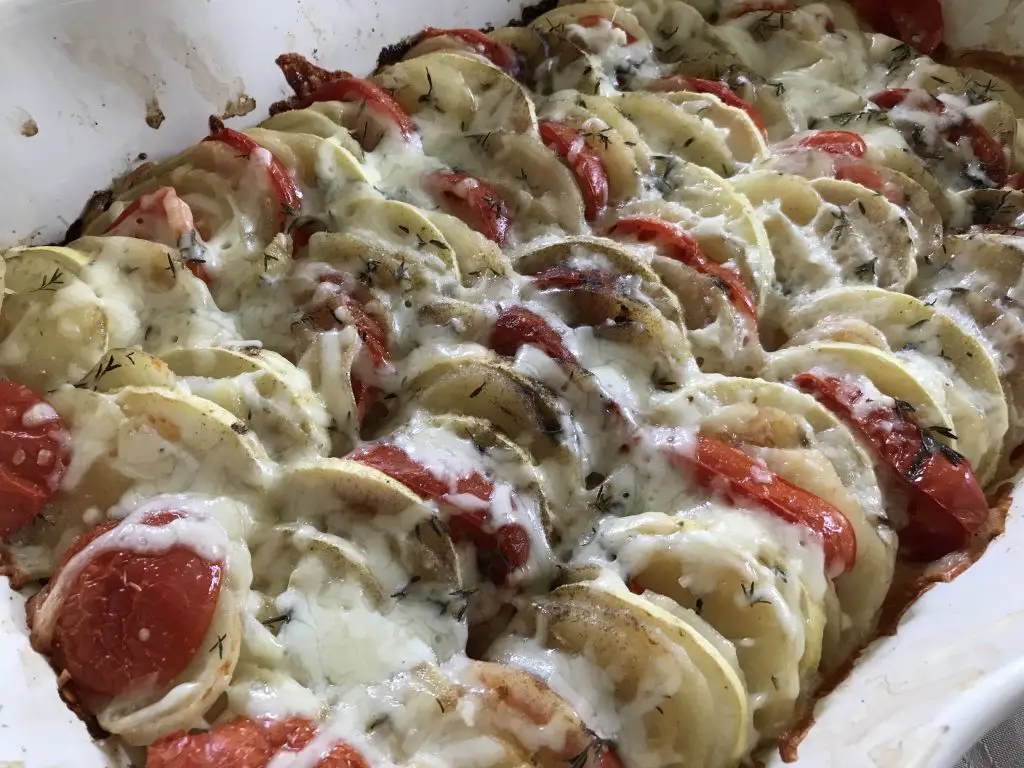 Variety
Some other vegetables that can make this dish delicious are peppers, winter squash, and rutabaga.
Bon Appetit
We hope you will give this recipe a try and find a way to enjoy your harvest. Do not hesitate to share your thoughts with us. We would love to hear about any modifications you would make.
Summer vegetables Tian
This a great summer dish that can be vegetarian or not. It uses the summer growing produce in your home garden.
Ingredients
1

big onion, peeled and sliced

2

tbsp

cooking oil

4

sliced tomatoes

2

sliced zucchini

4

medium peeled and sliced potatoes

3

tbsp

olive

1

lb

ground beef

salt, to taste

Black pepper, to taste

2

tsp

Garlic powder

1

tbsp

thyme (fresh or dried)

1

cup

grated cheese
Instructions
The base
Preheat a skillet on medium heat, then add 2 tbsp cooking oil. Add the thinly-sliced onions. Allow them to sweat and caramelize. It will take about five to eight minutes.

Transfer the caramelized onion into a casserole dish.
Prepare the vegetables
It is better to use a mandolin to slice the veggies. Having the same thickness ensures even cooking.
Put it together
Preheat the oven at 375 F

Arrange the vegetables by lining them in a pattern: potato, tomato, and zucchini.

Once done, season with salt, pepper, a sprinkle of garlic powder and thyme. Then drizzle the olive oil all over the vegetables.

Cover with aluminum foil, and bake at 375 for 40 minutes.

Remove the foil and top it with the shredded cheese.

Put back in the oven for 15 minutes or until the cheese has melted.
Notes
Variation:
Add meat patties between the veggies. 
Use pepper rings, eggplants, or winter squash.
Mushrooms are a good addition to the caramelized onions.
Nutrition