Homegrown potatoes are proof that homegrown veggies taste nothing like storebought ones. Fortunately, potatoes are easy to grow, and their harvest is generous for the space they take.
When is the right time to plant potatoes in central Texas?
In central Texas, potatoes have two planting rounds. The winter round starts from February through mid-March. The summer round begins in August and ends in September.
However, winter planting has the most yield, so it is the year's main crop.
Seed potatoes vs. storebought potatoes
First, let's understand the term "seed potato." It is a regular potato saved from the previous season and reserved for planting. These potatoes do not go through any chemical treatment. Of course, you can also grow potatoes from seeds, but that is not common practice.
Store-bought potatoes have a chemical coat to inhibit sprouting. Therefore, if planted, they will most likely rot in the ground. However, sometimes the chemical loses its potency, and the potatoes sprout.
Through the years, I planted both store-bought and seed potatoes. There was no noticeable difference yield-wise.
The downside to using seed potatoes is that they are not readily available. Since the providers are in the north, they can only make them available in winter.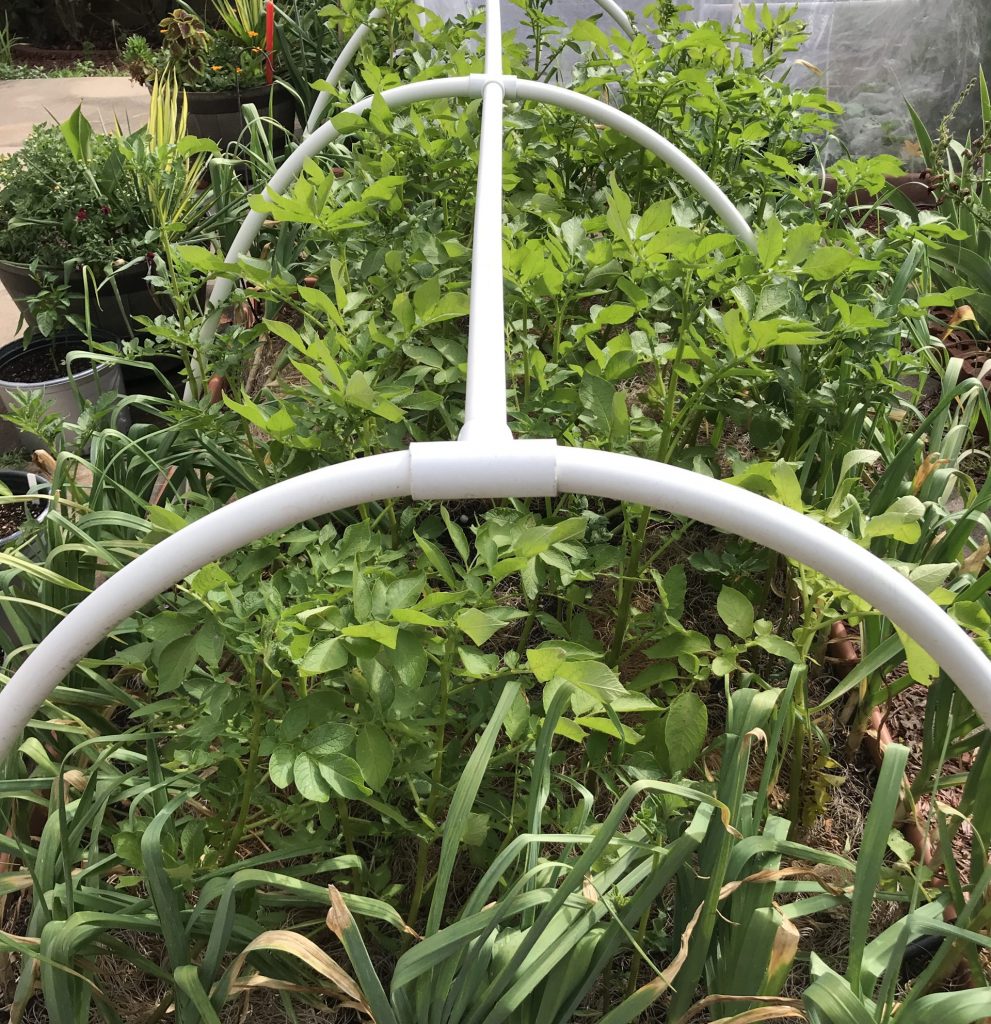 Some potato varieties for central Texas
There are more than 4000 potato varieties in the world. Find the proper selection for your specific region by visiting a local nursery. The most common potato varieties for central Texas are:
Kennebec white
Irish Cobbler
Red Pontiac
Red La Soda
Yukon Gold
My favorite for taste and performance is the Yukon Gold. I grew it for years, summer and winter, and it has yet to deceive me.
Set up realistic expectations
A great yielding potato produces five to seven potatoes per plant. With that said, the smaller the variety, the bigger its yield.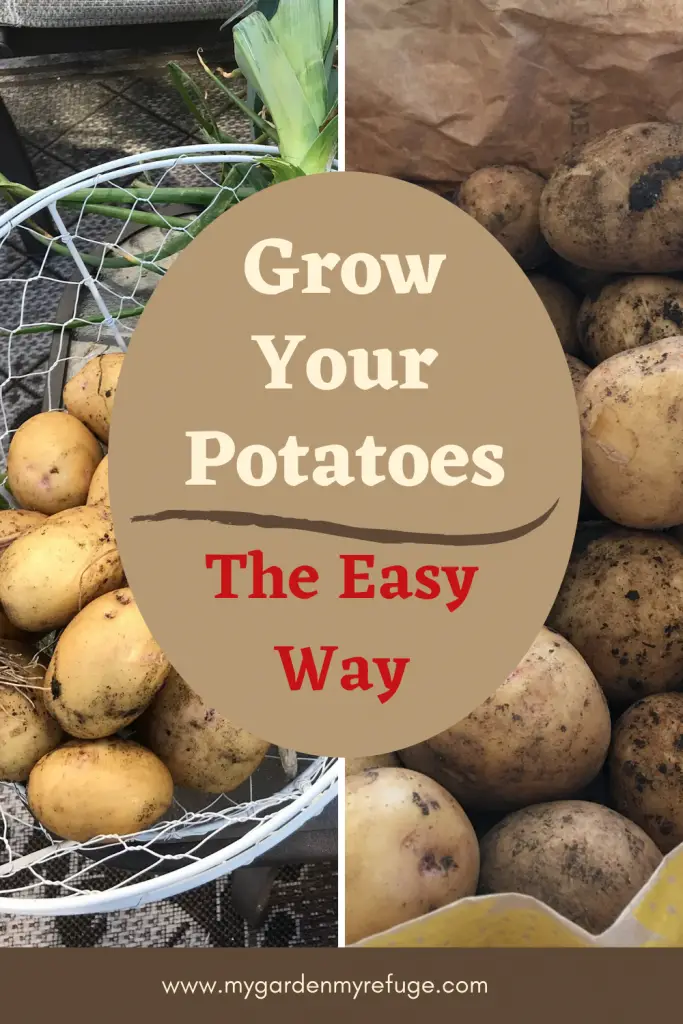 Growing potatoes in-ground, in raised beds, or in pots?
Deciding on the proper growing method depends on the native soil and how much labor you are willing to put in. Pots, grow bags, and raised beds are more convenient for a home garden.
Many gardeners grow potatoes in pots, and they seem to be successful. However, I find pot-gardening challenging in Texas. It needs more attention to maintain even moisture. Raised beds, on the other hand, are more manageable.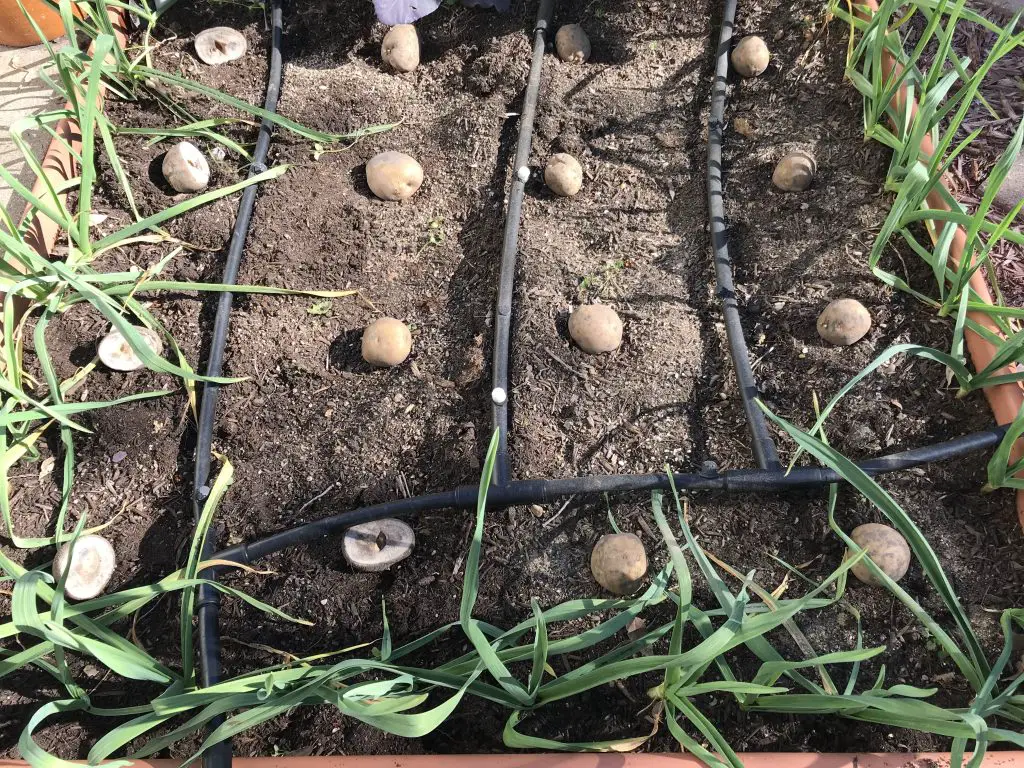 Potato growing requirements
Potatoes grow best in loose, well-draining soil amended with organic matter. If it is compact, the tubers won't be able to reach their ideal size.
Six hours or more of direct sunlight is crucial for growing potatoes because it provides the foliage with the necessary energy to make good-quality tubers.
Water the potato bed deeply once a week.
To chit or not to chit
Chitting is the pre-sprouting of the potato spuds before planting them. It is a way to get a head start on the season, but it is optional.
To chit potatoes, spread them in a single layer without touching. An egg carton is great for this. Place in a well-lit and dry area until they sprout.
Cutting the potatoes or leaving them whole
An egg-size potato is ideal for planting. Anything smaller will not perform well, but more giant potatoes, like russets, would require cutting into smaller pieces.
Curing the seed potatoes
Curing is dusting the cut-side of the potato with either sulfur or wood ash, then air drying it. It allows the potato to form an outer layer as protection from rot.
Furrows vs. Holes
Planting potatoes in raised beds does not require digging furrows. Instead, a hole three times the size of the potato works well.
Spacing
Following Mel Bartholomew's square foot gardening chart, plant one potato per square foot. For example, a four-by-four raised bed can fit 16 potato plants.
Hilling the potato plants
Exposing potatoes to sunlight triggers photosynthesis, which turns them green. These green potatoes are dangerous and are not suitable for consumption.
Hilling soil around the plant base blocks the light from reaching the tubers on the surface.
Following the square foot garden chart, densely planting potatoes allows the foliage to provide shade.
Watering
Potatoes do not appreciate too much water, nor too little water. Therefore, keeping a steady watering schedule is crucial, especially during a dry spell. Weekly deep watering is a good regimen.
Protect your potatoes from freeze
Potato plants are susceptible to freeze burn. A brief light frost damages the foliage, but a long one may kill it. Using row covers can help reduce the impact.
If the freeze damages newly-sprouted foliage, there is no need to worry. The potato will resprout and continue to grow. But if the damaged foliage is mature, you may consider harvesting.
When and how to harvest potatoes?
Potatoes take from 80 to 120 days from planting to harvest. Foliage dieback is the sign that they are ready. Lift the tubers using a garden fork.
Disease
The only disease I came across is potato blight. It turns the leaves yellow with brown patches all over the plant. The brown patches may reach the tubers causing them to rot.
The only preventative is to use disease-free potatoes and practice crop rotation. Don't plant potatoes in the same spot three years in arrow.
How to store fresh potatoes
Store potatoes by laying them in a crate filled with shredded paper or straw. Keep them in a dark, dry, and cool place.
---
Potatoes in the Kitchen
There is no shortage of potato recipes, but my favorite way of eating homegrown potatoes is boiled with a pinch of salt and a drizzle of olive oil. The following is a list of some of our top family recipes:
Potato cabbage soup (Colcannon soup)
Shepperd's pie
Potato dolma
Roasted potatoes