Soups are a staple in my menu plan. It might sound boring, but if you eat by the season, it is not. Soup day is my favorite because none of my four kids complains at the dinner table. They all sip it with joy, especially if accompanied by a quiche. The following soup is a spring favorite, where you get to use fennel and potatoes. It is rich and creamy with the herbal aroma of the fennel.
What you need to make this soup
This soup is easy and quick to make. Most of the ingredients are available in your fridge. In my case, making it with homegrown fennel and potatoes is a plus. These are two easy vegetables to have in the home potager. Here is the list of what you need.
1 pound starchy potato, like Yukon gold.
1 fennel bulb with some sprig of the foliage.
1 onion
3 garlic cloves
2 teaspoons salt
1/2 teaspoon black pepper
2 tablespoons butter
1 liter of homemade chicken stock (recommended)
1 cup heavy cream
How to make the soup?
In a pot, melt the butter then add the diced onions and the crushed garlic. Allow them to release their fragrance.
Add in the diced potatoes and chopped fennel. Give them a quick stir.
Season with salt and pepper, then pour the stock over the veggies.
Compensate with water if the stock does not cover the vegetables.
Bring the pot to a quick boil, then reduce the fire to a simmer.
Cook for about 15 to 20 minutes.
Using a blender or a hand mixer pulse the soup till smooth.
Bing back to the fire and add the cream.
Stir while allowing the soup to come to a boil before turning the fire off.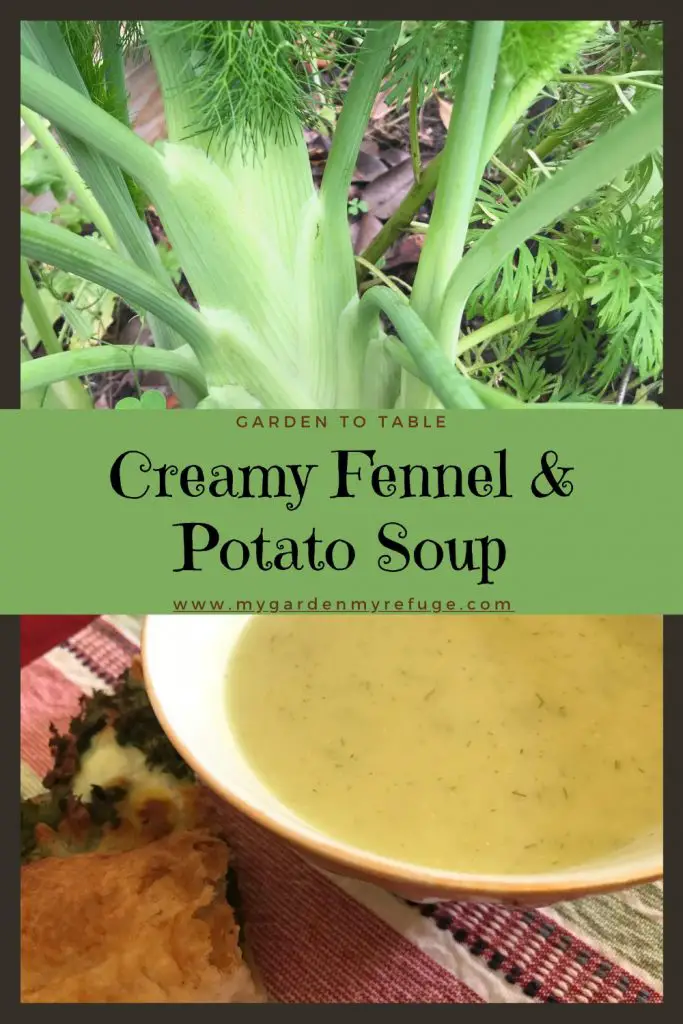 Nutritional value of fennel
Fennel is power house when it comes to nutritional value. Through history, it has been used to sooth stomach aches and bloating. Mothers used to give us fennel to crunch on to alleviate heart burn. All parts of the fennel are edible, the bulb, the stalk, the leaves, and the seeds.
Fennel is rich in vitamin C, A, And B6, E, and K. It is also rich is minerals such as potassium, iron, calcium, and many more. This makes fennel number one friend of bone health and a great contributor to betterment of the our immune system. It also helps regulate blood pressure and sugar levels.
Its high content of water and fiber improves the function of the digestive system. It also contributes to weight loss.
There is a lot to say about fennel. You may choose to read more about its benefits here.
Growing fennel in your garden
Fennel is one of the easiest vegetables to grow in the home garden. Even if you prefer to only have flowers and ornamentals, fennel makes a great statement with its foliage. Its ferny foliage is the nesting ground for butterflies especially swallowtail. Later in the season, its flowers attract many beneficial insect including butterflies. Keep the flowers on to harvest the seeds. You can add them to your rice for extra aroma, or make a soothing tea to relieve bloating or help you sleep.
Growing fennel only requires you to spread the seeds in a sunny location in the fall. Then water occasionally if the rain is scarce. By Spring the foliage will take off and fill up the space. you can harvest the bulb as soon as it reaches desired size. You can also use the leaves as you would dill. For a complete growing guide read my other post here.
Fennel & Potato Soup
A velvety rich spring soup using fennel and potatoes
Ingredients
2

tbsp

butter

1

lb

potatoes, diced.

1

fennel bulb, chopped.

1

medium onion, chopped.

3

garlic cloves, crushed

2

tsp

salt

1/2

tsp

black pepper

1

liter

chicken stock (recommended)

1

cup

heavy cream
Instructions
In a pot melt the butter, then add the onion and garlic. Allow them to become fragrant.

Add in the potatoes and fennel. Give them a quick stir.

Season with salt and pepper.

Add in the stock. Compensate with water if the stock does not cover the veggies.

Bring to a quick boil, then reduce the fire to a simmer. Allow to cook for 15-20 minutes.

Remove from fire then use a blender to blend the soup smooth.

Add in the cream, stir and bring to a quick boil before turning off the fire.

Garnish with chopped fennel leaves.
Nutrition
Calories:
184
kcal
|
Carbohydrates:
18
g