Pennyroyal is a herb from the mint family. In North Africa, mainly Algeria, it is forage during the springtime. Therefore, people harvest as much as possible for immediate use and drying.
In America, Pennyroyal is not well known. In fact, I was able to find it only once in the nursery as a transplant. However, if you visit one of the middle eastern or Mediterranean stores, you would find it sold as herbal tea.
Unfortunately, there is not much information about Pennyroyal. My mom used to give it to us as steam and tea when to calm down our sensitive sinuses. She also used it in spring dishes such as this root vegetable tajine and flatbread.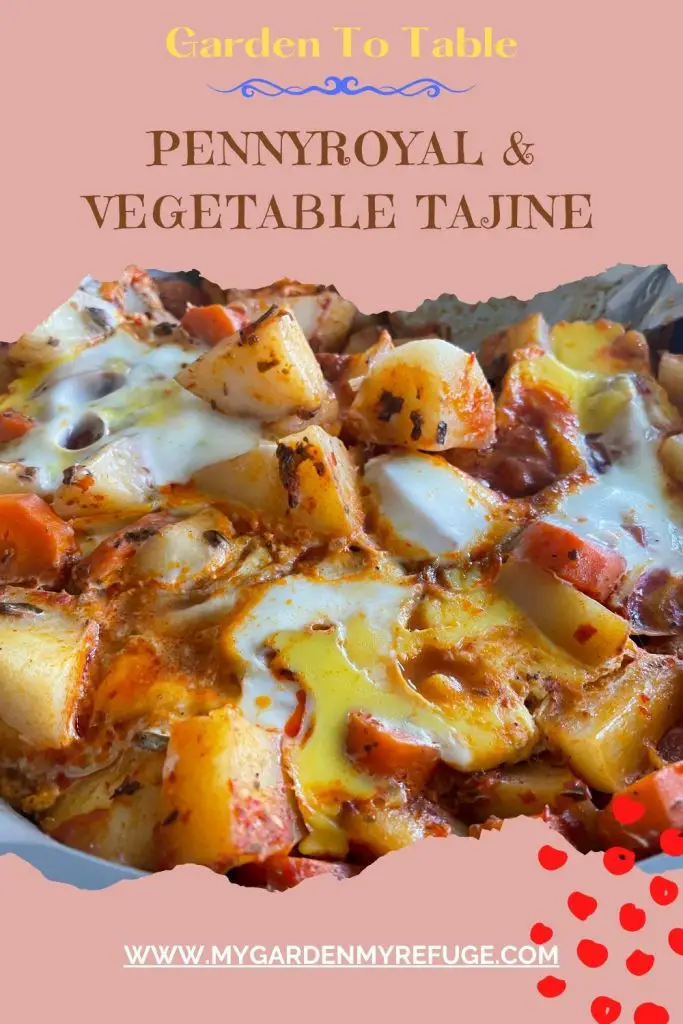 What is Pennyroyal?
As mentioned previously, Pennyroyal belongs to the mint family. However, its primary harvest time is the spring season. Although it is similar to the mint plant, its stems are not as upright, and the leaves are much smoother and smaller.
The plant has a sprawling growth habit similar to thyme, but the roots tend to root themselves, making it an invasive plant.
Pennyroyal substitutes?
Pennyroyal gives this tajine its unique flavor, but it is not easy to find most of the time. In this case, we may use some other potent herbs, such as spearmint or oregano, even if they won't give the dish the flavor we seek. So, I encourage you to look for it in the Middle Eastern and North African stores.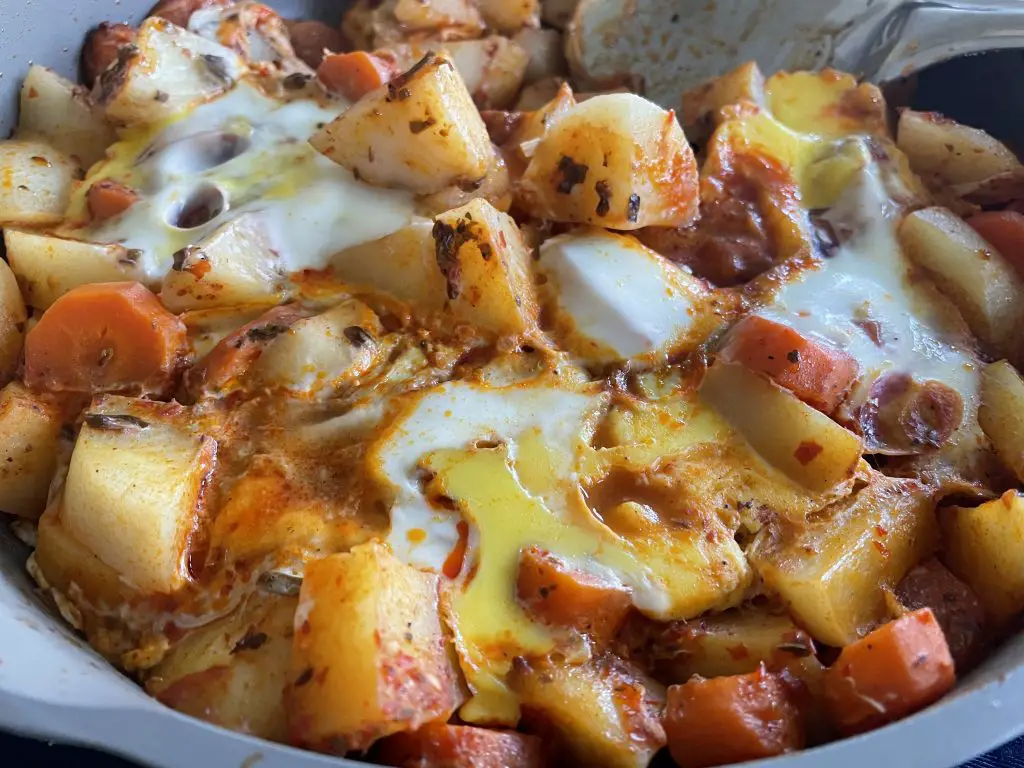 What you need for the Pennyroyal & root vegetables tajine?
To make this healthy pennyroyal & root vegetable tajine, you will need:
Garlic

is widely used in North African dishes with a red sauce base.
Red pepper paste is a Turkish staple, but you can find it in Algerian cooking, especially the spicy ones. Otherwise, tomato paste is a good substitute.
Olive oil is widely present in Mediterranean cuisine, yet any cooking oil will do the job.
Carrots and potatoes are universal, so no cuisine seems to do without them. However, I prefer to use rainbow carrots since they add more interest to the dish. Also, I am biased toward using home-grown potatoes in this recipe for their unique flavor.
Pennyroyal herb, fresh or dry, you would wash and tear apart with your hands instead of shopping it with a knife to preserve flavor. However, if using dried Pennyroyal, you must crush it between the palms of your hands to break the stiff stems.
Salt, pepper, and paprika are the only spices you would have to use in this dish. Some people like to ass cumin, but I find it a bit strong.
Eggs are an optional ingredient for added protein, but you can do without them.
How to make the Pennyroyal and vegetable tajine?
I tend to use clay tajine when making this recipe, but no means it is crucial. You may use any saute pan or pot.
Peel and crush the garlic. Also, the potatoes and carrots and dice them into bite-size pieces.
Preheat the oil in the pot, then add the crushed garlic and pepper or tomato paste. Add two tablespoons of water to prevent burning the garlic. Using a spoon, stir everything to combine.
Add the vegetables and seasoning to the paste, and stir to coat. Then add enough water to cover them.
Bring to a boil before reducing the heat to simmer. Cover the pot and allow it to cook for about twenty minutes.
Once the vegetables are fork tender, add the Pennyroyal. If using the fresh one, allow it to wilt.
If you choose to add eggs, this is the time to break a few on top of the veggies. You may whisk them beforehand, depending on your personal preference.
Turn off the heat and cover the pot to allow the eggs to set.
Serve with a flatbread or a crusty baguette.
Pennyroyal Vegetable Tajine
This recipe is easy yet delicious spring recipe from North Africa, featuring a pennyroyal herb.
Ingredients
3

tbsp

olive oil or cooking oil

1

tbsp

pepper or tomato paste

5

garlic cloves, peeled and crushed

5

big potatoes, peeled and diced

5

big carrots, diced

2

tsp

salt

1/2

tsp

black pepper

1

tsp

paprika

5

eggs
Instructions
Preheat the oil in a pot, then saute the garlic, pepper paste, and two tablespoons of water.

Add the vegetables, salt, pepper, and paprika. Stir to coat and saute for two minutes.

Add enough water to cover the vegetables. Then boil before reducing the heat to a simmer and covering the pot.

Cook for twenty minutes or until the vegetables are fork-tender but not mushy.

Once the veggies are ready, add the pennyroyal and the eggs. Then turn off the fire and cover. The eggs will set just by the heat.
Notes
Use oregano or spearmint instead of pennyroyal. Parsley will do too, but it won't have the strong flavor. 
Nutrition
Calories:
357
kcal
|
Carbohydrates:
56
g
|
Protein:
11
g
|
Fat:
11
g
|
Sodium:
887
mg
|
Fiber:
9
g