As summer comes to an end, the crops start slowing down production. Therefore, the harvest usually consists of small amounts of each crop, which present a challenge to a home cook. So, vegetable stir fry has been our go-to meal to make good use of whatever we get from the garden.
Stir-fry recipes are quick and easy to make. They are also the most appealing way to serve vegetables to kids by combining sweetness with crunch.
In this recipe, we are using green beans, peppers, and eggplants. When the summer lingers through fall, these vegetables keep on giving until frost.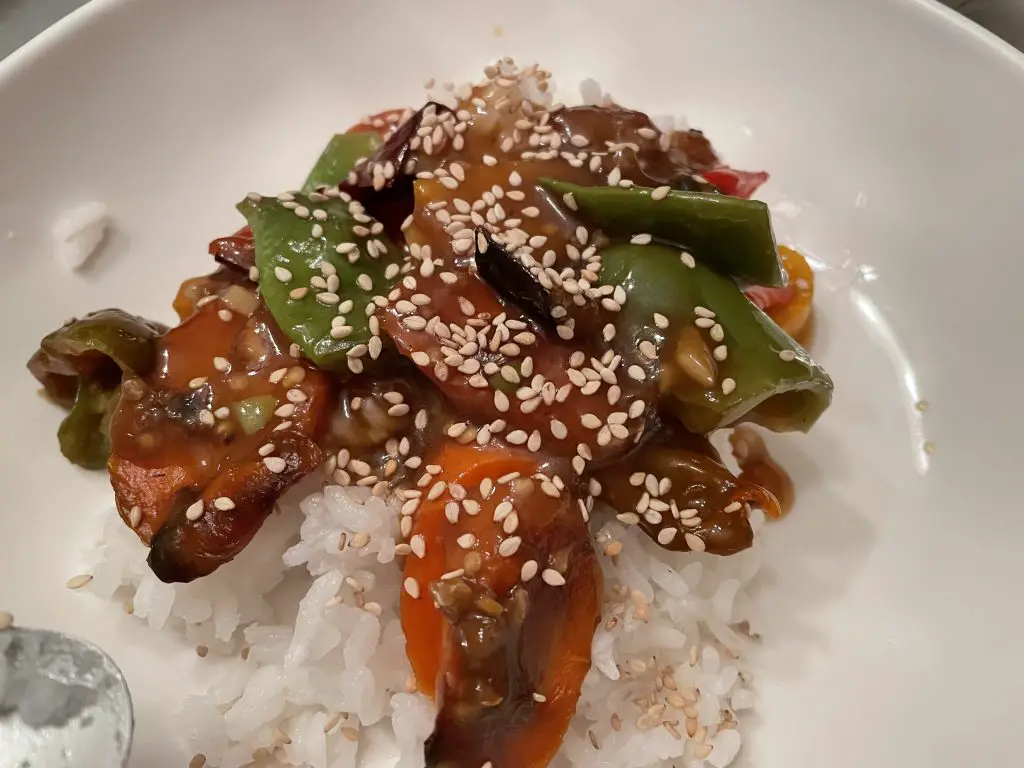 What you need to make the summer stir fry
Carrots do not grow in the summer. They prefer wet and cool weather. That's why I gave up on growing them in central Texas. However, they are a long-storage vegetable so you may use them year-round.
Eggplant is a summer staple in the Mediterranean and Asian cuisines. Although most people prefer it fried, in this recipe it is sauteed to make the dish more health-conscious.
Green Beans find their way into every cuisine; worldwide. They seem to taste great however you cook them, steamed, boiled, sauteed, or fried.
Peppers are one of my favorite summer vegetables. I find the red ones the most flavorful with a hint of sweetness to them.
Garlic makes everything taste better. It is also easy to grow, as long as you plant it at the right time.
Green onions are also known as spring onions. You can grow year-round in central Texas. You don't even need seeds, just replant the base of the store-bought one and they regrow nicely.
Honey is my sweetener of choice. Although it is not meant for cooking, I prefer using it to using sugar.
Soy sauce is the byproduct of fermenting soybeans and wheat. Therefore, you might opt for coconut or liquid amino for those who do not consume soybeans. The latter has much sodium content and is gluten-free.
Hoisin sauce is a fermented soybean paste with some other spices. It has no animal products, so it is great for vegetarians.
Sesame seeds are one of the oldest seeds grown to make oil. The top countries producing sesame seeds are Sudan, Myanmar, and India. It is rich in minerals mainly Calcium and Magnesium. It is also rich in Omega3 fatty acids.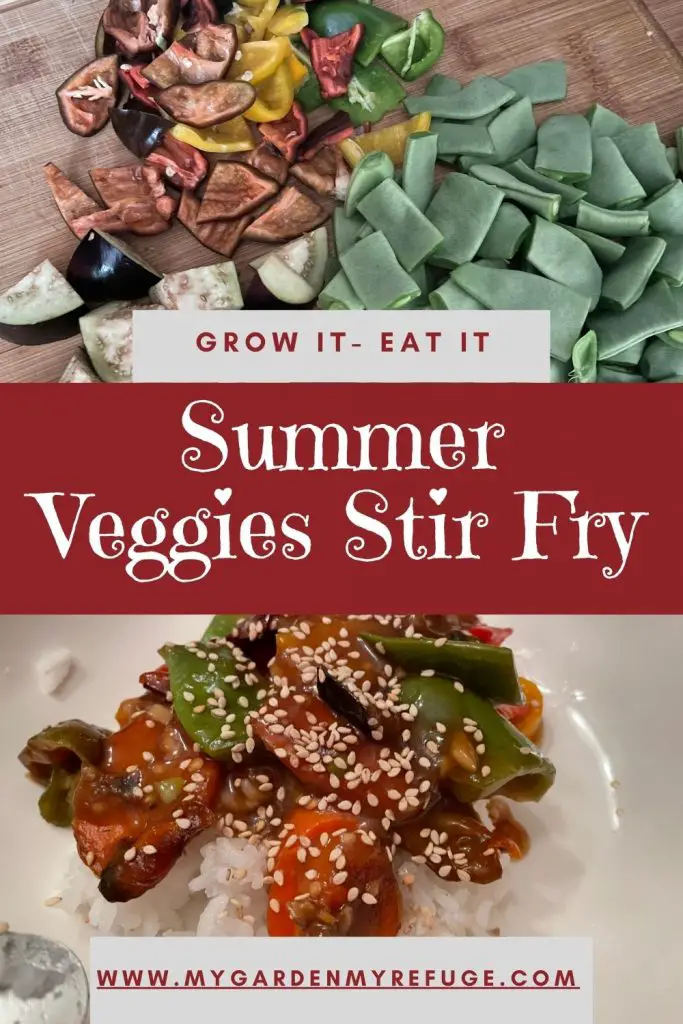 A no-meat stir fry
One might be surprised this recipe has no meat. Even though we are not a vegetarian household, I try limiting our meat intake, especially red meat to give our digestive system a break. But, you feel free to add any kind of animal protein you prefer.
How to make the summer vegetable stir-fry?
This stir fry recipe is as simple as one-two-three.
Wash the vegetables thoroughly, then dice them into bite-size pieces.
Preheat a wok, then pour three to four tablespoons of oil. ( you may use sesame oil)
Mince the garlic, or press it if you do not like to bite into it, then add it to the wok. Keep an eye on it for it can burn quickly.
Add the carrots and eggplants first to give them enough time to soften a bit. They taste better when they keep a bite to them, but not raw.
Lastly, add the green beans and the peppers. They also should not turn mushy.
You may cover the vegetable for two or three minutes to speed up the cooking.
In the meantime, prepare the sauce. First, whisk soy sauce, hoisin sauce, honey, and water in a bowl. Then add a tablespoon of starch and whisk well to dissolve.
Uncover the vegetables and pour the sauce over them. Using a wide spatula or spoon, stir everything together to coat well. The sauce will thicken and become shiny.
Garnish with chopped spring onions and a generous sprinkle of sesame seeds.
Serve the vegetables over a bowl of white rice.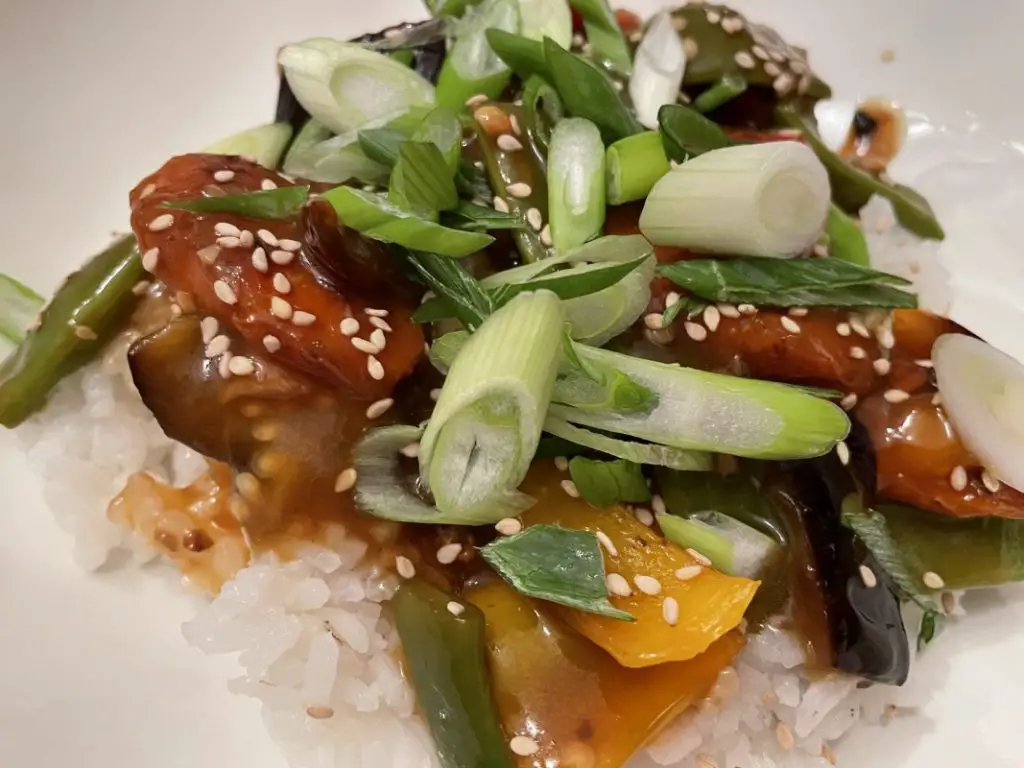 Summer Vegetables Stir Fry
This vegetable stir fry is an easy and quick recipe to make for a summer dinner.
Equipment
Wok

You may use a wide skillet
Ingredients
3

tbsp

sesame oil or any cooking oil

4

garlic cloves, minced

3

big carrots, sliced thinly and diagonally

3

banana sweet peppers, diced into bite-size pieces

1

lb

green beans, cut into one-inch pieces

1/2

cup

honey

1/4

cup

soy sauce

1/4

cup

hoisin sauce

1

cup

water

1

tbsp

cornstarch

2

tbsp

sesame seeds

3

green onion sprigs, cut
Instructions
Preheat a work, then add the oil and the garlic. Allow the latter to release its aroma, but do not burn.

Add the carrots and eggplant. Stir to coat and allow to soften for about five minutes.

Add the green beans and peppers. Stir to mix all the vegetables. Then cover and cook for five minutes or until soft enoughh but not mushy.

Whisk water, honey, soy sauce, hoisin sauce, and corn starch till homogenous.

Once the vegetables are ready, pour the sauce over them and stir to coat. It will thicken and turn glossy.

Garnish with sesame seeds and green onions.

Serve over a bowl of white rice.
Nutrition
Calories:
258
kcal
|
Carbohydrates:
45
g
|
Sodium:
806
mg