From late spring through mid-summer, the abundance of peppers triggers our cooking creativity. Although my kids enjoy eating raw vegetables, I always make them try recipes from other cultures. This Braised Chicken & Pepper is a twisted version of the Hungarian Chicken Paprikash.
What is a ragout?
Ragout is a slow-cooked French-style stew. It may or may not include animal protein. Most of the time, it contains only vegetables and maybe beans. It is a hearty dish with a flavorful silky sauce.
There is also the Italian Ragù. It is a slowly cooked minced or ground meat in a thick sauce, which goes well with hollow pasta shapes.
The slow cooking method, also known as braising, gives the different flavors time to fuse. The resulting smooth sauce pairs very well with any starch.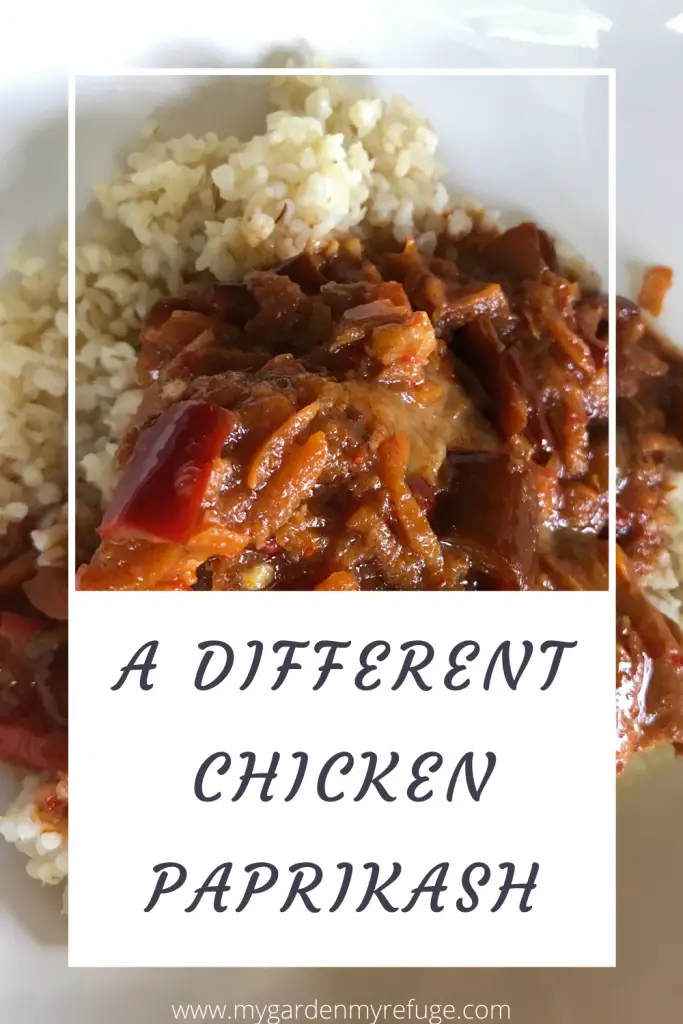 It is all about simplicity
While the word Ragout may sound fancy, the cooking method is one of the easiest. If using meat, you need to sear it for a few minutes before adding the vegetables and seasoning. After that, you need to cover it and allow it to cook slowly for a long time.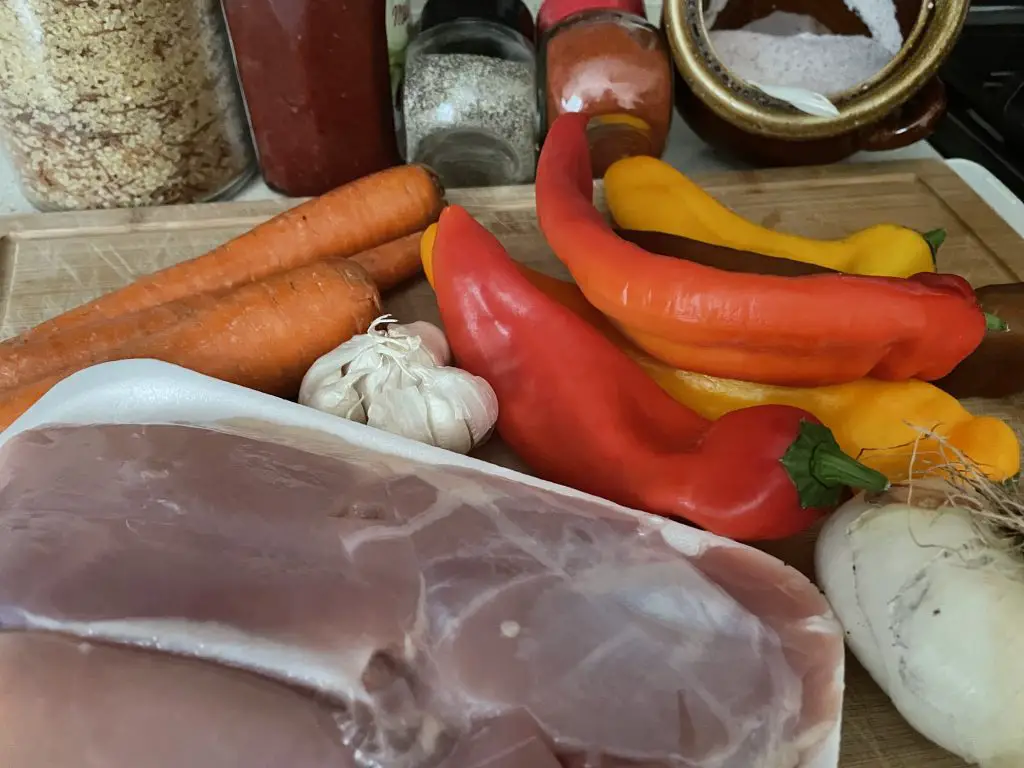 The star of the garden "Peppers"
By the end of June, the garden is at its peak with pepper production. I grow mainly sweet peppers, and my two favorite varieties are Ajvarski and Chocolate peppers.
If you are not familiar with these varieties, I encourage you to give them a try. They are early producers and turn color faster than the usual Big Bertha and Bell peppers. Despite their thin wall, they do maintain their crunch when cooked lightly.
Ajvarski is a Turkish variety that turns bright red at maturity. Its sweetness intensifies when caramelized by roasting or braising. It is also great stuffed and baked.
Chocolate peppers turn into a chocolaty brown color at maturity, hence the name. They are somewhat small, but they compensate with their prolific production.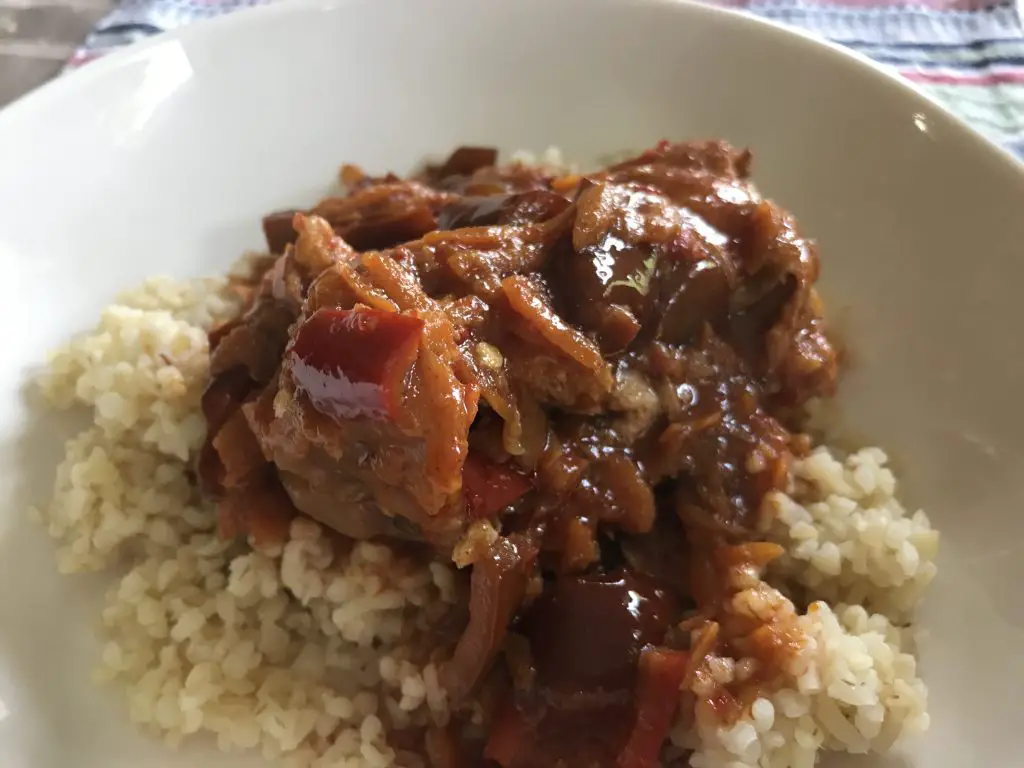 How did Chicken Ragout come to life?
Once my garden was established, the harvest started filling up my harvest basket. At this point, I knew I had to find new ways to use the vegetables. That's how I began diving into international cuisines, looking for new recipes.
Flipping through the Southern Living magazine, I came across the Hungarian Chicken Paprikash. The author had made it for the crockpot lovers like me. However, I had to tweak it a little to fit my personality.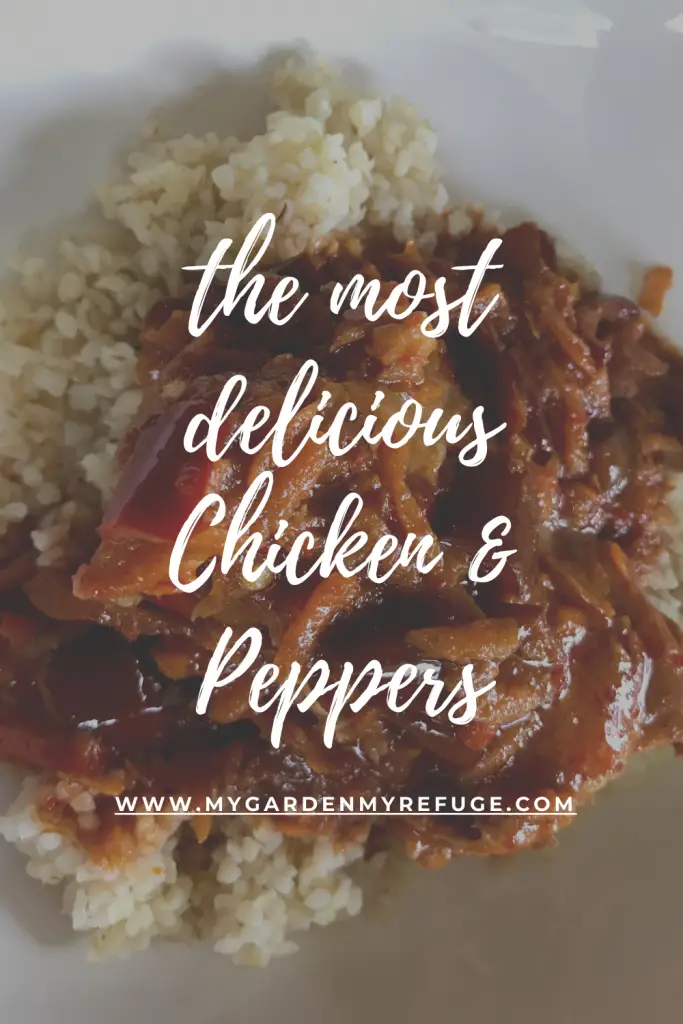 Goes with any Starch
This Chicken Pepper Ragout goes well with any starch you may choose. My family usually eats it with a side of rice or mashed potatoes. Occasionally, I serve it with burghul or quinoa.
The authentic Hungarian way of serving is over homemade gnocchi-like dumplings.
Chicken & Pepper Ragout
A delicious recipe that is inspired by the Hungarian Chicken Paprikash. Great on rice, burghul, or pasta.
Ingredients
1

lb

Skinless chicken thighs, cleaned.

2

tbsp

cooking oil

1

Chopped onion.

1

cup

Grated carrot.

1

lb

Sweet peppers, diced.

2

tbsp

pepper paste

2

tbsp

paprika

2

tsp

salt

1/4

tsp

black pepper

1

cup

Heavy cream
Instructions
Preheat the oil in a pot, then put the chicken thighs. Let them turn color on one side for two minutes, then turn to the other side.

Add in the chopped onion, shredded carrots, and pepper paste. Then, season with paprika, salt, and black pepper. Stir to coat the chicken well. Saute for five minutes.

Dice the peppers into bite-size pieces, then add them to the chicken. Give them a quick stir and saute for five minutes.

Add water to cover all the ingredients., then bring to quick boil.

Reduce the heat to medium heat, put the lid on, and braise for 25 minutes.

In the last five minutes, add in the cream.

Serve on rice, burghul, or pasta.
Notes
I love using colored peppers for this recipe, red and brown peppers make it delicious. 
You might use sour cream instead of heavy cream.
If you like spicy food, you might use chile powder.
Use tomato paste if you don't have pepper paste.
Nutrition