When you have growing children, you try to feed them the best and the healthiest. This easy summer vegetable korma is one of the best meals my kids enjoy eating without complaining.
What I love most about Indian-inspired food is its many flavorful spices and herbs, enhancing the vegetable taste, which some find very blend.
What you need for this vegetable korma
Historically, herbs and spices have been used in the kitchen and as medicinal remedies. In the thirteenth century, the Muslim Andalusian scholar Ibn Al-Baitar had a great interest in plants and their healing properties, giving birth to The Book of Medicinal And Nutritional Terms.
It is an encyclopedia of pharmaceutical properties of more than 1,400 medicinal plants, among which are commonly used in our food.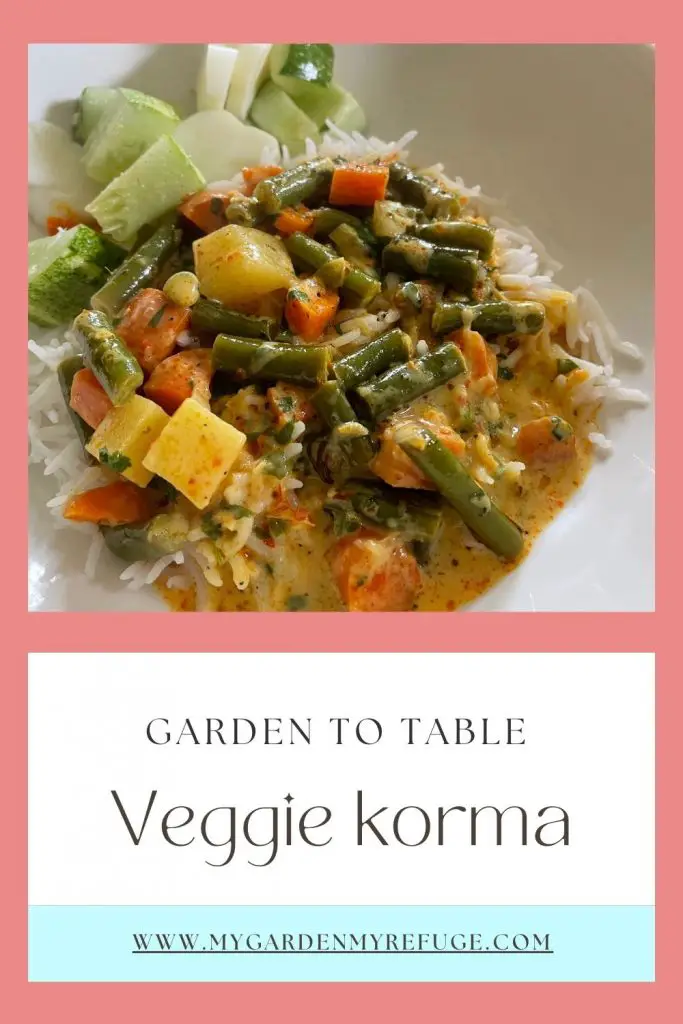 Aromatic herbs and spices
Bays leaves are so aromatic that using their tea can soothe an upset stomach and relieve a stuffy nose.
Cinnamon has a lot of benefits, like reducing inflammation. Its scent is also known to improve the mood while fighting depression. Hence its use on holidays.
Cardamon soothes an upset stomach, helps reduce inflammation, and is rich in magnesium and zinc.
Cloves are high in antioxidants, helping the body eliminate free radicals, which can cause different diseases.
Curry leaves are typical in Indian cuisine. They are also very beneficial to the human body since they are rich in vitamins and minerals.
Chili or sweet dried pepper keeps the blood vessels healthy by speeding metabolism.
Ginger is well known to help soothe an upset stomach and relieve nausea. It also has anti-inflammatory and antibacterial properties.
Turmeric is believed to slow down signs of dementia and also reduce inflammatory pain.
Cilantro is rich in vitamins and minerals.
Mint is another powerhouse of vitamins and minerals. In addition, its essential oil is known to relieve headaches.
A rainbow of vegetables
There are no restrictions on this dish. Whatever is available is suitable for use. Since I made this recipe mid-summer I used the following:
Using Ghee fo fat
South Asian cuisine is known for using ghee in their recipes. It is clarified butter, where all milk particles are removed. Sometimes it is aged, giving it its pungeant sour smell.
Although ghee is pure fat, but it is good fat rich in momnosaturated Omega 3 fatty acids. So it is one of the best fat to include in one's diet. However, we still have to use it in moderation to prevent a reverse effect.
Substitute
If you are not keen on using ghee, you might opt for coconut oil or olive oil, but they won't have the same effect on the dish.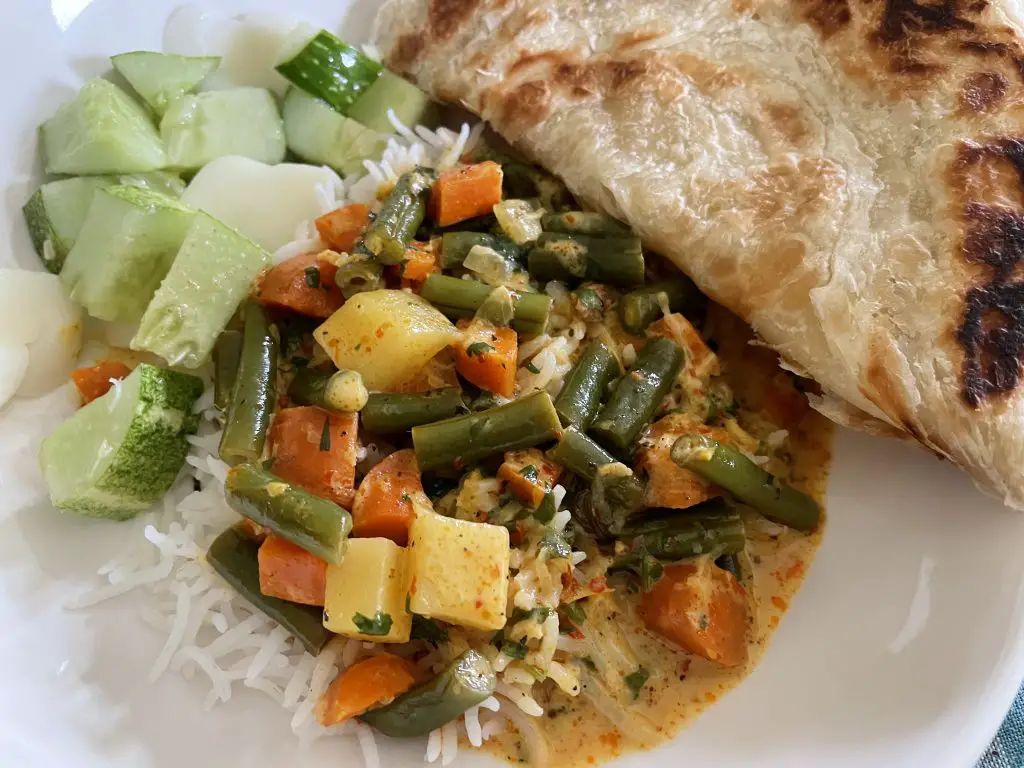 Steps to make the korma
Bring in the aromatics
One secret for the intense floavor of indian food is the warming up of the spices and herbs. The heat activates the essential oils elevating the flavors of the gravy.
After preheating the pan, add the ghee to melt. Then add the dried herbs and whole spices, giving them a quick stir to release the aromas.
Then add the garlic and onions and sautee them without burning them.
Add the chopped and diced vegetables.
Season with salt, pepper, and garam masala. If you do not have the garam masala just add the same whole spice in powder form.
Add enough water for simmering. Some might like less liquid in their korma, others may prefer it soupy.
Once the vegtables are cooked finish the gravy by adding some cream, cilantro, and mint.
If the garvy is too thin, you may make a slirry with water and starch, then stir it into the sauce till thick.
Vegetable Korma
This vegetable korma is an easy and delicious way to make your kids eat vegetables.
Ingredients
1

tbsp

ghee

1

sprig of curry leaves

2

bay laurel leaves

1

cinnamon stick

3

cardamon pods

4

cloves

1

onion, chopped

4

garlic cloves, pressed

1

lb

green beans, cut into small pieces

1

lb

potatoes, diced into small cubes

3

carrots, cut into small pieces

2

tsp

salt

1/2

tsp

black peppers

2

tsp

garam masala

1

cup

heavy cream

1/2

cup

cilantro, chopped

1

tbsp

mint, fresh or dry
Instructions
Preheat the ghee in a pot, then add the whole spices: bay leaves, curry leaves, cardamon, cinnamon, and cloves.

Add the garlic and onions with a bit of water to prevent burning. Allow them to wilt.

Add the vegetables: green beans, carrots, and potatoes, and stir to coat.

Season with salt, pepper, and garam masala. Then add enough water to cover the vegetables.

Cover and allow to cook for about 15 minutes.

Once the vegetables are tender, add the cream ( with starch if needed), cilantro, and mint.

Serve with rice and naan.
Notes
If you do not have garam masala just add a teaspoon of paprika, ginger, cumin, and coriander. Then a half teaspoon of turmeric, ground cardamon, and ground cloves.
Nutrition
Calories:
168
kcal
|
Carbohydrates:
23
g
|
Protein:
4
g
|
Saturated Fat:
4.7
g