The following is a list of easy drought-tolerant perennials for Texas. They all proved to have the ability to survive prolonged drought and sudden deep freeze.
With the weather drastically changing in the last few years, it has become crucial to improve our landscape to varieties that do better in the area of central Texas. After the 2021 snowmageddon, we learned more about our native species and how well they adapt to the change.
American Beauty Berry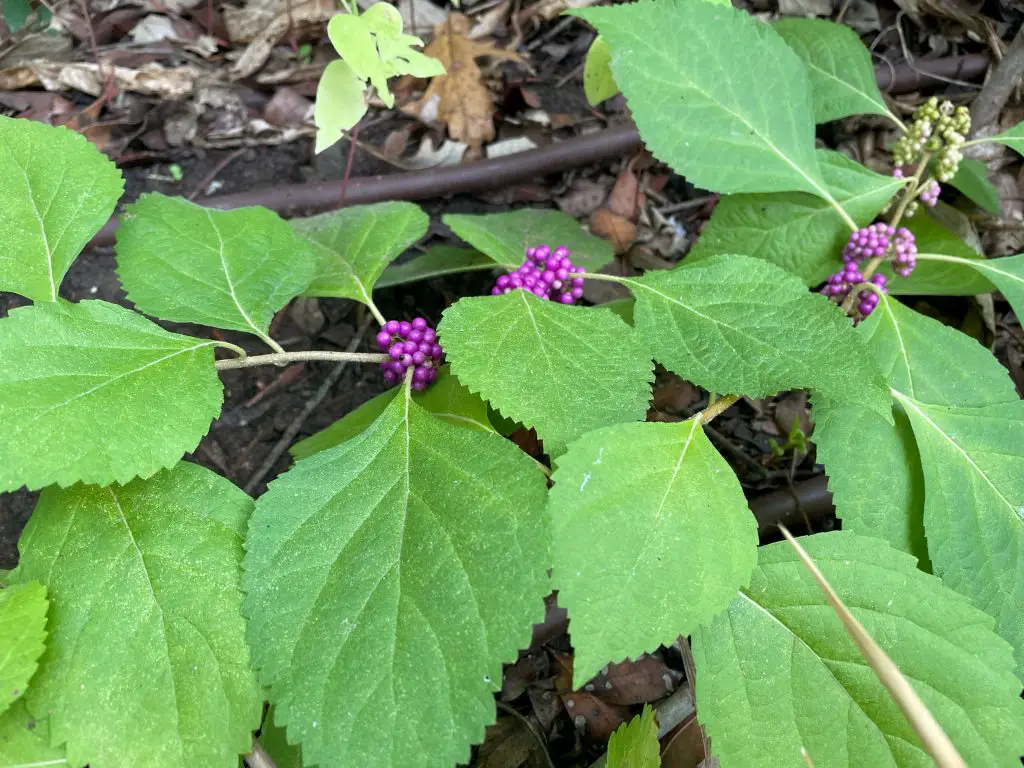 American Beauty Berry is an underestimated little shrub. It grows well in dappled shade with well-draining soil. It grows up to five feet tall but sometimes reaches 8 feet. Different from other shrubs, its branches are droopy with opposite leaves.
It does well under trees and does need a lot of water once established. However, occasional slow watering might be necessary during long dry spells.
The American Beauty Berry produces beautiful clusters of purple berries in late summer. Although edible to humans in small quantities, beauty berries are an essential food source for wildlife, mainly birds.
Autumn sage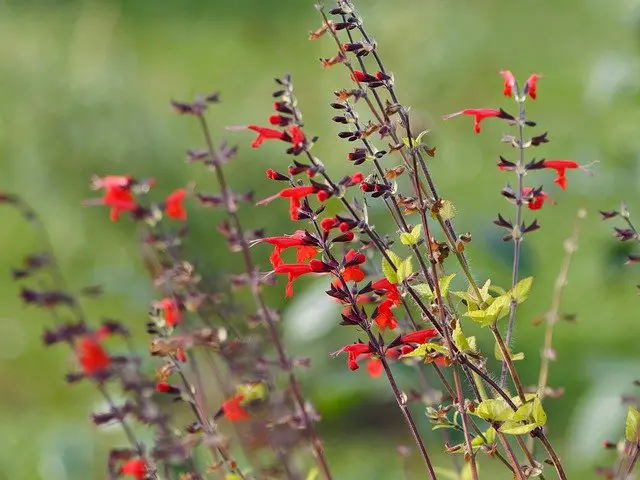 Autumn sage or Salvia Greggii is a woody little shrub native to Southwestern America, including Texas. It grows up to 2-3feet tall and wide, making a great border or small hedge.
It is a prolific summer-long bloomer, attracting mainly hummingbirds for the cone-shaped florets. Red salvia is the most common color, but some cultivars have purple, pink, and white blooms.
Salvia Greggii does well in full sun, but some afternoon shade won't hurt during the blazing summer. However, the more shade it gets the fewer blooms.
Make sure to water regularly after planting until the roots are established, or new growth appears. After the first year, the plant is drought-tolerant and may need some water only during long dry spells.
Canna Lily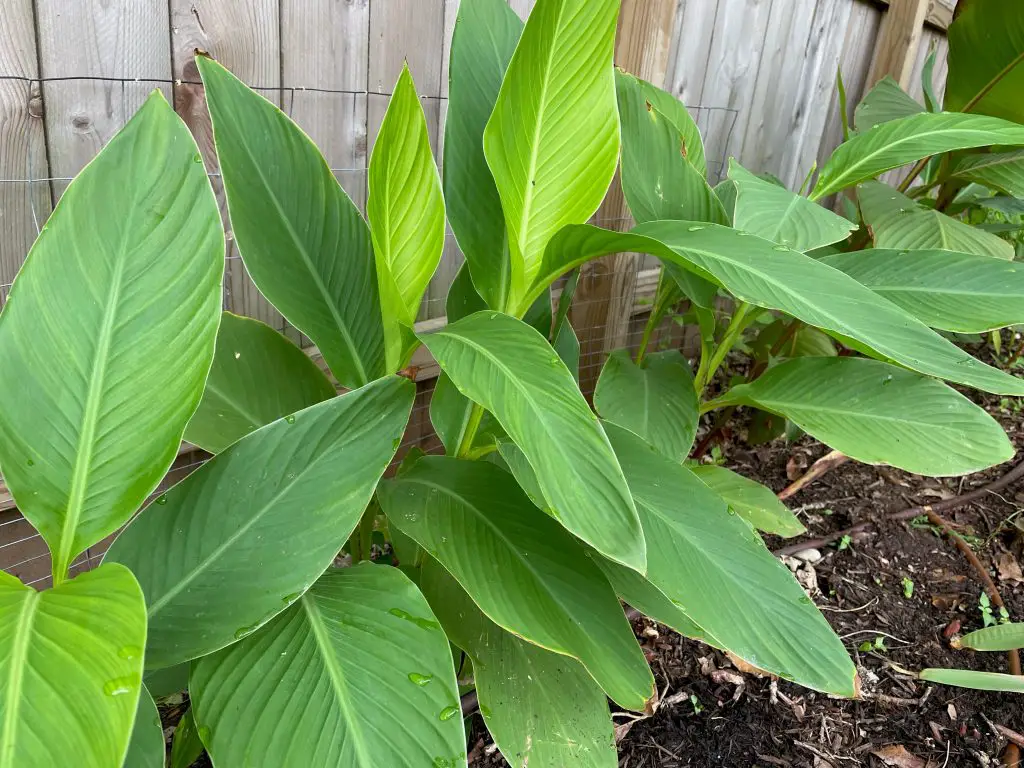 Canna lilies are the easiest and cheapest way to bring a tropical feel to one's garden. They grow from rhizomes similar to ginger. They multiply and spread fast, filling up a space in one season.
Despite their tropical look, cannas surprisingly withstand drought. However, they might bloom less, but their foliage is enough to make a statement.
Fortunately, canna lilies come in different colors, foliage-wise and flower-wise.
For best results, plant your cannas in a shaded or semi-shaded area. They seem to enjoy it better than full sun.
Fall Aster
Fall Aster is a mounding woody perennial that spreads on the ground. It is native to Texas and needs very little water once established.
When most plants are fading away, fall aster explodes with showy star-like purple flowers declaring the beginning of fall.
A well-established Aster blooms for a long time until the end of fall. Then it drops its leaves for the winter. You may cut back the straggly stems for a fresh start in spring. Then the plant remains green all summer long before blooming in the fall.
Graig's mist flower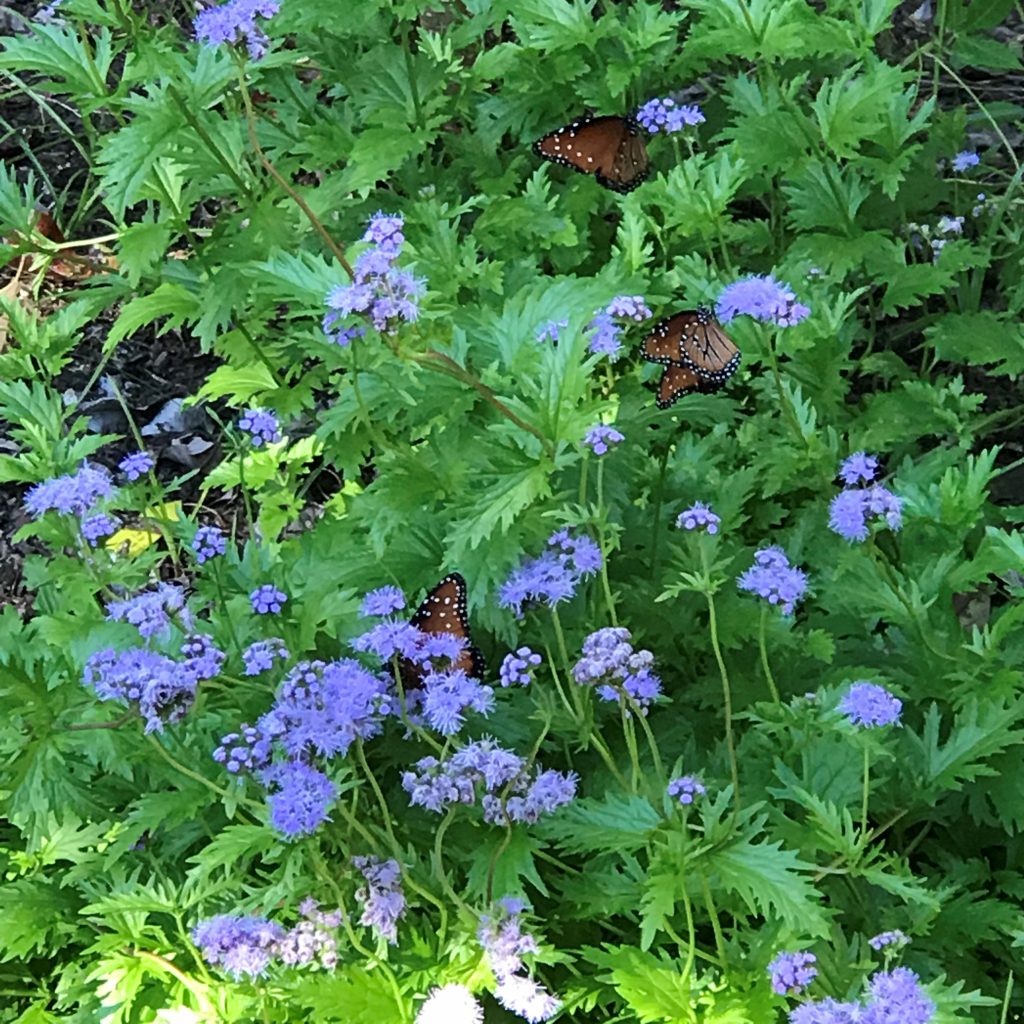 Graig's mist flower is a mounding perennial with soft raggedy leaves. The blooms are a cluster of little ruffled flowers, almost like a cheerleader's pom-pom.
There are two kinds of Gregg's mist flowers. One is blue or light purples with droopy stems. The second has white scented flowers with more upright growth.
The plant turns brown as the cold season settles, which is the time to cut back to the ground.
Beware, Gregg's mist plant is a spreader and might take over the space you plant it in.
Lantana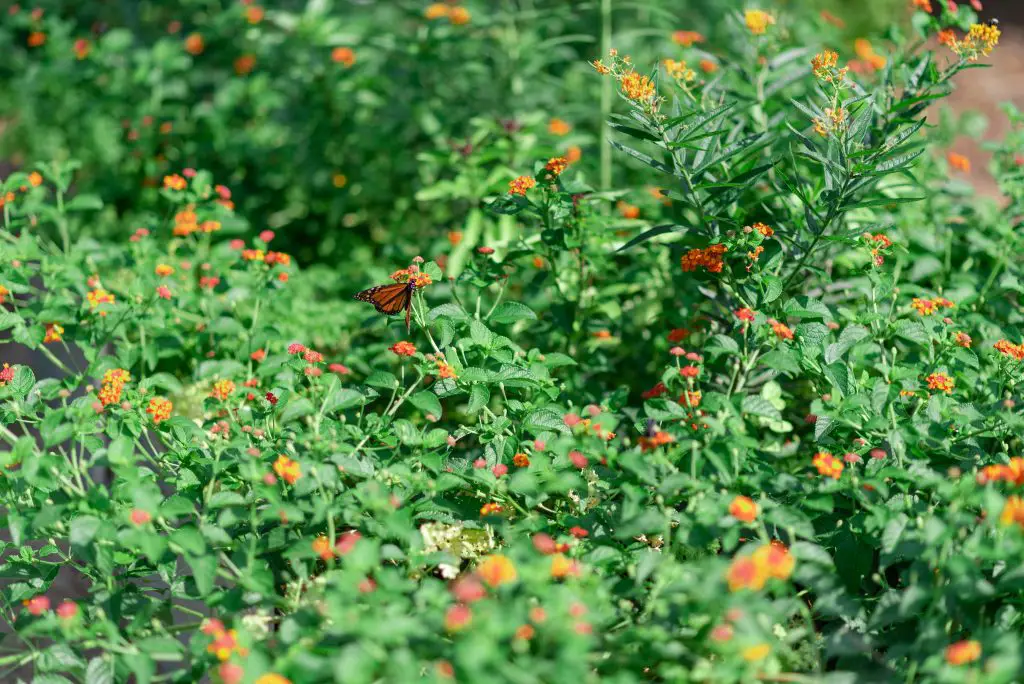 Lantana is a common household plant in Texas. It almost grows everywhere, even in the pathways. This resilient mounding shrub needs very little care once established.
It comes in different colors such as butter yellow, hot orange and yellow, purple, and some pink.
They bloom at different times through the summer, but the purple cultivar seems to be the most prolific.
Cut the plant back after the first freeze, and you may need to protect it in case of a long deep freeze.
Rock Rose
Rock rose is another delicate yet beautiful little shrub. It grows well in Texas, withstanding the heat and drought.
Like any new plant, it needs regular water after planting until it gets established. After that, it can take care of itself. Unfortunately, it is not an evergreen, so it will require some cutting back after it loses its leaves and blooms.
It does well in full sun, but it may appreciate some shade. Also, some occasional watering may help survive long drought spells better.
Ruellia (dwarf and upright)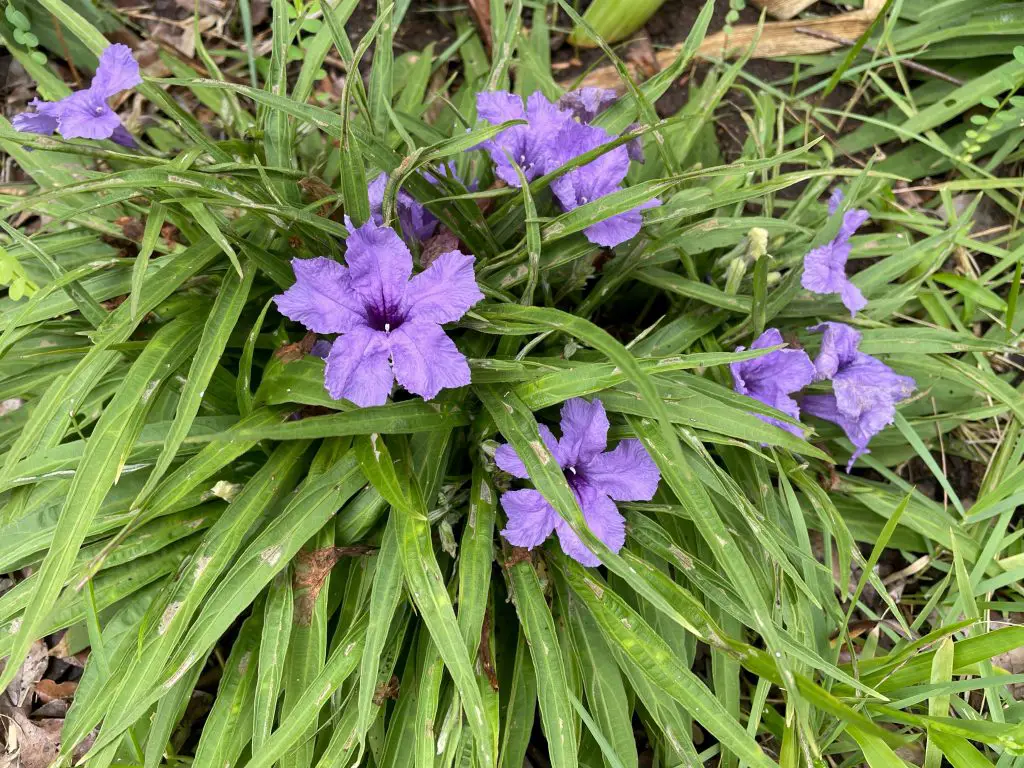 Ruellia is also known as Mexican Petunia. It comes in an upright form and a compact form.
The upright ruellia reseeds itself easily and can take over a space in no time. The dwarf ruellia also spread but not as fast as its sister, which is much easier to maintain.
They both have deep green foliage with arrow-shaped leaves and deep purple flowers. They bloom continuously throughout the summer.
They both do well in full sun or slightly shaded areas.
The dwarf ruellia makes an excellent border plant in a flower bed.
Russian Sage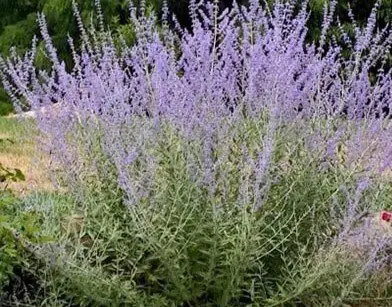 Russian sage could easily be a lavender substitute in a Texas landscape. It has sage-colored small leaves with spikes of lavender-colored booms.
It is an excellent plant for the drought-tolerant landscape. It enjoys full sun and very little water when established. In the right conditions, it reaches 3 feet tall and wide.
Similar to regular sage, Russian sage has medicinal properties. For example, its tea helps relieve stomach pain, and if you soak a towel in it, you may use it as a compress to reduce fever.
If you are interested in more medicinal plants, check out my other post Easy Plants For a Starter Tea Garden
Texas Sage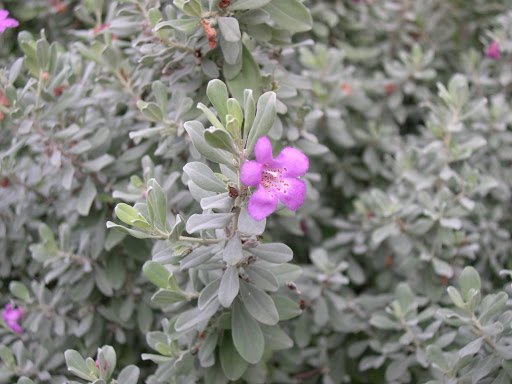 Texas sage is also known as Barometer Plant because the pressure and moisture in the atmosphere trigger its blooms. So when it is full of flowers, there is a high chance of rain. Therefore, during dry times Texas Sage acts as a green shrub.
It grows well in dry areas and tolerates drought very well. It is a tall shrub, growing up to six feet tall in full sun. The leaves are small with greyish-green color and do not fall in the cool season, making Texas sage an evergreen shrub.
Thryallis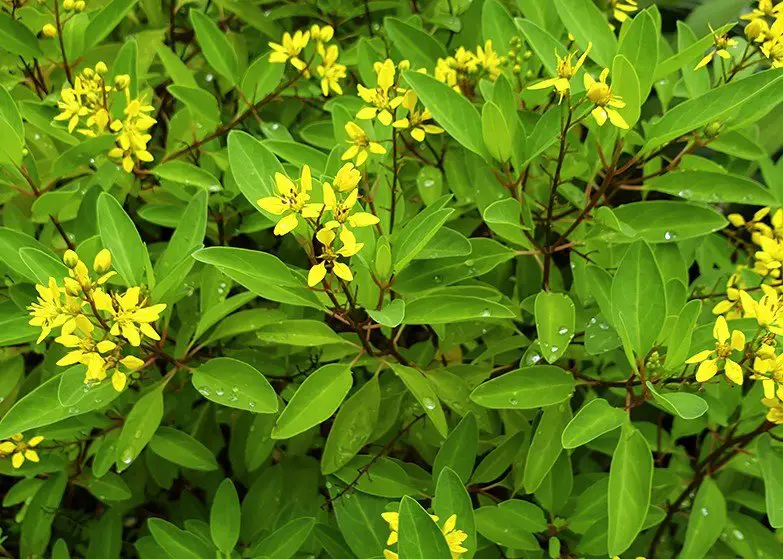 Thryallis is an evergreen shrub with year-round blooms. It is said to grow to eight feet tall and wide, but I have not seen it reach that size in central Texas.
It grows well in the shade but performs better in full sun. Its upright and sturdy form makes a good choice for a hedge.
It will die back when temperatures reach 25F (-4C) in winter. You may trim it to the ground for a new flush of spring growth.
Turks Cap
Turk's cap is the gem of the shaded garden. It is a soft shrub that gets as tall as three feet. Its limpy delicate branches have heart-shaped leaves with a little Turkish cap-like flower.
The most common variety has red with pink hues flowers, but there is a white cultivar that is not widely available.
Although it grows in the shade, it also blooms better in sunny conditions.
It is a deciduous plant, so you will have to cut it back in winter.
Yellow Bell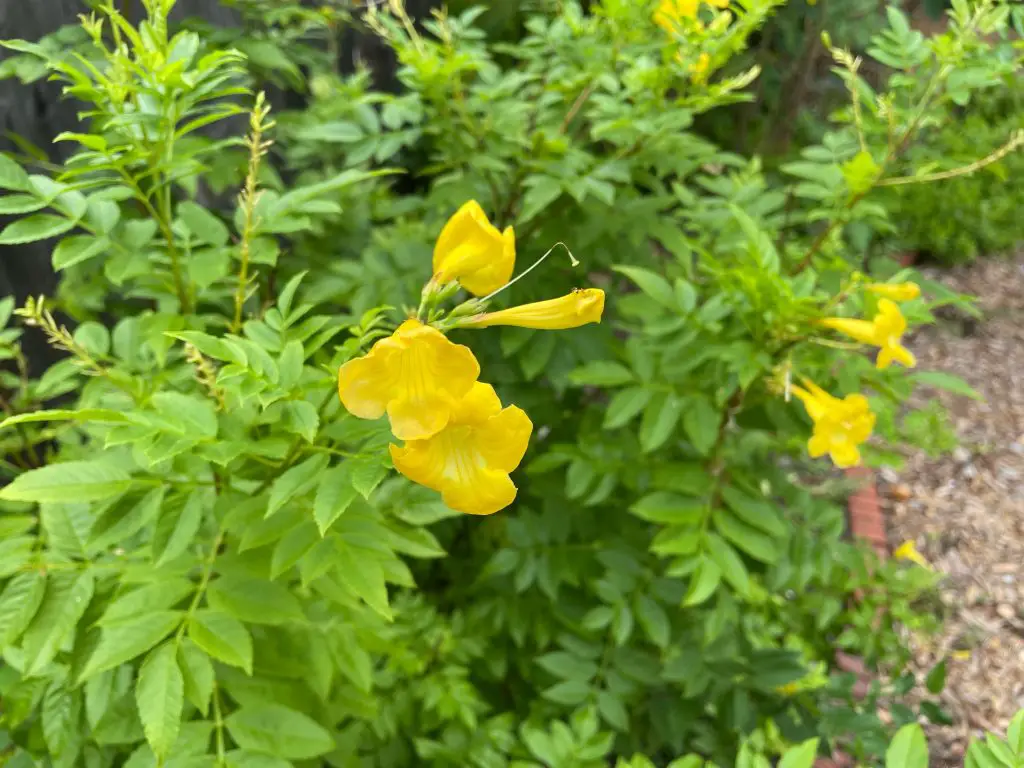 Esperanza, or yellow bell, is a beautiful tall shrub to add to the landscape. It does so well in the Texas summer, where you find it in the highway strips alongside the sunflowers.
Plant it in spring and water it regularly till you notice new growth. A young plant may need occasional watering during a long dry spell. Other than that, it is very drought tolerant.
It does need full sun to perform well and bloom continuously. It grows to eight feet tall and wide, so give it some room.
Its foliage turns terrible after a frost, so you may cut it back to the ground. It will come back in the spring. However, in areas with mild winters, it might not die back.