If you haven't tried fresh-picked peas yet, you are missing out. Home-grown peas have an incomparable flavor to their store-bought version. They are juicy, crispy, and naturally sweet. Growing them, however, requires a little planning and lots of patience.
When to grow peas in Central Texas?
Peas have two planting times in central Texas. The first one is in the fall around, September through October. The second one is in early winter, around January through February.
Fall planting is the ideal time for best production. Peas are cool-season crops. They enjoy day temperatures in the 70F (21C) and night temperatures in the 50F (10C). Anything above 80F (27C) is too ho and will stress the plant.
Two things threaten pea growing in central Texas: a deep freeze and early heat. Since both are hard to predict, the gardener relies on luck. Early 2020 has seen unusual deep freezes that destroyed the fall-planted peas. Then summer heat kicked in early, stopping the production of the second planting.
A solution for this dilemma is to find the variety that will make it for each planting time.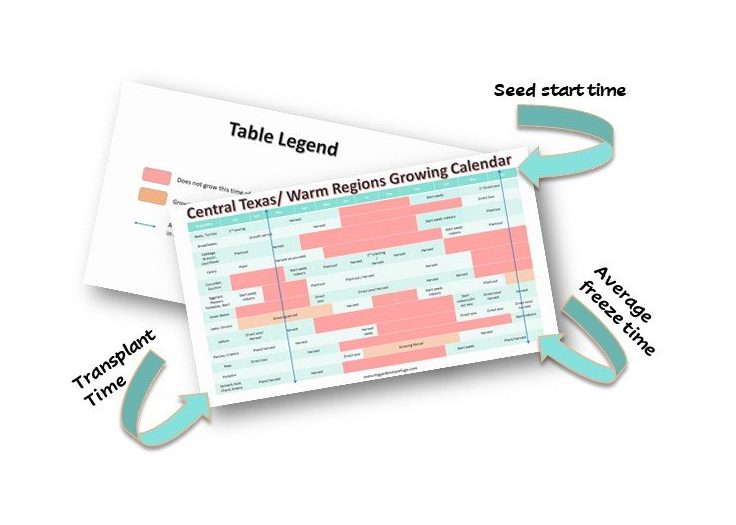 Pea varieties that grow well in Central Texas
When choosing the pea variety for your garden, consider the following criteria:
How many days till maturity? The smaller the number, the better. Fast-maturing varieties have a better chance to escape late freeze or early heat.
Is it cold or heat tolerant? Cold-tolerant peas do not withstand a deep freeze but can take some cold. These are great for fall planting. Heat-tolerant peas can set fruit under some heat, so they are best for winter planting.
Generally speaking, there are three types of peas.
Snow peas are a Mange-Tout type of peas. They are flat, and the peas never develop. They mature early and are prolific producers.
Sugar snaps peas are slightly fuller than snow peas but are still a mange-tout. They are sweeter and somewhat fast-growing.
English peas or shelling peas are grown for the peas. They usually take the longest to mature.
Direct sowing vs starting pea seeds indoors
Direct sowing the seeds in the ground is recommended. Yet, starting them indoors is also a possibility.
Since Texas summers are long, starting the seeds indoors is one way to get a head start on the season.
It is best to start the seeds in root-trainers or deep pots. It prevents root binding and minimizes excessive handling of the roots at transplanting.
For fall planting, start seeds in September. If October is cool enough, then direct sowing time begins until February. In case of a deep freeze warning, start seeds indoors and plant them out once it's over.
Click here to learn more about seed starting basics.
Soil requirements for growing peas
Peas do well in most soil types, except dense clay. Add organic matter or good compost to any soil to improve its texture and feed its biological life.
Growing peas in full sun or shade
Peas need full sun for best performance. Less than six hours of direct sunlight will cause low and slow production.
Planting and spacing
Spacing vining varieties one inch apart, or even less, does not present any problem. Space bush varieties two to three inches apart.
If you are planting in rows, give yourself enough space to move between them. Two feet apart or more seems to be reasonable.
Fertilizing growing peas
Like legumes, peas belong to the nitrogen fixers. These plants have a symbiotic relationship with certain bacteria living in their roots. The bacteria help the plants use the nitrogen by transforming it into a usable form.
Contrary to common thought, legumes do not fix nitrogen in the soil for other plants to use. The bacteria makes it available for them. Once dead, the unused Nitrogen is released.

Click here to learn more about nitrogen-fixing.
Provide the peas with the right conditions to thrive by adding organic matter to the soil. Then supplement with a boost of a seaweed feed throughout the growing season.
Support your growing peas
There are two types of peas: vining and bush.
The vining peas can reach up to six feet tall. They are delicate and need a trellis for support. Netting, chicken wire, or cattle panels, are ways gardeners use to support their peas.
The bush variety does not need outstanding support. Crisscrossing some twigs works just fine.
Both varieties send little thread-like branches called tendrils to hang into the support.
Check the seeds packet to find out what kind of peas you are growing.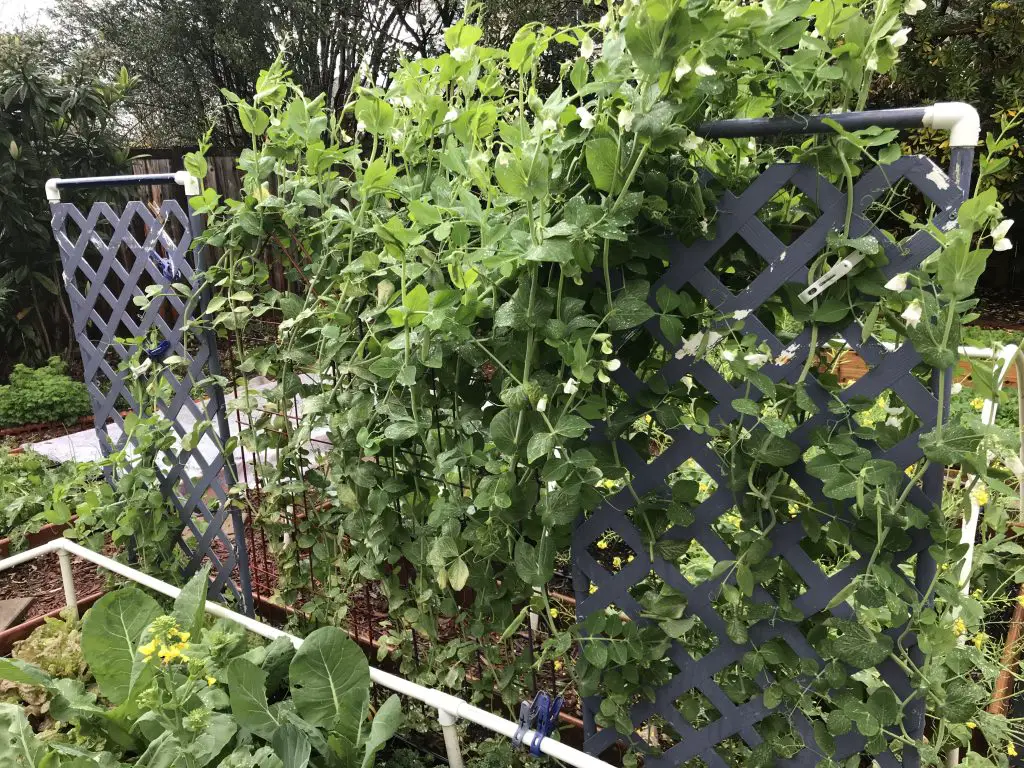 Watering
Pea plants need regular watering. Overwatering, as well as underwatering, can cause plant stress.
Pests
There are two major pest problems to be ready for when growing peas in a central Texas garden.
Rodents: Mice and rabbits love to snack on pea sprouts. Thus, consider protecting the peas with a mesh cover or an animal guard.
Spider mites: They are pencil-tip size red insects. They live on the underside of the leaf, where they suck in the sap. It is hard to control them once they appear. Early planting can delay their infestation is the best managment. Harvest as much as possible until the vine gives up and dies. Discard the plant and do not compost.
Read more about spider mites here.
Powdery Mildew
It is a fungal disease that is more prominent in warm and humid weather. It looks like a white powder on the leaves, hence the name.
Spring peas are more susceptible to it. Increasing fall planting is the best way to avoid dealing with it.
If it occurs anyway, milk or baking soda spray can help slow down the spread.
Read more about dealing with powdery mildew here.
How to protect growing peas from freeze?
Peas are cool-season crops. They can withstand cold temperatures and light frost. Use fleece or thick row cover to protect them against freezing temperatures. Yet, expect to lose them if the temperatures get below 25F(-5C).
When to harvest peas
Fall-planted peas begin flowering at the end of January. Depending on the variety, some will be sooner than others. Snow peas harvest may start mid-February, while other varieties may take a bit longer. Yet, pick the pods whenever you feel like it.
Make sure to harvest every so often to ensure continuous production.
---
Peas in the kitchen
Peas are used in various dishes around the world. They are eaten either raw or cooked. Preserve the peas harvest by freezing, drying, or canning.
Mange-tout varieties are a great snack for kids as well as in a stir-fry.
Some of our favorite pea recipes are:
Artichoke and peas tajine
Steamed peas and couscous