Some think that making pizza at home is time-consuming and never turns out as good as the commercial one. After trying this pizza recipe, I guarantee you will no longer order it out. I will also share with you the routine of making it without interfering with your busy life. In this specific recipe, I will show you how to top it with crunchy kale, which gives it a lovely texture. So, let's get to it and learn how to make this pizza with kale topping.
The secret to making a great pizza dough
Pizza dough is more like bread dough. It has to be soft inside with a crunchy crust. Throughout the years, I tried several dough recipes but never landed on the perfect one (for me). So I started experimenting and playing with ingredients until I reached the ideal combination. The conclusion was three critical elements are needed to get a great pizza dough: semolina flour, a long resting time, and a good hydration ratio.
Why semolina flour?
Semolina flour, also called durum flour, is made of hard wheat. It has higher protein and gluten content than white flour. Its start also can remarkably hold its shape and absorbs more water than white flour. Semolina is mainly used to make pasta.
Using all-purpose flour and semolina when making pizza dough will produce a soft yet sturdy dough that is easy to handle. After baking, the texture will be airy and crunchy, just like a good baguette.
Long resting time
In today's world, everyone seems to be in a hurry. Unfortunately, good homemade bread needs a long resting time to allow the gluten to relax and be able to hold air pockets. Avoid using too much yeast to speed up the rising process when making pizza or bread dough. It is best to make the dough early and use very little yeast.
You can mix the dough in the morning and leave it to rise slowly all day. For example, I usually make pizza on Sundays, where I prepare the dough around mid-day, and it will be ready for dinner at 7 pm.
The hydration of the dough
Hydration of the bread dough is the ratio of water to flour. A stiff dough, such as bagels, uses a 50-60% hydration ratio. That means it needs a lot of kneading to reach a homogenous texture and develop the gluten. Most bread dough recipes use a 60-70% hydration ratio. The result is a softer dough with some stickiness and significant proofing volume.
How to bake the pizza?
Baking good bread requires a high oven temperature. To properly imitate the brick oven, set yours to the highest temperature. My range has a roasting setting, which is a great option. I turn it on before forming the pizza and set it to 450F (225c). The high temperature allows the dough to rise quickly and create air pockets.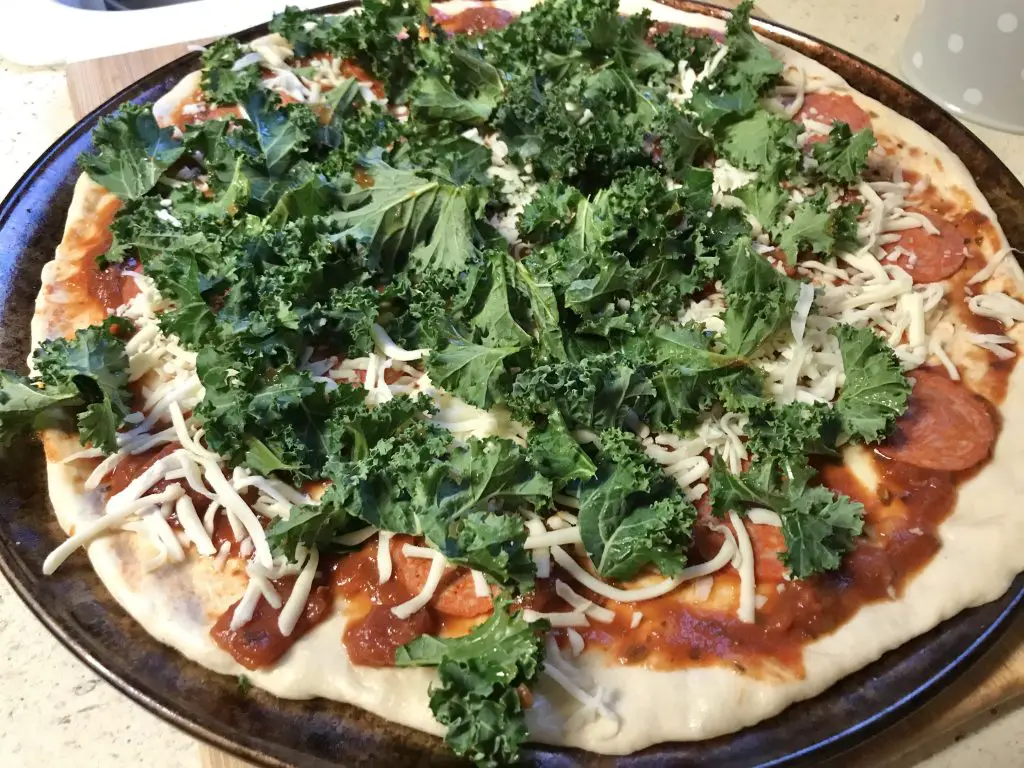 Should I use a pizza stone?
Using a pizza stone is another way to imitate the brick oven. Place it inside the range and allow it to heat up before sliding the pizza into it. The stone helps create a crunchy crust and allows the dough to rise quickly. However, not having a pizza stone should not prevent you from making a great pizza. Instead, use a perforated pizza pan as it ensures even heat distribution.
How to get a crunchy kale topping?
For the best kale topping, use curly kale. It holds its shape considerably after cooking. Using homegrown kale is even better. After cleaning the kale thoroughly, use a towel or a salad spinner to dry it from excess water.
Since kale cooks fast, it is best to cook the pizza partially before topping it with the kale. I recommend putting all the toppings, including the cheese, first and leaving the kale last. Then, use your hands to tear the leaves apart and place them on the pizza.
Homemade Pizza with Kale Topping
This pizza recipe will yield two medium-size pizzas.
Ingredients
For the pizza dough
2

cups

water

1/2

tsp

dry yeast

1

tsp

sugar or honey

1

cup

fine semolina flour

3

cups

all-purpose flour

2

tsp

salt

1

tbsp

olive oil
Topping
14

oz

tomato sauce

1

lb

curly kale

2

cups

grated cheese
Instructions
Make the dough
In a stand mixer bowl, pour water, yeast, sugar, and semolina. Then mix well to dissolve the yeast.

Add the flour and salt, then start mixing to form the dough. Depending on your flour, you may need more or less than three cups. The dough should be soft and a bit sticky.

While kneading, drizzle the olive oil over it. Keep kneading until the oil is absorbed.

Cover the dough and allow it to rise for a few hours. You can also make it overnight.
Assemble
Preheat oven at 450F (220C)

Clean and dry the kale using a salad spinner or a clean towel.

Divide the dough into two equal portions. Press on the dough ball from the center outwards, using your fingertips to form the disc.

Place the disc on the baking pan, then sprinkle some grated cheese.

Spread enough tomato sauce to cover the surface.

Transfer the pizza to the oven and pre-bake for 8 minutes.

Bring out the pizza, sprinkle the cheese over it then top it with the kale.

Put back in the oven and bake for 3-5 minutes more.
Notes
You can add any topping of your choice. 
Using fresh mozzarella gives the pizza a more authentic look and taste. 
Nutrition
Calories:
426
kcal
|
Carbohydrates:
62
g