Starting a vegetable garden can be overwhelming. In this article, I gathered the top gardening tips I believe beginners in gardening should know.
When I started my garden, there was not enough information for someone who knows nothing about it. I dug around, looking for answers to all my questions. There was no such thing as gardening 101, which made things frustrating at times.
You should know that gardening is a learning process in itself. You might, and you should educate yourself about the basics of gardening, but in the end, the most learning you would get is through practice and experimenting.
Gardening is not an exact science. It is more like cooking, a bit of this a lot of that until you find the right formula for your own space. But, the key to be a successful gardener is to start small and expand slowly. By doing so, you will prevent yourself from giving up too soon.
1. Decide What To Grow
The Golden Rule is to"Grow What You Enjoy Eating." Write down a list of vegetables you enjoy eating, and sort them into groups, according to the growing requirements.
The ideal temperature. (AKA the right season)
Light exposure.
Soil Conditions.
Planting depth.
Spacing requirements.
Water needs.
Common pests and diseases.
Time for harvest.
If you want to know more about the most efficient vegetables for home gardeners, visit The best crops to grow for self-sufficiency.
2. The Right Site
There are three key elements to consider when choosing the location of your garden.
Sun exposure: Every vegetable garden needs a minimum of seven hours of direct sunlight to be productive. Some plants need more or less of it.  
Accessibility: Having the garden easily accessible to you will keep you motivated. Remember, you will be spending a lot of time out there watering, weeding, investigating, and harvesting.
A close water source: It is important to have water close-by as it is discouraging when you realize that the hose is on the other side of the yard and is not long enough.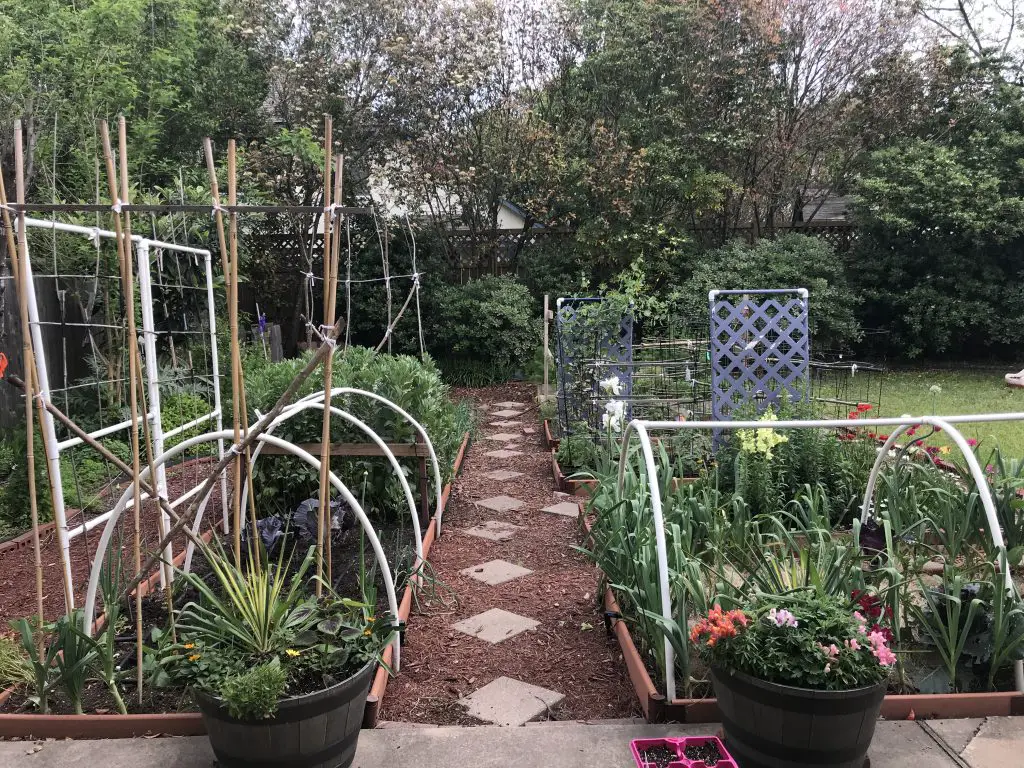 3. Make a Plan
Planning saves a lot of time as well as money. Answer the questions below to help you with the plan.
Did you set a budget? Things can get pretty expensive with the excitement of starting a garden. Setting up a budget will prevent impulsive shopping.
Do you have time to dedicate to the garden? Setting up the garden is the most time- consuming phase. Once established, weekends will be enough to keep it tidy.
Are you using raised hills, framed beds, or pots? Decide on what method of growing suits you best. The most cost-effective is making hills of dirt with no frame. Yet, I find raised beds much more appealing. They give more structure to the garden, and they prevent soil erosion in case of heavy rain.
Do you have a layout design in mind? Having an artistic view of your garden will help maintain your positive attitude.
Do you need to clear the site from the grass? If you have grass, no need to spend money on special equipment to remove it. Instead, lay heavy-duty cardboard before adding the soil. This will suffocate the grass and then kill it.
4. Collect Your Materials
Let the fun begin! Be creative, resourceful, and keep your budget in mind. Here are some ideas about where to get them.
Curbside: Drive around the neighborhood or construction sites, you might find free pallets, leftover lumber, or bricks. They are a great material to build raised beds.
Free compost: Some neighborhood associations offer their residents free compost. Check with your County extension or Recreational centers if they offer this service.
Curbside leaves: In case the leaves you collect from your yard are not enough, pick up a few more bags from your neighbors. They make great mulch initially, then leave-mold compost when they break down.
Buy bulk soil: If buying soil is inevitable, try bulk options. It will turn out much cheaper than bagged soil. In case the bags are the only choice, look out for sales. They usually take place in the fall and springtime.
Shop your local nurseries first: For beginners, local nurseries are the place where to get the right plant varieties for your area.
Don't skip the fertilizer: In the beginning, the soil is at its basic state and does not contain many nutrients to feed the plants. A little boosting agent will ensure healthy growth.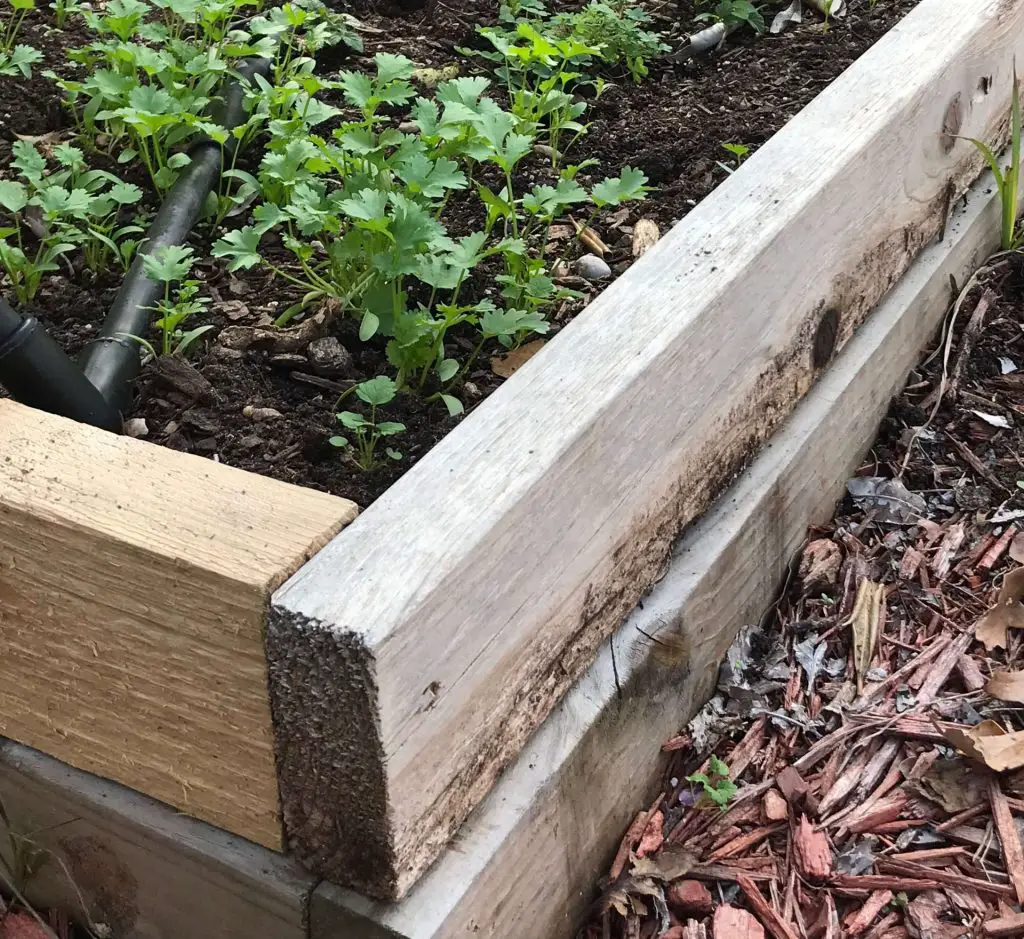 4. Get Planting
Now that everything is ready let' get planting. Before you start planting, follow these steps first:
Have the crop growing information

, you collected in step one on hand.
If you decide to start your seeds, check out my other post on

Seed Starting Basics

.
Spread fertilizer before planting: I use two methods when it comes to fertilizing. The first is to add a tablespoon of fertilizer mixed with soil in the planting hole prior to planting. The second, I spread the fertilizer all over the soil, then till it in before planting.
Spacing: Look out for spacing requirements. You might refer to my spacing recommendation. It works great with a small home garden. It is inspired by the

SQUARE FOOT GARDENING CHART

with a few changes.
5. Protect your garden
 You planted your garden, and now you need to protect it from predators and damaging elements.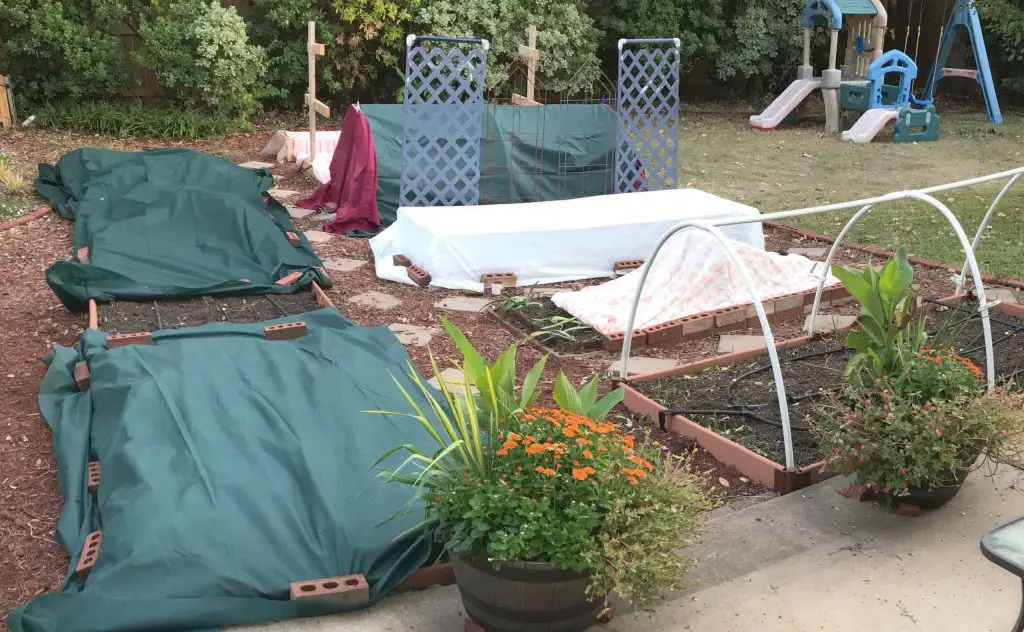 Animals such as birds and rodents are predators that tend to destroy a garden. There are different ways to protect it from them, such as using an animal-guard fence, garlic/pepper spray, noisemakers, or water sprayers…
Many insects and caterpillars may feast on your plants. To name a few; tomato hornworms, cabbage looper, aphids, stink bugs. You may use BT (Bacillus Thuringiensis) to kill the caterpillars. It comes either in a powder form or a liquid concentrate. Follow the directions on the label to apply. For the hard-bodied insects, use Neem oil solution or handpick them as soon as you notice them.
Natural elements that may threaten a garden are freeze, hail, strong winds, and harsh sun. Always keep an eye on the weather to be able to save your crop. Row cover is ideal for frost protection and shade cloth to protect from the sun.
Diseases are another serious threat to a home garden. Be observant of any odd changes that may occur on the stem, leaves, or fruits. Good gardening practices are the best management of diseases.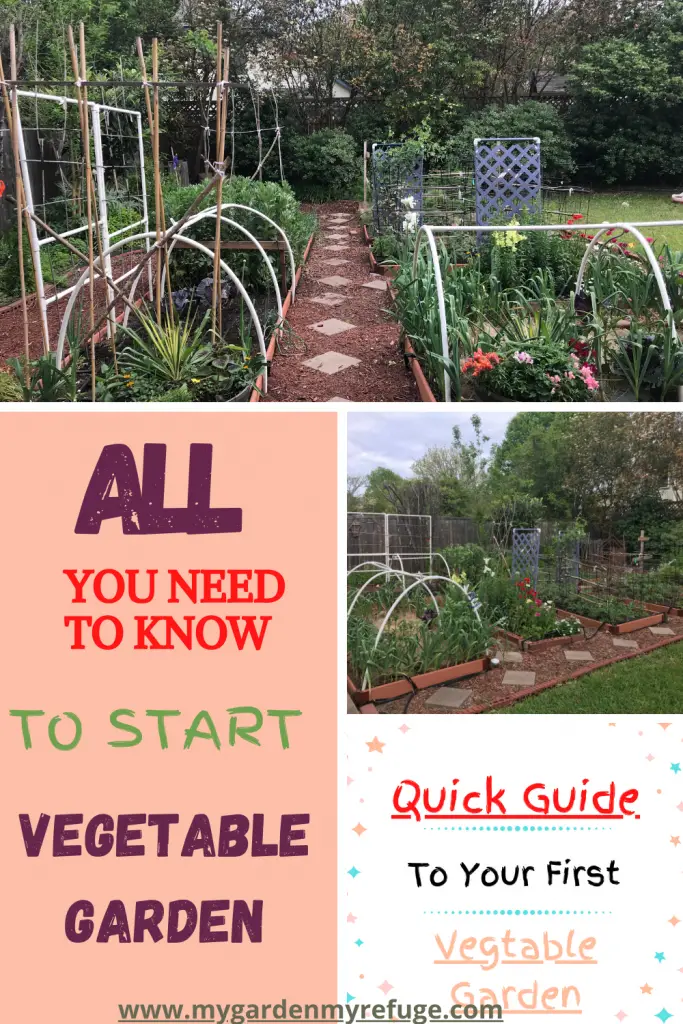 6. Enjoy Your Reward (Harvest)
At last, the wait is over after all the hard work time has come. After two or three months of watching your baby plants grow, now it is time to pick the bountiful harvest and share it with family, neighbors, and friends.
In some cases, the harsh reality strikes, and the crops are not as productive as expected. I remember my first year growing tomatoes. I got only one tomato out of 18 plants. As much as it was disappointing, it was also motivating. So I got into searching and learning more about growing tomatoes. And now, I harvest all season long, and I get to store some of it too.
If that happens to you, take a deep breath and look at what you got. No matter how small the size of the harvest, it is still from your garden. Be proud and try again, because the coming season is going to be better.