This recipe is our go-to, light, and quick meal to put on the dinner table on a hectic day. Its velvety sauce and simple flavors go well with any side dish be it quinoa, rice, or pasta.
Why salmon is good for you?
Salmon is a powerhouse of nutrition that should be included in our diet at least twice a week. It is a great source of high-quality protein that is essential for muscle health and healing. A 3.5-ounce portion of salmon can provide up to 25 grams of protein. It is also rich in Omega3 fatty acids, which help reduce inflammation and high blood pressure.
It is also rich in vitamin Bs, which are necessary for body processes as well as the nervous system functions. According to healthline.com, salmon may also contribute to our mental health by reducing anxiety and depression symptoms.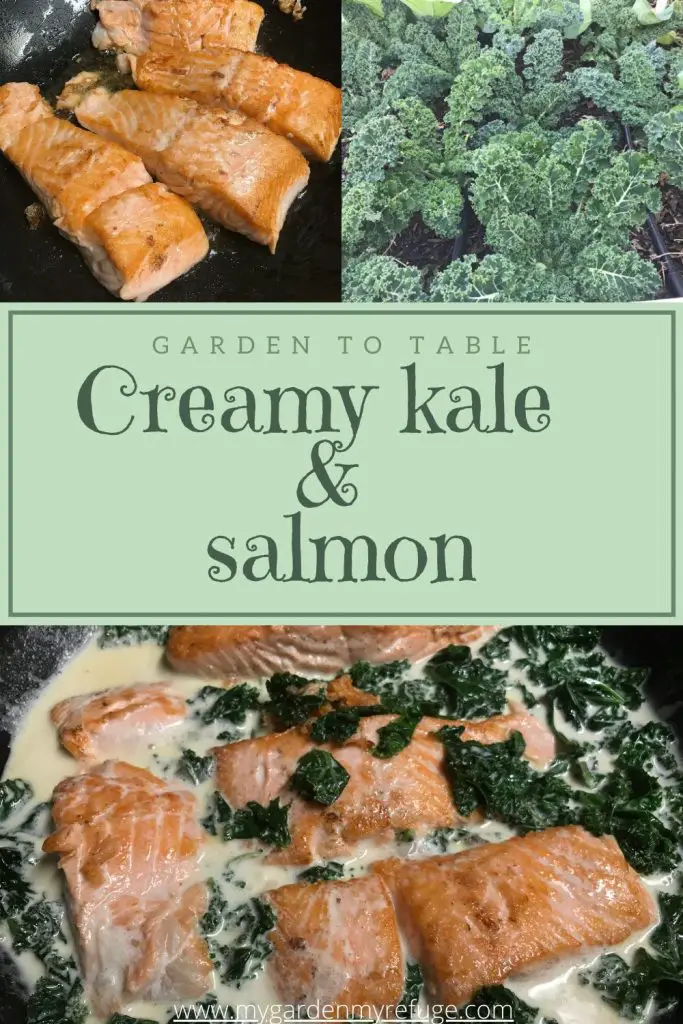 Which salmon is healthier?
In the supermarket, you find two kinds of salmon available, wild-caught pacific and farm-raised salmon. Obviously, the wild-caught fish is much healthier than the farmed one for its diverse diet and free life. However, farm-raised salmon is still a good choice since it still contains healthy fatty acids and is low in mercury.
If you can afford it and it is available in your market, go with Sockeye salmon. It is the most available wild-caught salmon out there. Otherwise, comparisons have shown that consuming farm-raised salmon is also beneficial for your heart and much better than consuming beef or chicken.
How to sear salmon?
Bring your salmon to room temperature by taking it out from the fridge at least 15 minutes prior.
Pat all sides dry with a paper towel.
Preheat the searing pan and add some oil to it.
If using skin-on salmon, always start with top side.
Leave the fish undisturbed for 10 minutes. The color on the side should turn pale and reach the middle.
Use a spatula to flip the fish and allow the second side to turn pale. It should take less time.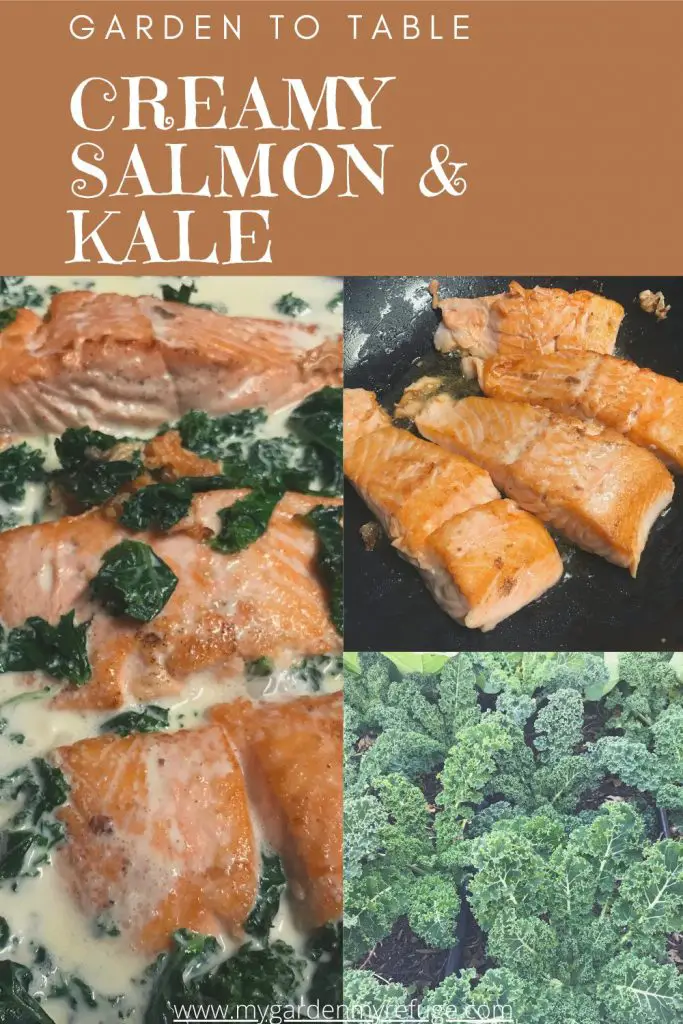 Why kale is a good choice for this recipe?
My kids do not like mushy vegetables, especially leafy greens. They would rather have them raw in a salad for the bite. Most people find the solution in adding them to smoothies, but I prefer to find suitable substitutions, such as better cooking methods or better selections.
Kale, in this situation, has done the job and replaced the spinach with no regrets. It does cook down just like its peers, but it still keeps a slight bite to it. My kids enjoy kale in so many ways. For this reason, I grow it in our garden without hesitation. In fact, it is one of the easiest vegetables to grow in a home garden, but that's out of topic.
Nutritional value of kale
Kale is a member of the cruciferous family including broccoli, cabbage, and cauliflower. It is highly nutritious while being low in calories, which makes it a great choice for dieters.
Kale is rich in vitamins such as A, K, B6, and C. It is also rich in minerals like copper, manganese, calcium, and potassium. Adding kale to your winter diet will help your body fight seasonal cold and flu. On the downside, too much kale can cause kidney stones to form in certain people. It is also recommended to avoid kale if you take blood thinners.
Creamy Salmon and Kale
A quick and delicious dinner idea, that can go with rice, pasta, burghul, or quinoa.
Ingredients
6

salmon fillets

2

tbsp

olive oil

salt, pepper

1

bunch of kale, cleaned, stem removed, and chopped.

1 3/4

heavy cream

4

garlic cloves, minced.
Instructions
Remove the salmon from the fridge 15 minutes before cooking.

Pat dry the fish and season with salt and pepper.

Preheat the saute pan then add the oil.

Place the fish flesh side down and do not disturb for 10 minutes. The color should turn pale on the side from the bottom reaching the middle.

Use a spatula to flip the fish to the other side, and sear for a few minutes.

Remove the fish and set it aside.

In the same pan, you may add a tablespoon of oil if there is no fat left. Add in the minced garlic and give it a quick toss to bring out the aromas.

Add in the chopped kale and allow it to wilt.

Bring back the salmon. Pour the cream over it and give it a gentle stir.

Check the seasoning and turn off the fire as soon as the cream warms up.
Nutrition