April is a glorious month in Central Texas. Temperatures are pleasant, with occasional out-of-season highs. This time of the year, the garden is at its peak as far as blooms are concerned. Many of these blooming plants need very little to no attention. They spend the winter in dormancy and wake up with new energy in spring.
Join me as I walk you through my April garden with its gorgeous blooms and mood-lifting fragrance.
Black Foot Daisy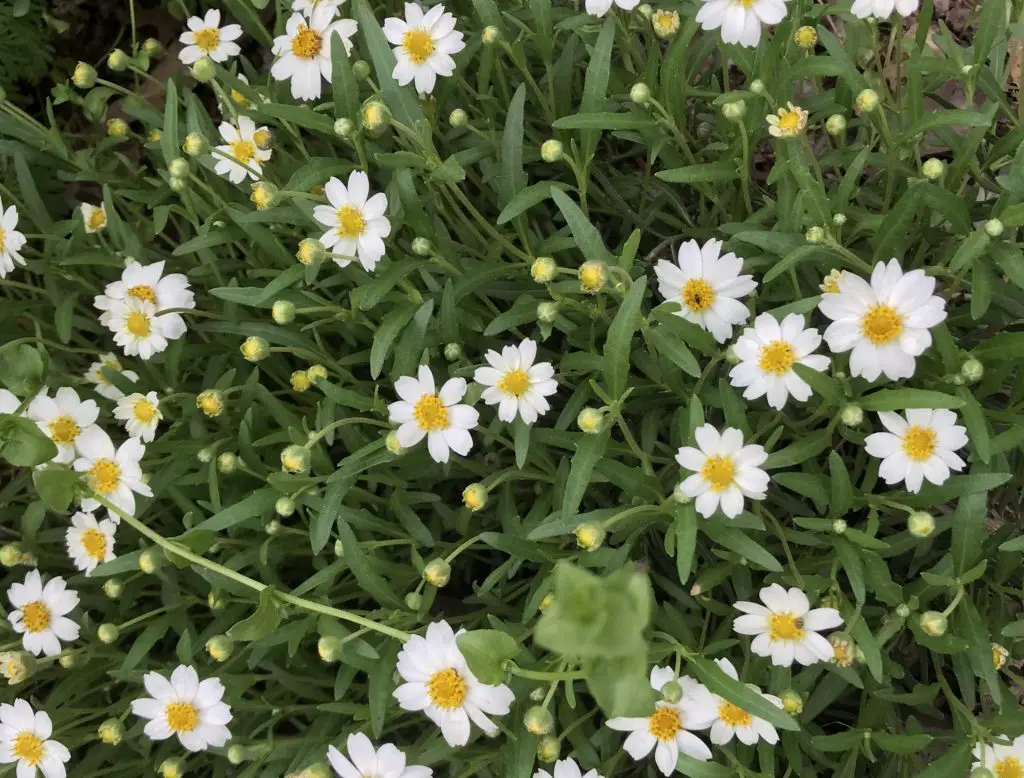 The black foot daisy is an early bloomer that belongs to the sunflower family. It grows as a low mounding bush, one foot in height and two feet in diameter. The blooms are small white with a yellow center. It is a drought-tolerant perennial with low maintenance. The bees and butterflies are attracted to it, making it a great addition to a butterfly garden.
Calendula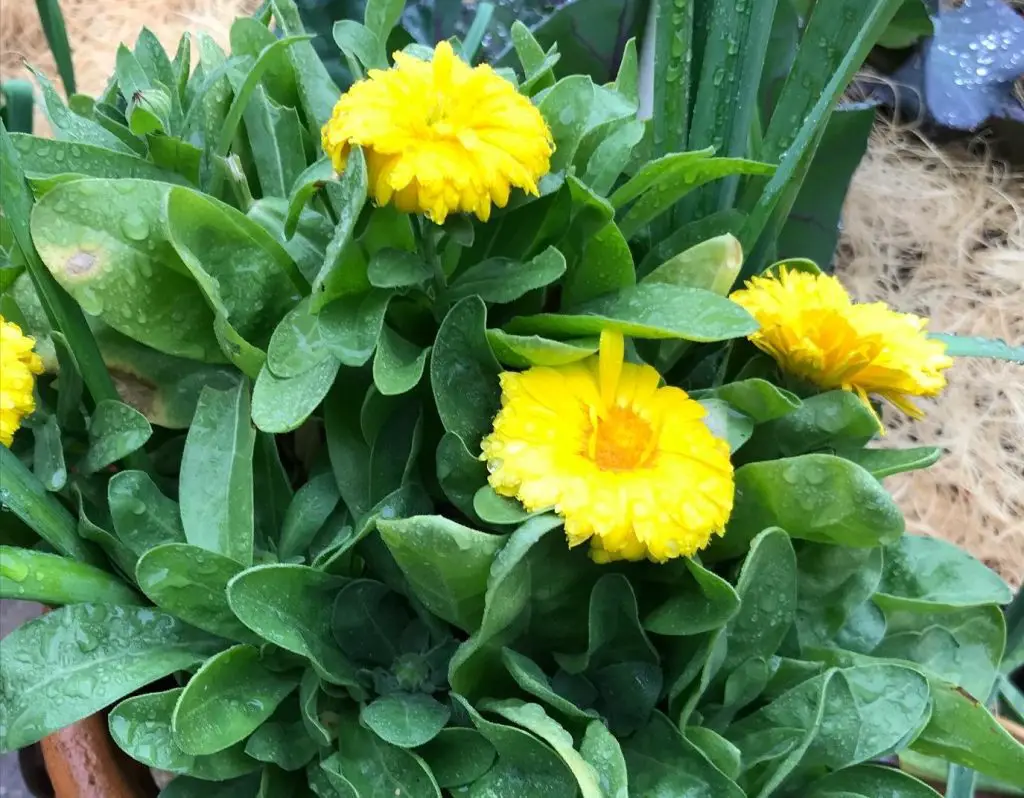 Calendula is also known as Pot Marigold since it belongs to the marigold family. The most common colors are bright yellow or orange, but some vintage cultivars come with breathtaking copper hues. This little plant needs some extra attention in the warm weather.
Dwarf Dianthus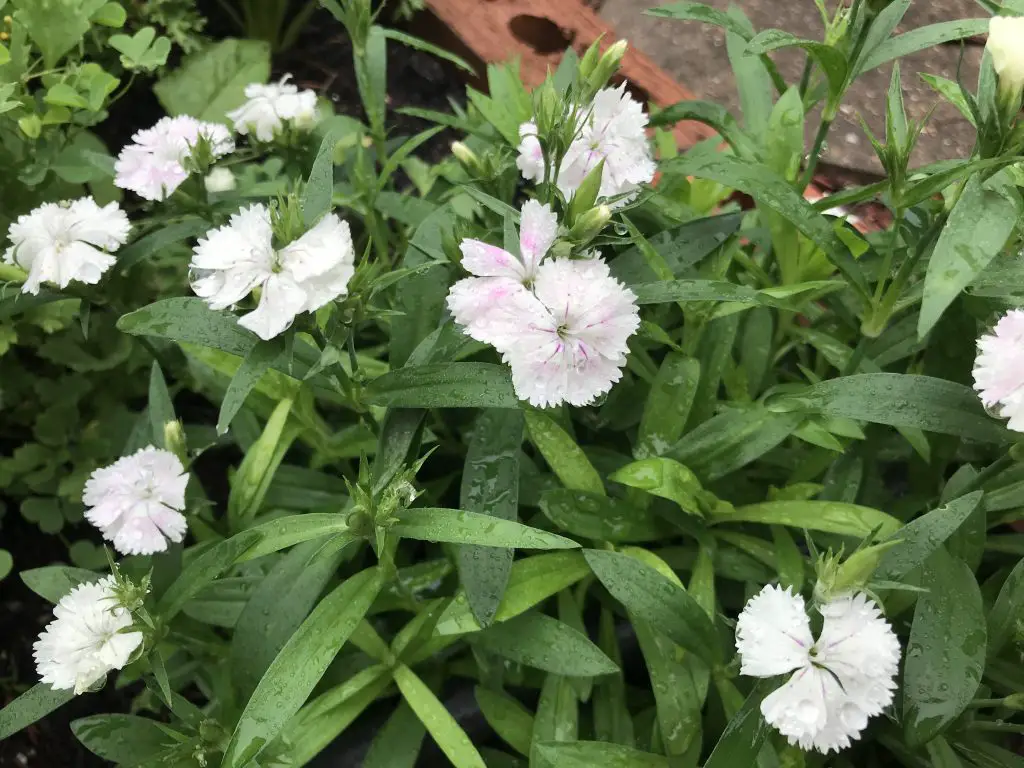 This elegant little flower is so resilient to the harsh weather. It grows into a small mounding bush with colorful lacy-looking flowers over beautiful green foliage. To ensure continuous blooms keep deadheading the spent flowers.
Also known as Sweet Williams, Dianthus has a sweet to it. It is a biennial or a short-lived perennial, meaning it lives two seasons then gives up to seeding.
Daylily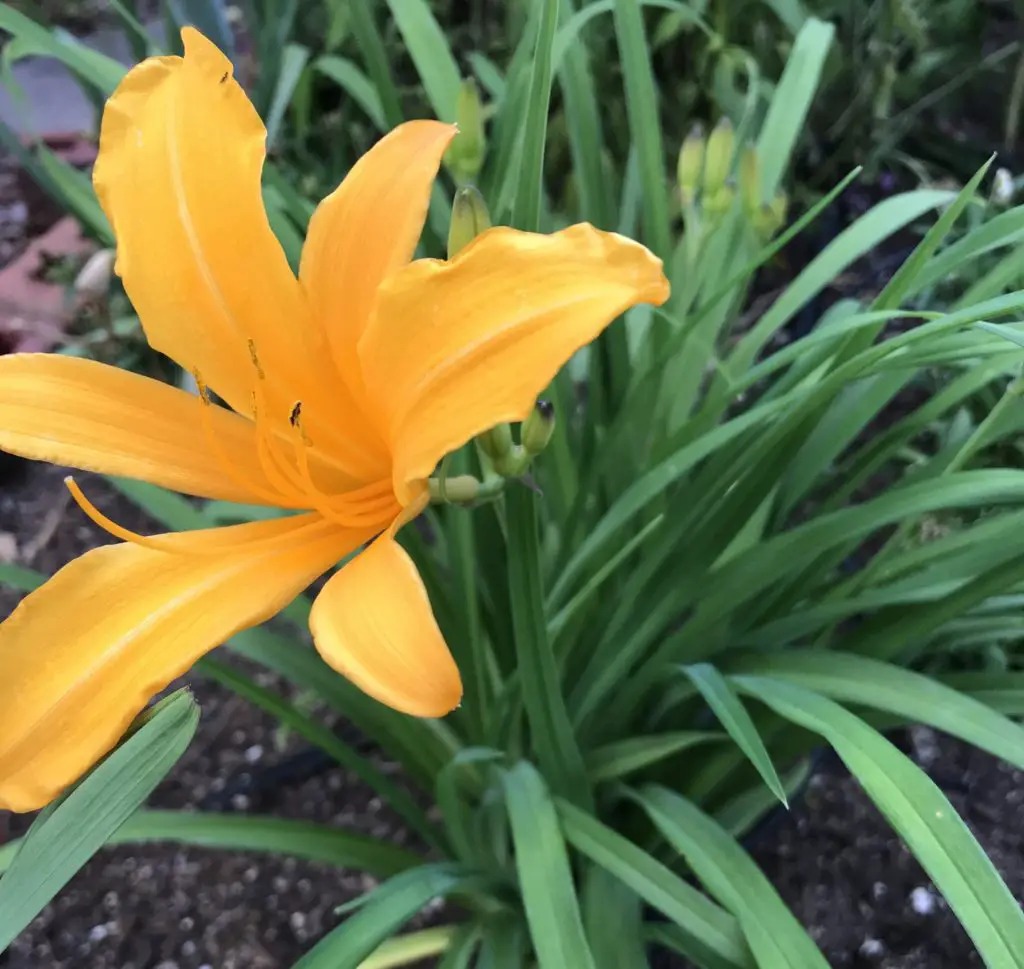 Daylilies are not true lilies, named like so for their similar appearance to Lilies. They live as perennials in central texas and bloom twice. First in Spring, then again in Fall.
The one in my garden has orange blooms that look like Asiatic lilies. The flower lives only for one day, but another one opens the next day. Keep deadheading the spent blooms to encourage continuous flowering.
Daylilies are another care-free plant. It is worth adding to the flower garden since even the foliage adds interest during the dormant time.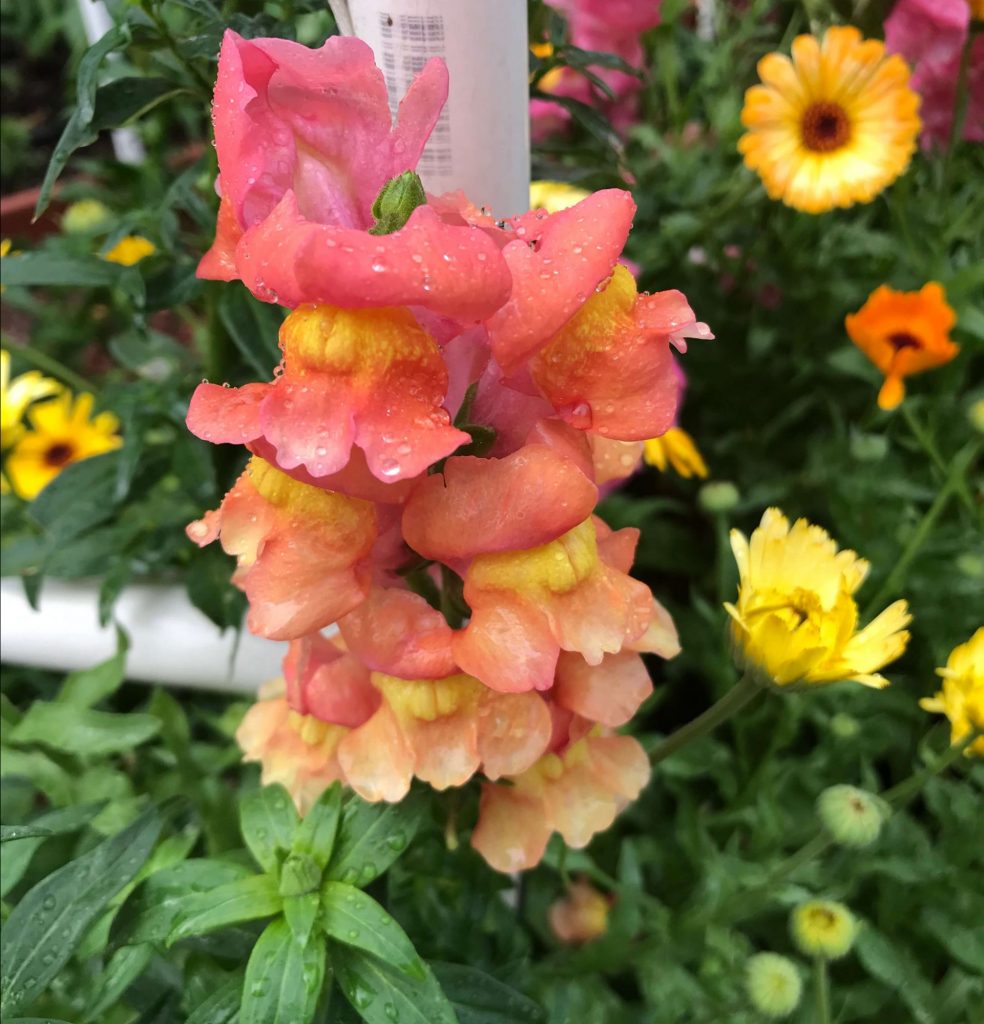 Snapdragons are a must to have in a cut-flower garden. They bloom in an ascending way on a long stalk. The range of colors they come in is breathtaking, red, yellow, pink, peach, and white. They also emit a sweet fragrance attracting bees and hummingbirds.
Due to their long erect stalk, they tend to lean over when in full blooms. Make sure to stake them to keep them straight.
Snapdragons are annuals. Once the blooming time is over, the foliage will look sickly. Pull the plant and discard it. You may start seeds in the following fall or buy new transplants.
Gladioli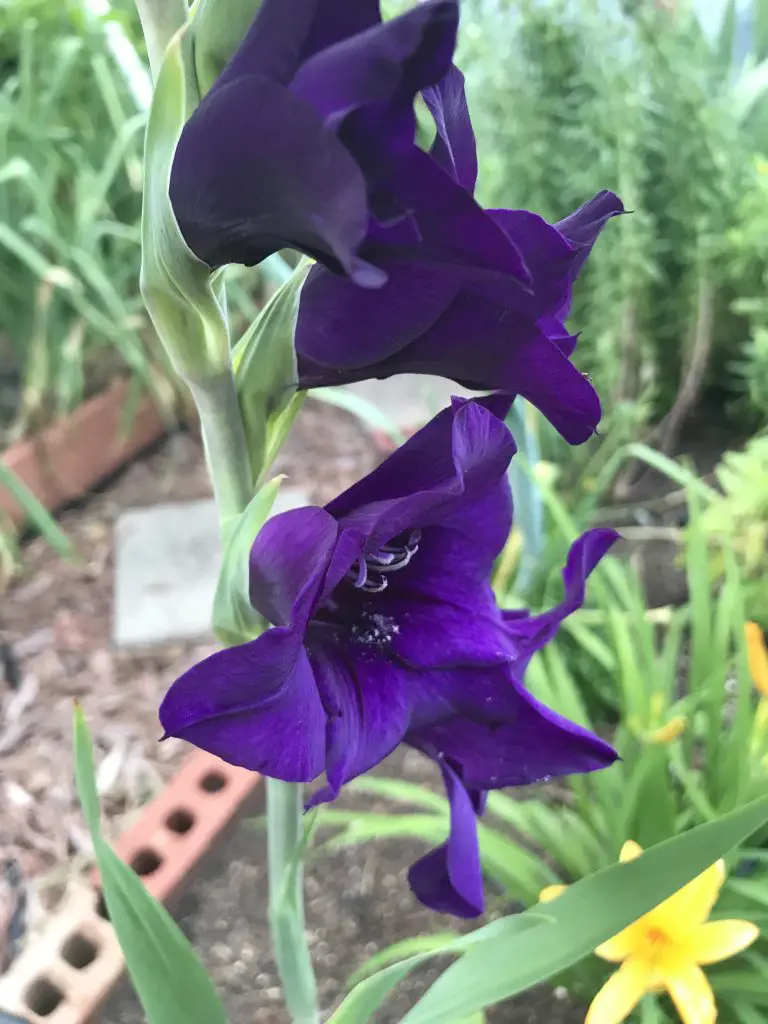 Gladioli belong to the iris family, and like Iris, they are carefree flowers. After planting it in the fall, it will stay dormant until early spring. The flowers open up slowly, allowing plenty of time for enjoyment.
Once bloom time is over, cut the stem down, keeping the foliage intact. The latter feeds the bulb/rhizome through photosynthesis, resulting in more bulbs for the next season.
There is another kind of gladiola that I am eager to try, and that is Byzantine Gladiola. It is fuller and more robust than its sister.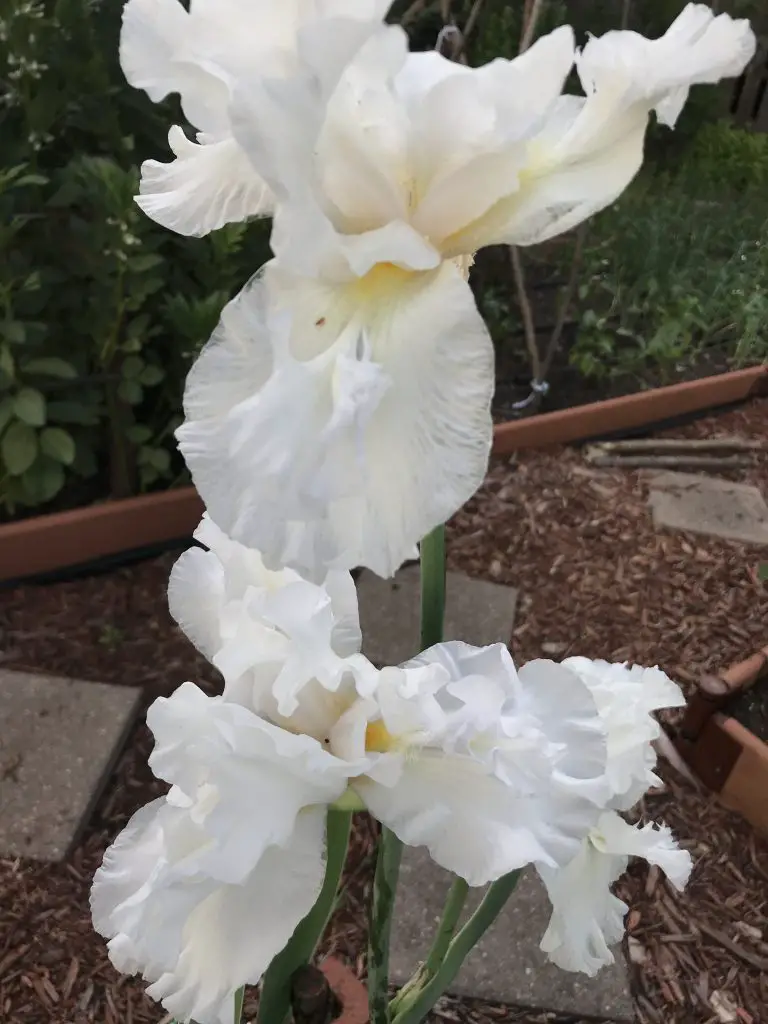 Iris blooms from March until the end of April. The flower itself stays open for a week or so. The older the plant, the more bloom you get.
Once the blooms are spent, cut the stem down, leaving the foliage intact.
Larkspur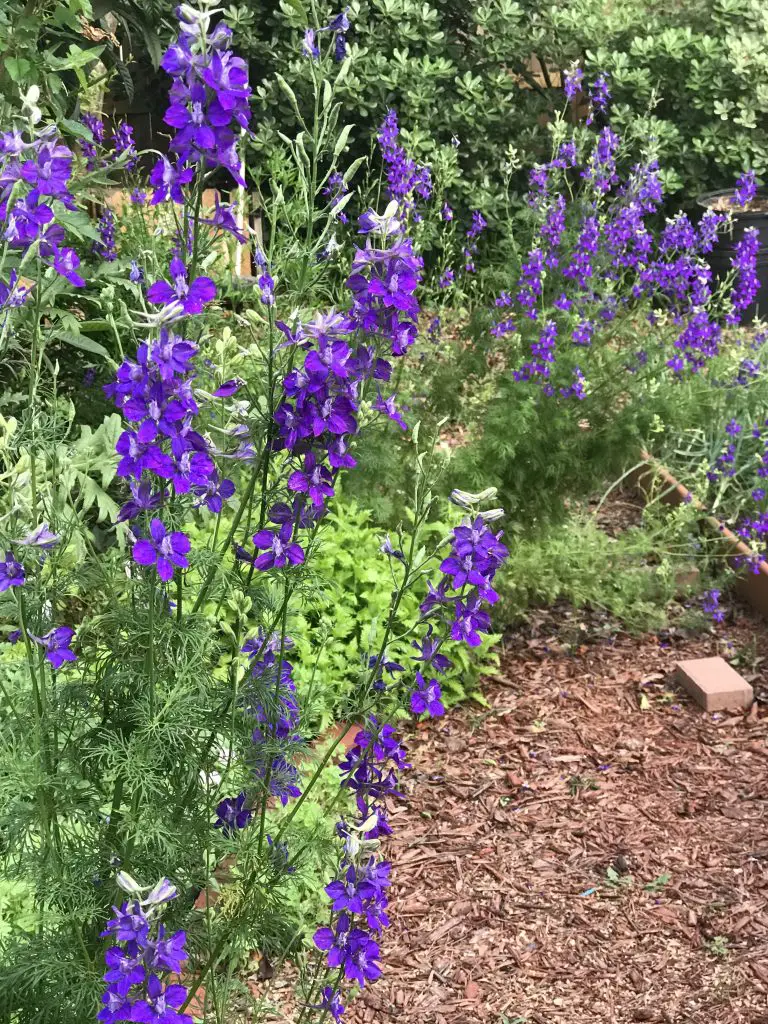 Larkspur can be considered a wildflower. Plant it from seed once, and you will have them coming every year, everywhere in the garden. In case you don't like the invading aspect of this plant, the seedlings are easy to pull out and transplant elsewhere or give away.
They are a great choice as cut flowers, with a slightly sweet scent. They go well with snapdragons in a flower arrangement.
Oxeye Daisy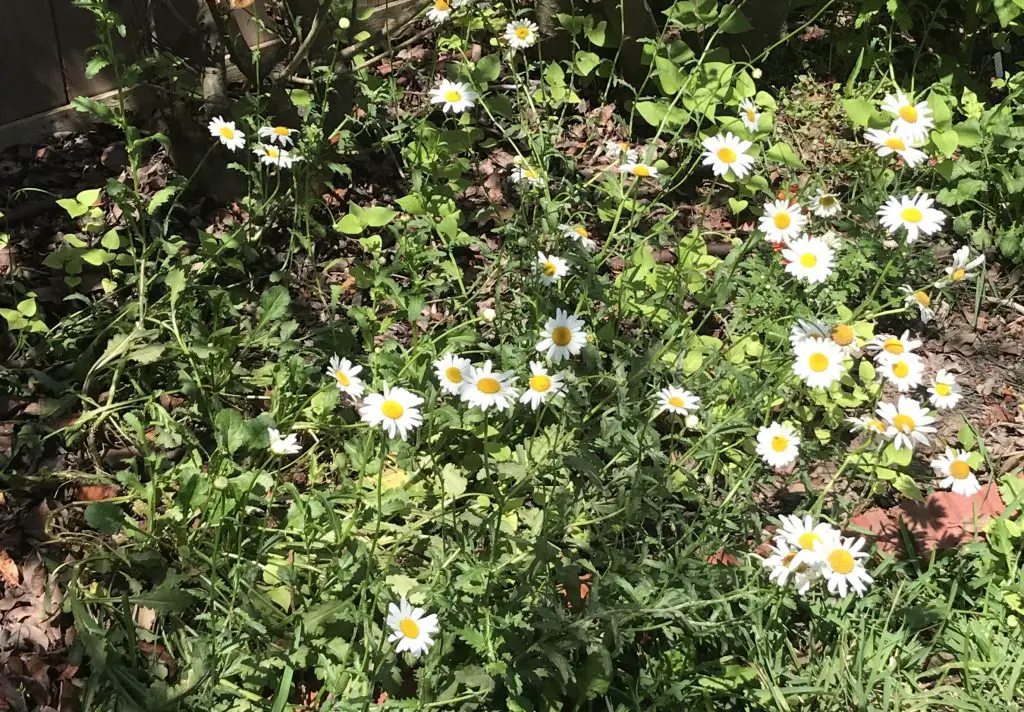 Oxeye daisy is a care-free drought-tolerant perennial. It may show up uninvited in the garden, but you won't regret it. The prolific blooms put on a great show during the hot season.
Pink Evening Primrose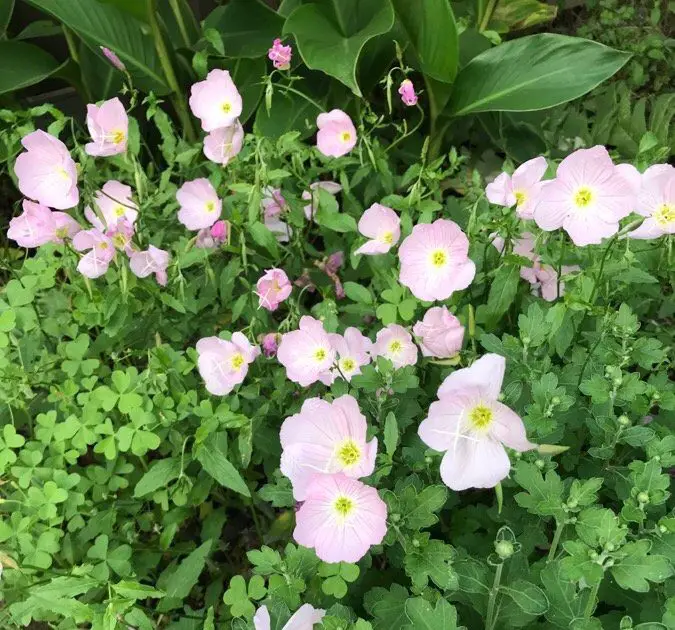 Evening Primrose is another wildflower of Texas that acts as ground cover during the spring. The cup-shaped flower is sensual and delicate, with pale pink petals and a yellow center. They die back once the scorching heat strikes but then come back stronger every year.
Star Jasmine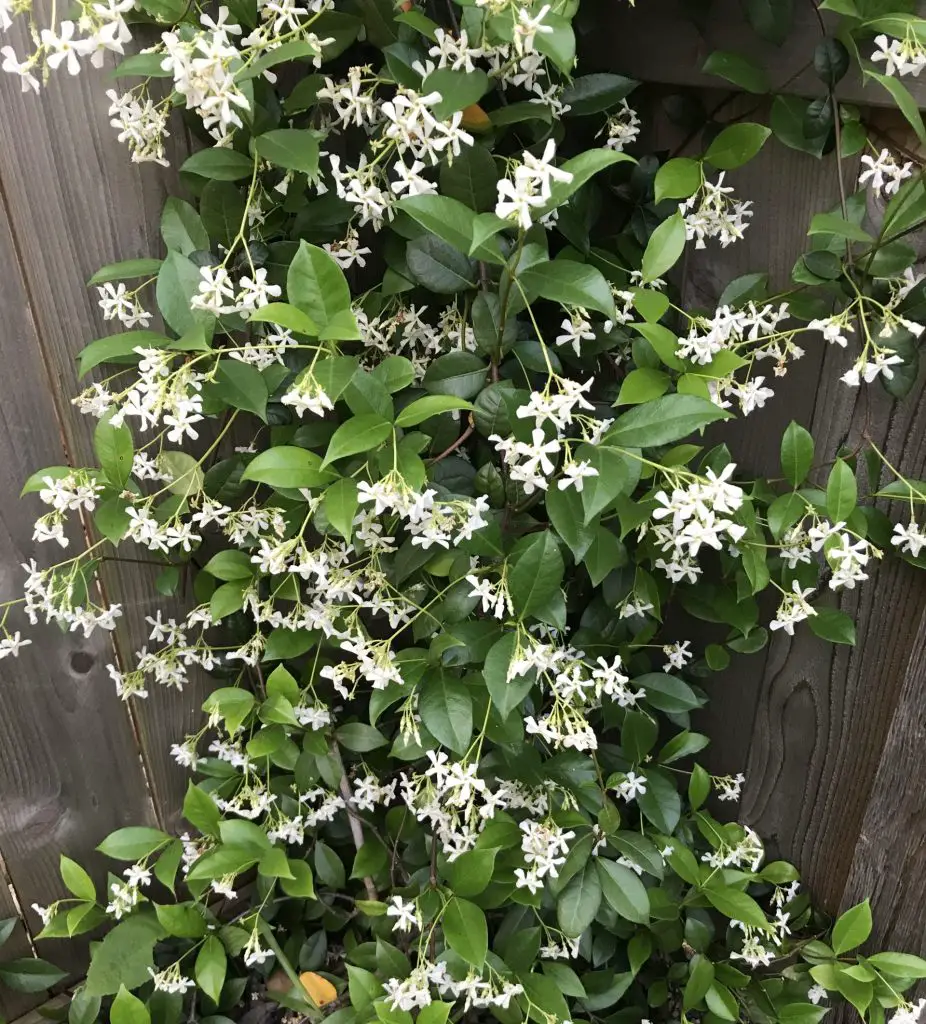 Star Jasmine is a climbing perennial that looks great on an arbor. The little star-like white flowers stand out on the deep shiny green foliage. They also have a sweet scent that attracts bees.
---