One late summer day, I was not feeling like cooking. I was not in the mood to peel and chop too many vegetables. So instead, I prepared something easy yet delicious to feed my family. This creamy salmon recipe was just right for the moment.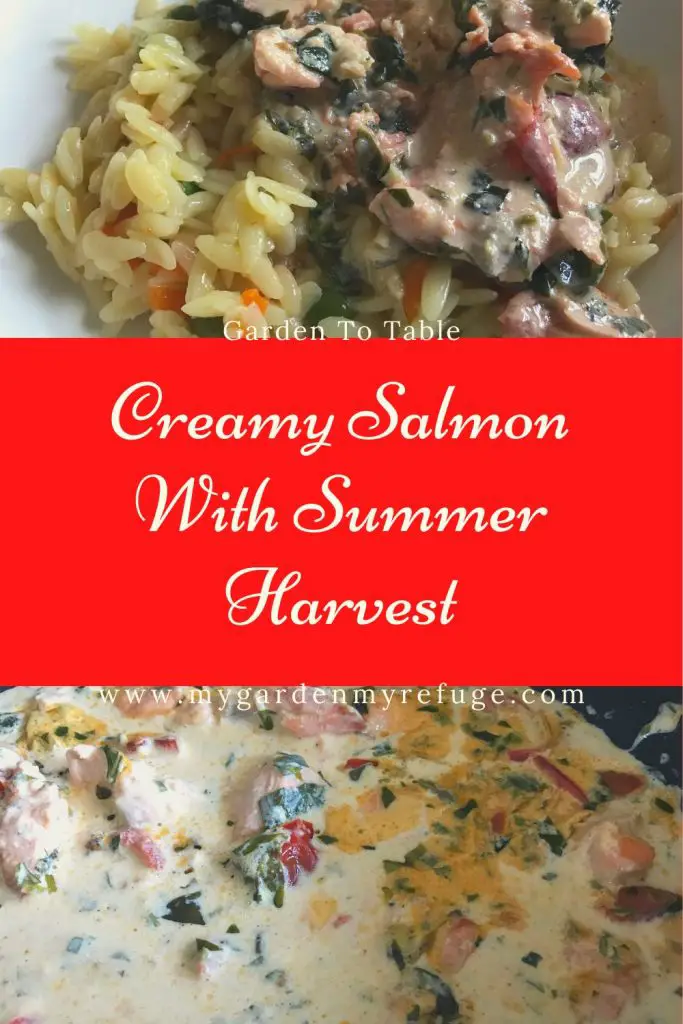 Wild-caught salmon vs. farm-raised
according to science, wild-caught salmon contains a good ratio of Omega 3 to Omega 6. It also has more vitamins and minerals that could benefit our bodies.
On the other hand, farm-raised salmon is simply the opposite of its counterpart. While it is a good source of Omega fatty acids, it also contains a great deal of Omega 6. It is also more likely to be contaminated with pollutants due to its surrounding environment.
According to the nutritionist Kelly Schmidt: "The difference in the nutrition breakdown between farmed and wild fish is due to their diet. Wild salmon eats other organisms in its natural environment, where farmed fish feed on a higher-fat processed diet to produce larger fish."
In conclusion, it is best to consume the wild-caught salmon than the farm-raised one. Read more on this matter in this post.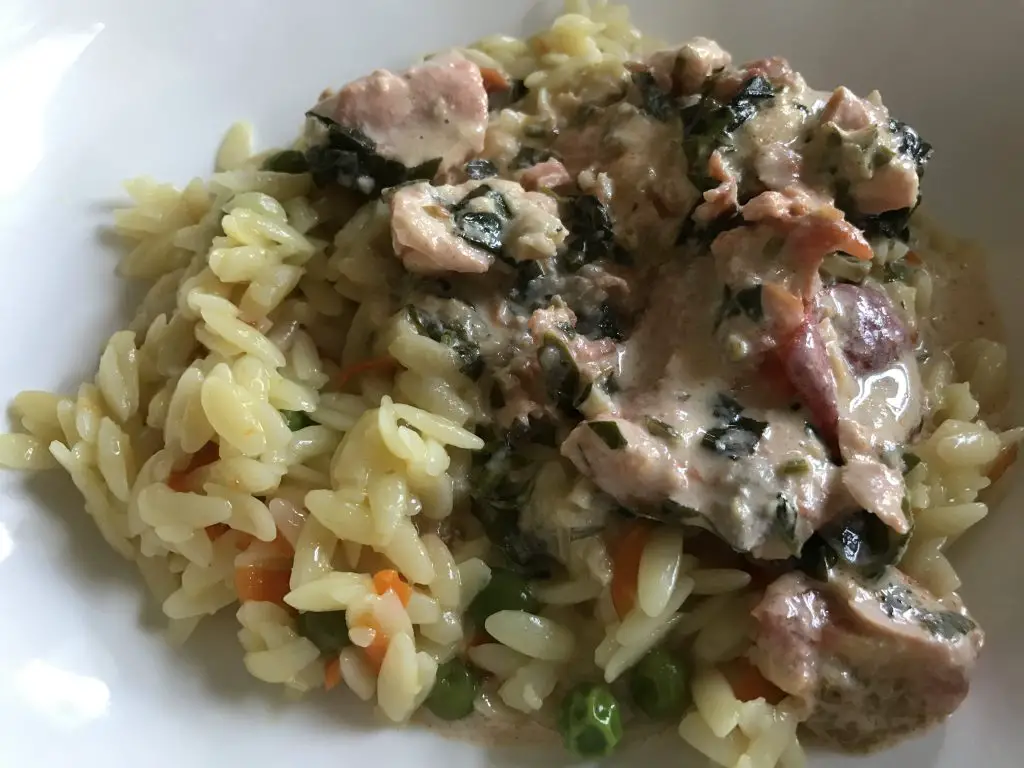 Is cream good for you?
The widespread conception is that whipping cream causes high blood cholesterol and may lead to heart disease. But lately, we have been hearing about how good fat is for your overall health.
According to Healthline," The fat in heavy whipping cream is primarily saturated fat, which was long thought to contribute to the development of heart disease. However, current research does not show a strong link between dairy fat intake and heart disease. Emerging research suggests that eating saturated fat may help protect against heart disease."
It also mentions that "Heavy whipping cream also contains choline and vitamins A, D, E, and K, all of which play vital roles in your health."
After all, moderation is key to good nutrition.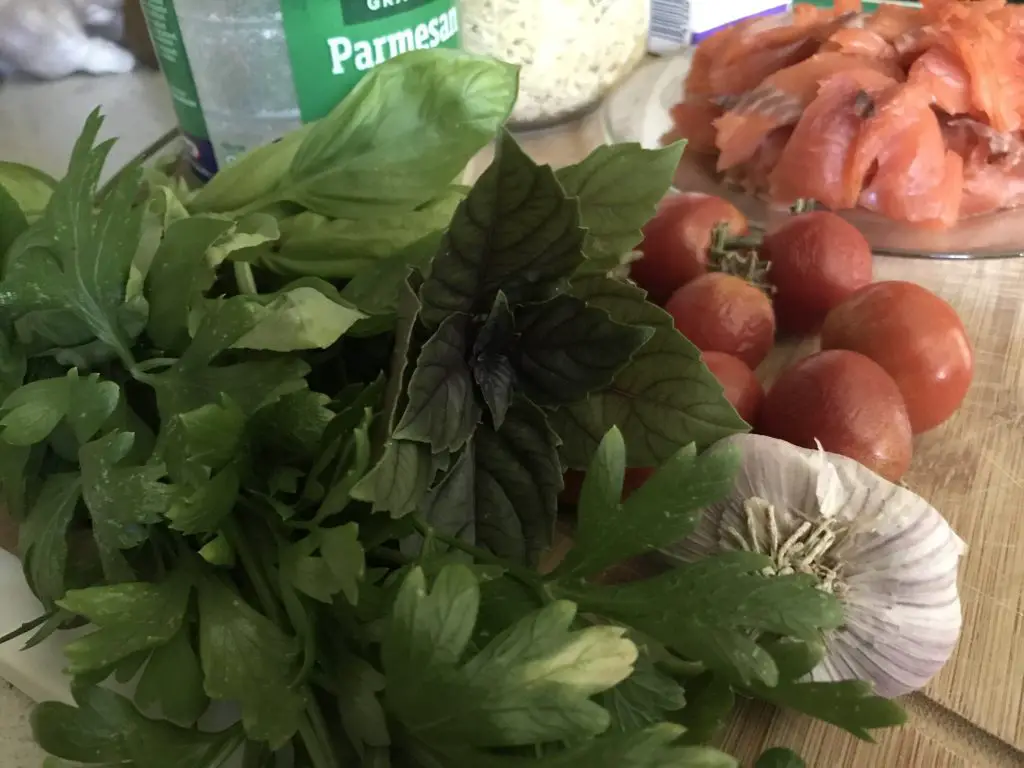 Good use of summer harvest
This recipe calls for tomatoes, basil, and parsley, the ultimate summer combination. Even though parsley does not grow well in a warm climate, it might survive the summer if grown in the shade. Even better, the quick-cooking method preserves their fresh flavors.
Creamy Salmon With Tomatoes & Basil
This recipe is quick, delicious, and goes well with past, grain, or rice.
Ingredients
1

tbsp

oil

1

lb

Salmon, skinned and cleaned

4

Garlic cloves, crushed

1/4

cup

Bazil, chopped.

1/4

cup

Parsley, chopped.

1

cup

Tomatoes, chopped.

2

cups

Heavy cream

1/2

cup

Parmesan

1/2

tsp

Salt

1/4

tsp

Black pepper

1/2

tsp

Paprika
Instructions
Preheat a skillet then add the cooking oil of your choice.

Cut the salmon into bite-size pieces, then add to the ooilto brown on all sides.

Remove the fish with a slotted spoon, and set aside.

In the same skillet, sautee the chopped garlic without allowing it to burn.

Then add in the tomatoes and herbs.

Season with salt, pepper, and paprika. Saute everything for a few minutes.

Then pour in the cream and give it a quick stir. Then add the parmesan along with the salmon.

Bring to a quick boil and cook for two minutes. The fish will continues cooking with the heat.

Serve with your choice of pasta.
Nutrition