Gardeners often find themselves constrained by the limited growing space. Seeking ideas to tuck in new varieties in their gardens is a never-ending mission.
Using vertical space is one solution to this problem. However, there are different ways to grow vertically depending on the crops. The following is a list of some options that could work for you.
These are my favorite trellises that I use in my 224 square feet garden. They are easy and quick to put together, sturdy, and easy to store.
Why Do You Need a Trellis in Your Garden?
Providing a trellis to vining crops keeps the garden neat and the harvest clean. It also makes disease and pest management easier to handle.
1)The Old Tomato Cage
Tomatoes fall into two main categories: determinate and indeterminate. The indeterminate tomatoes can grow way over six feet in height. The determinate varieties can reach up to six feet. Regardless of the type, they both need a support system.
Gardeners use different systems, depending on the growing space and budget. Florida weaving and stringing are two popular methods among farmers and open-space gardeners.
Through the years, I have been able to try many of those systems. Unfortunately, most of them were time-consuming, which was a challenge. Also, with the limited space, I had to find a better way to store them.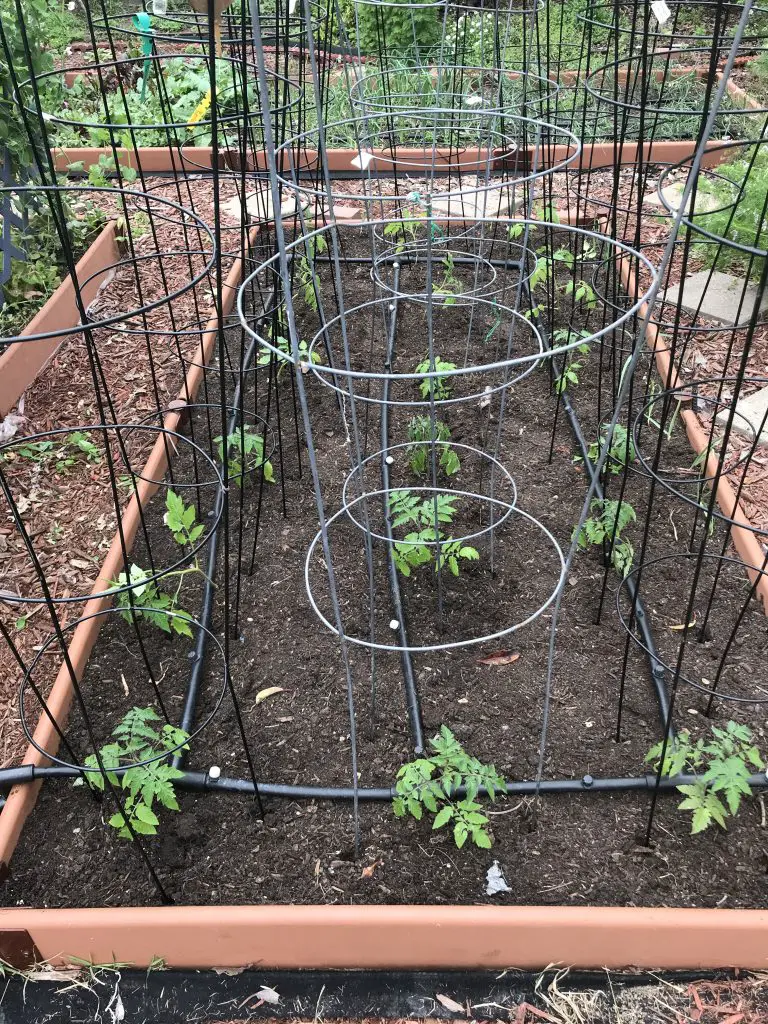 Since I had neither time nor money to spare, making a drastic change in my tomato growing practice was in order. First, I switched from growing only indeterminate varieties to mostly determinate ones. This decision, then, helped settle on the final choice of a support system, which is the old tomato cage.
Going back to the old 54″ gauge galvanized tomato cage made life much easier. There is no assembly required and no parts to lose. The key is to insert the cage's legs as deep as possible into the ground. Also, they need to touch each other for more strength. Once the tomatoes are well off, they hold each other up.
At the end of the growing season, I either stack the cages in the garage or use them to support row covers during a cold front.
Here is a link to my post on how to grow tomatoes. Click here
2) Bamboo or Branch Trellis for Pole Beans
In a small garden, growing pole beans are much more rewarding than growing bush beans. They have fewer issues and produce more for the space they occupy.
Most bean trellises use poles or long stakes. Each can hold four vines, saving a great deal of space. There are different kinds of poles. Some are bamboo or tree branches, others are made of plastic.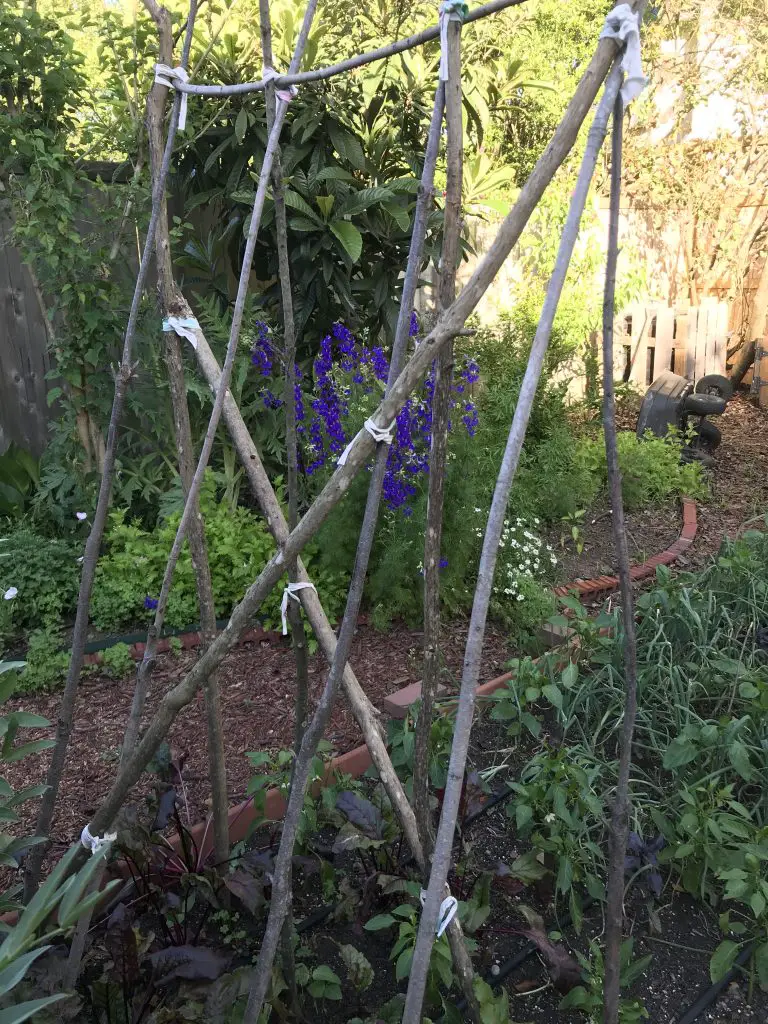 Some gardeners arrange their poles as a tepee. They form a circle at the base and gather at the top. While this is an attractive setting, it does waste some ground space, especially in a raised bed. A better way to arrange the sticks is parallel crossing.
Make a row of sticks distancing them one foot apart.
Form the second row parallel to the first.
At the top, criss-cross each pair of sticks and place another stick horizontally.
Use ties to attach the joints.
Add a diagonal stick for extra sturdiness.
The parallel crossing trellis has been my go-to bean trellis for years. I use branches that I save from tree trimmings. Then when the season is over, I bundle them up and store them in the garage.
Click here to learn more about how to grow green beans.
3) Multipurpose trellis
The multipurpose trellis fits the concept of frugal gardening. It supports a variety of crops, such as tomatoes, cucumbers, beans, vining squashes, and peas. There are two possible options to make this trellis:
Wooden framed trellis: Wood does come with a considerable initial cost, but it pays for itself in the long run. The idea is to make a frame out of wooden strips and attach a wire panel to it. To install the trellis, either screw the bottom panels to the raised bed wall or plant them deep in the soil.
PVC pipe framed trellis: It is the same idea as the wooden frame trellis but uses PVC pipes instead. To hold the trellis in place, insert an 18-inch long R-bar into the soil on each side. Then slip the PVC legs into them. For extra support, screw T-posts into the legs. (more details on how to make this trellis here)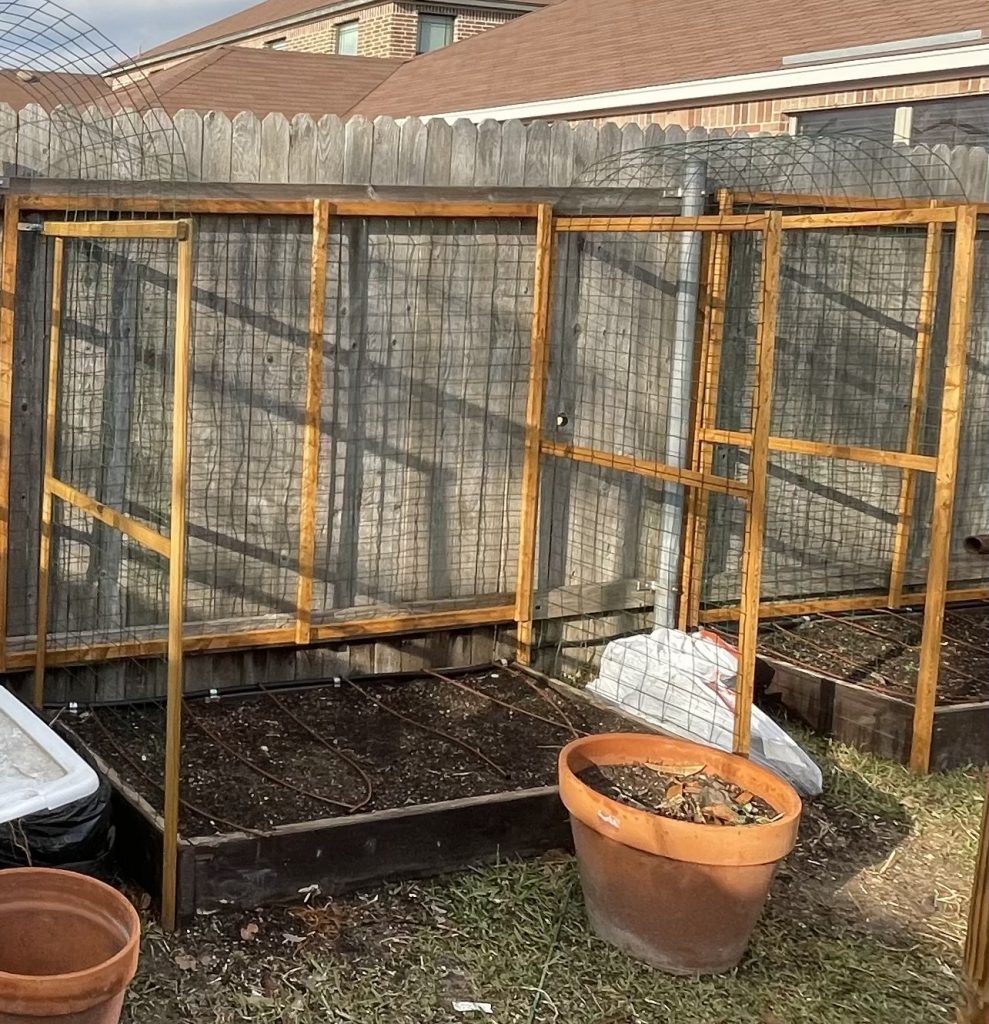 Note that you may use any size mesh except chicken wire. It is too flimsy. The ideal wire for this job is cattle panel or stock wire.
4) Lattice Peas Trellis
Lattice is another trellising choice for climbing plants. Its unique design adds charm to the vegetable garden. This support system works exceptionally well with peas. It can be made of wood or PVC, with the latter being more durable.
For more details check out this post: How to make an easy trellis?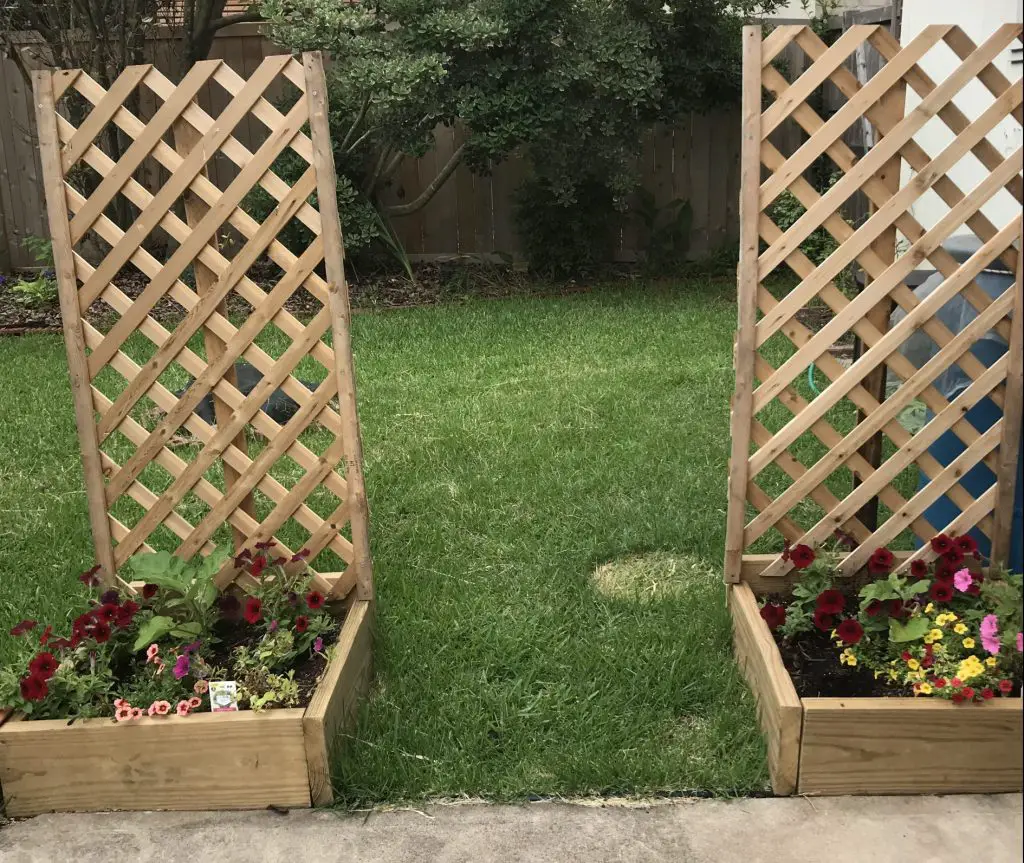 5) Bamboo and twine trellis
This bamboo and twine trellis is another plant support that is easy to make. It is an old fashion trellis used mostly to support peas. It starts by making a bamboo frame and threading a heavy-duty twine vertically for the plants to climb on. The key is to make strong knots where the canes join.
While this trellis is great for small gardens, it does not last for long. You will have to make a new one every season.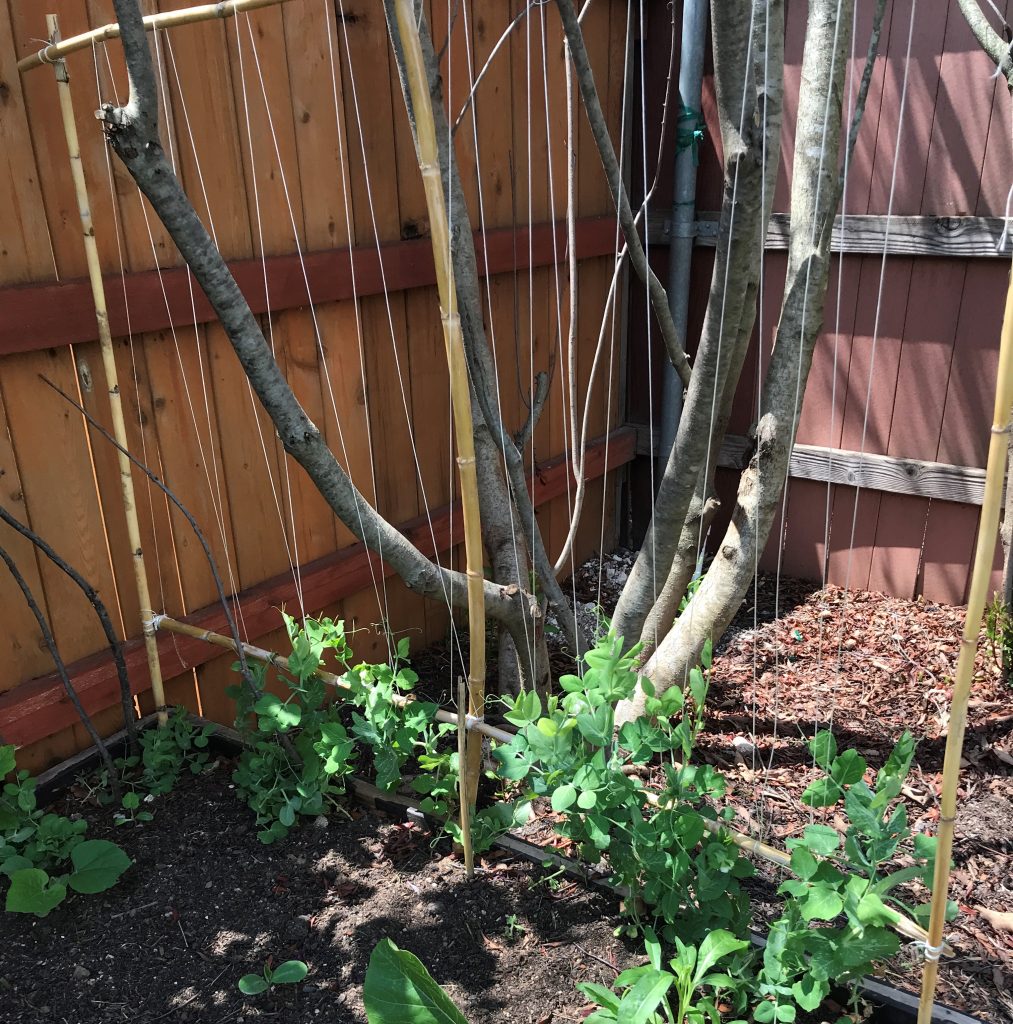 Do Trellises Really Save Space?
Here is how trellises make a good growing system. In an eight-by-four-raised bed, I grow three different crops. The bamboo/branch trellis covers a two-by-four space to grow pole beans. The PVC trellis occupies a one-by-eight area for the cucumber. The rest of the bed, which is six-by-three, is left to grow zucchini.