Grow basil in Texas
Basil is one of the herbs that grow well in Texas. Despite its delicate appearance, it is among the best heat-tolerant plants. It is an easy herb to grow for beginner gardeners, including kids. Here is how to grow basil in Central Texas.
When to plant basil?
Basil is a warm-season plant and thrives in temperatures higher than 75F. So, cooler temperatures stunt its growth, and frost will kill it.
In Central Texas, basil growing season starts after all threat of frost has gone. Usually, from April until October. However, it may vary year to year, depending on the first and last frost dates.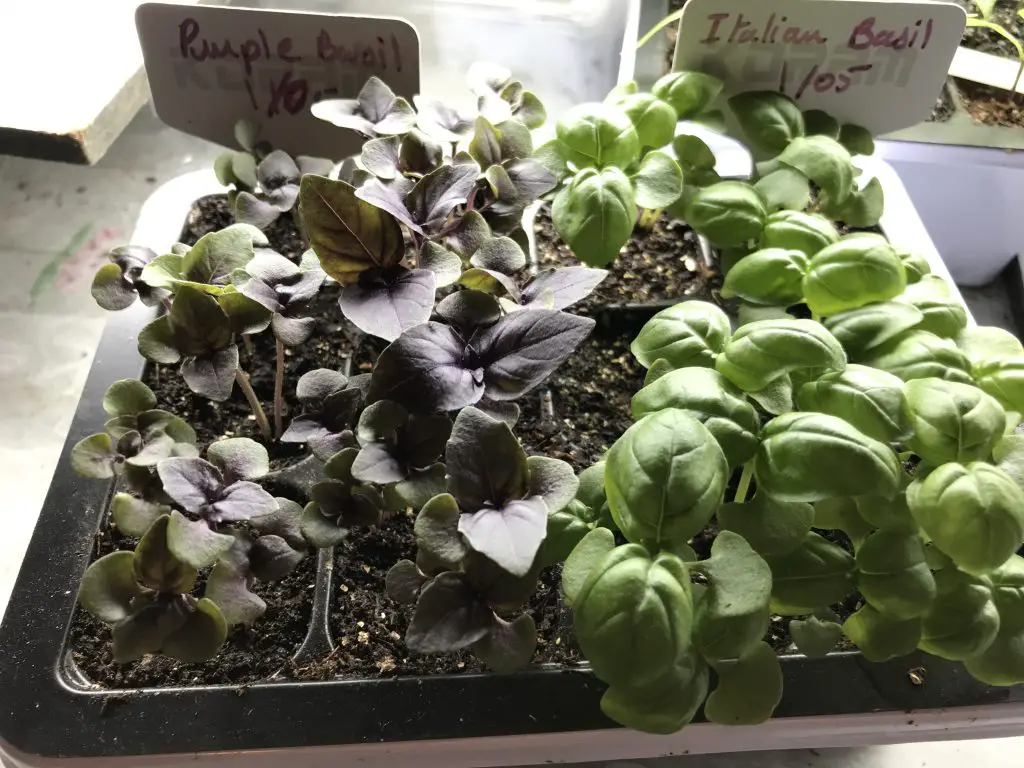 Grow From Seed or Transplant?
As mentioned above, basil is an easy herb to grow from either seed or transplant. Go with the seed option if you want to grow many plants. It is more cost-effective.
If you want to try different varieties, you might go with the transplants. It will give you a chance to get to know each type better and choose the one that suits your taste.
How to start basil seeds?
You have two options when it comes to planting basil from seed. First, start them indoors two weeks before the last frost date. Use a well-lit window or a grow light to avoid legginess (long thin stem).
To learn more about how to start seeds, you may check my other post on Seed-starting Basics.
Second, scatter the seeds directly in the soil after all danger of frost has passed. Either way, will you will end up with excellent results.
How to plant basil transplants?
When planting from transplants, remove the plant carefully from the pot. Flip it upside down onto the palm of your hand. Hold the root ball gently and place it in the prepared planting hole.
The planting hole should be the same size as the root ball. Next, place the plant and backfill with soil, ensuring the stem base is level with the soil line.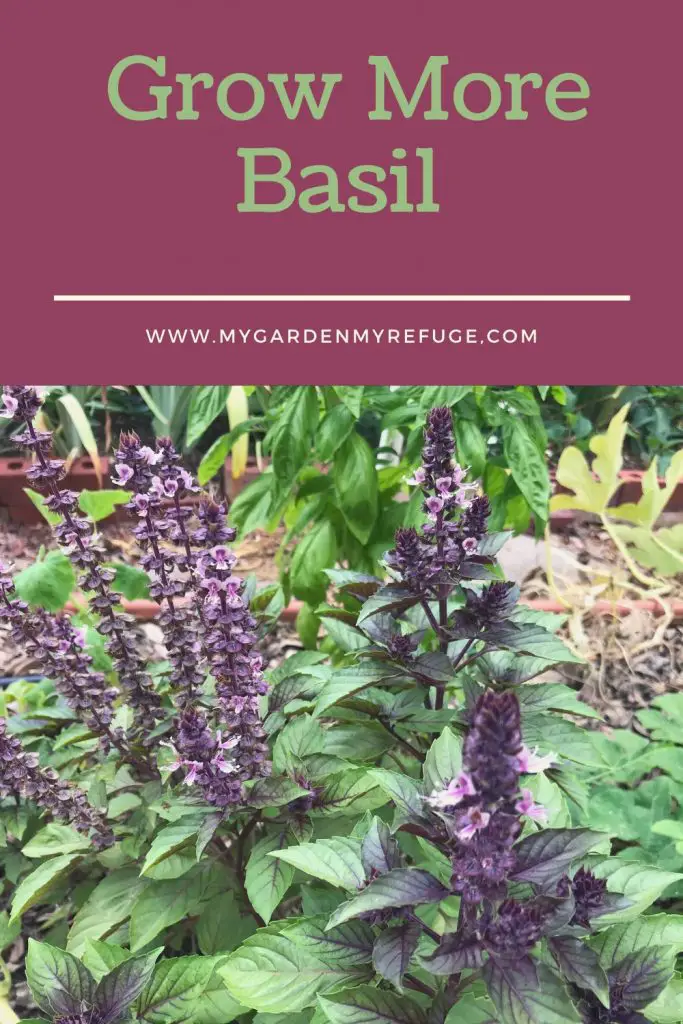 Does basil grow in pots?
Basil grows very well in pots as long as they are well-watered during the hot summer days.
What size pot?
The size of the container depends on the mature size of the plant. Some basil gets as high as three feet, so it needs at least a two-gallon pot. While dwarf mounding basil varieties can live in a small quart to a gallon size pot.
Can basil grow indoors?
Yes, basil can grow indoors if you have a sunny room. However, the more compact varieties, such as the Greek bush or Boxwood basil, are more suitable as houseplants.
What soil to use to grow basil?
Basil grows in various soil types as long as it drains well. Adding organic matter to either sandy or clay soil improves their texture and makes them better for growing anything.
How to space Basil Plants?
Basil plant grows considerably big. It is best to give it enough space for better air circulation. Place one plant per square foot is manageable. You might also plant it between tomato or pepper plants as companion plants.
Sun requirement of basil
Basil grows in the summertime, and it needs full sun to thrive into its full size. Six hours of direct sun is plenty in Texas, and afternoon shade is appreciated.
Growing basil in the shade is not impossible, but it might take longer to reach its full size.
How much water does basil need?
Basil does not like to stay wet. After making sure the soil is well-draining, set up a watering schedule. Insert your index finger in the soil to check the moister level, then water only if it feels dry.
Too much water may cause yellowing of the leaves and may kill the plant.
Does basil need fertilizer?
Herbs, in general, don't need any extra fertilization. Amending the soil with organic matter before planting should be enough.
How to maintain and care for the basil plant?
Basil plants are easy to maintain and keep happy. Regularly pinch the tops and the flowers as soon as they appear. This practice will encourage fuller growth by sending more side shoots.
Basil flowers
Basil flowers are a great addition to flower arrangements. They are small and cascade along the stem. Regular cutting encourages new growth on the plant leading to more flower shoots and a bushier plant.
Keeping the flowers on the plant reduces the production of more leaves, hence less harvest. Also, allowing the flowers to mature and dry on the plant will make it self-seed.
SeIf-seeding is one way of reproduction that ensures the survival of the plant. The seeds will germinate wherever they land at the time of the season. This habit suits gardeners who like a natural and wild garden look. Otherwise, neat gardeners cut the flowers regularly to keep their basil under control.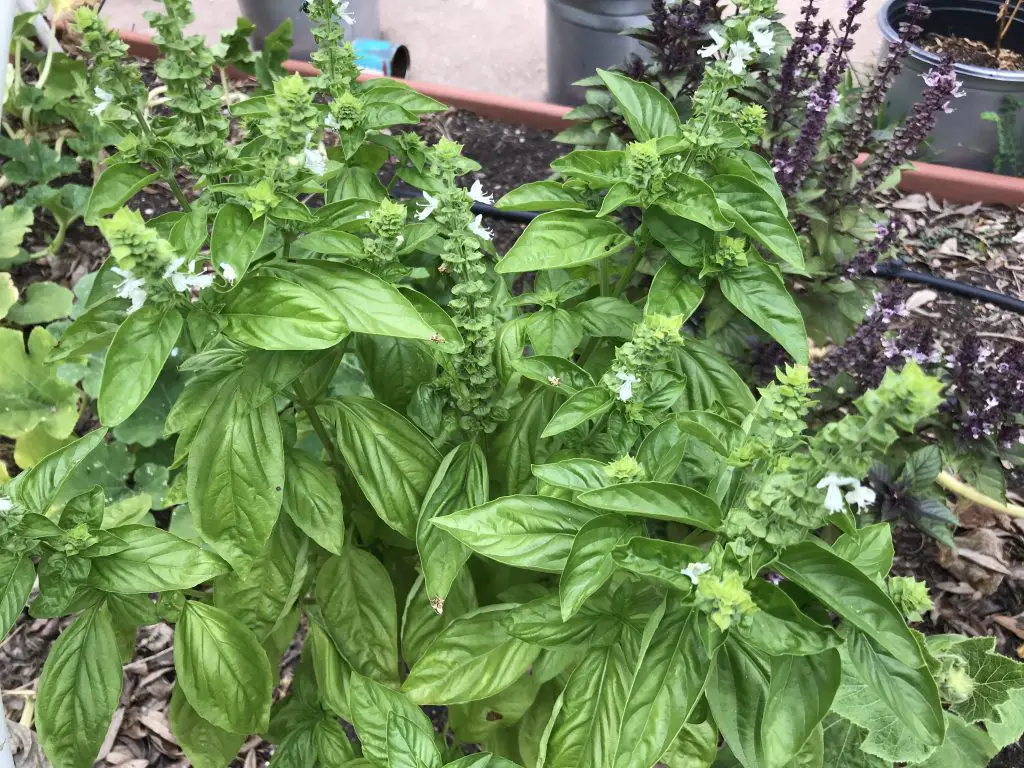 Does basil spread?
Basil is not a creeper but an erect plant with a stem that turns woody at maturity.
How big do basil plants get?
The mature size of basil plants depends on the variety. Some varieties can reach three feet tall, while others are short and mounding.
Does basil come back year after year?
Basil is an annual herb. It completes its life cycle in one growing season. To have it come back the following year, just let it seed itself. Allow the flowers to dry on the plant to release the seeds. When the growing season arrives, baby basil plants will emerge in random places in the garden.
Varieties of basil
The most common basil varieties are Sweet Italian and Thai basil. Boxwood and Greek basil are more compact with smaller leaves.
I grew purple basil this year and made drinks out of it and flower arrangements.
Can basil be a companion plant?
Basil is a great companion plant for the summer garden in Texas. Plant it in between tomatoes, peppers, and eggplants. Some gardeners believe that it enhances the flavor of tomatoes, which I can not prove. Others also believe that it deters insects and rodents from your harvest.
When and how to harvest basil?
Harvest basil leaves whenever you want. The more you harvest, the more growth there will be. When harvesting basil, pinch off the leaf. Avoid cutting the whole stem unless you want to trim the plant.
Always leave a few green leaves on the plant. They are the food source for the new growth. If you leave a bare stem, you risk losing the plant, as there are no leaves to perform photosynthesis.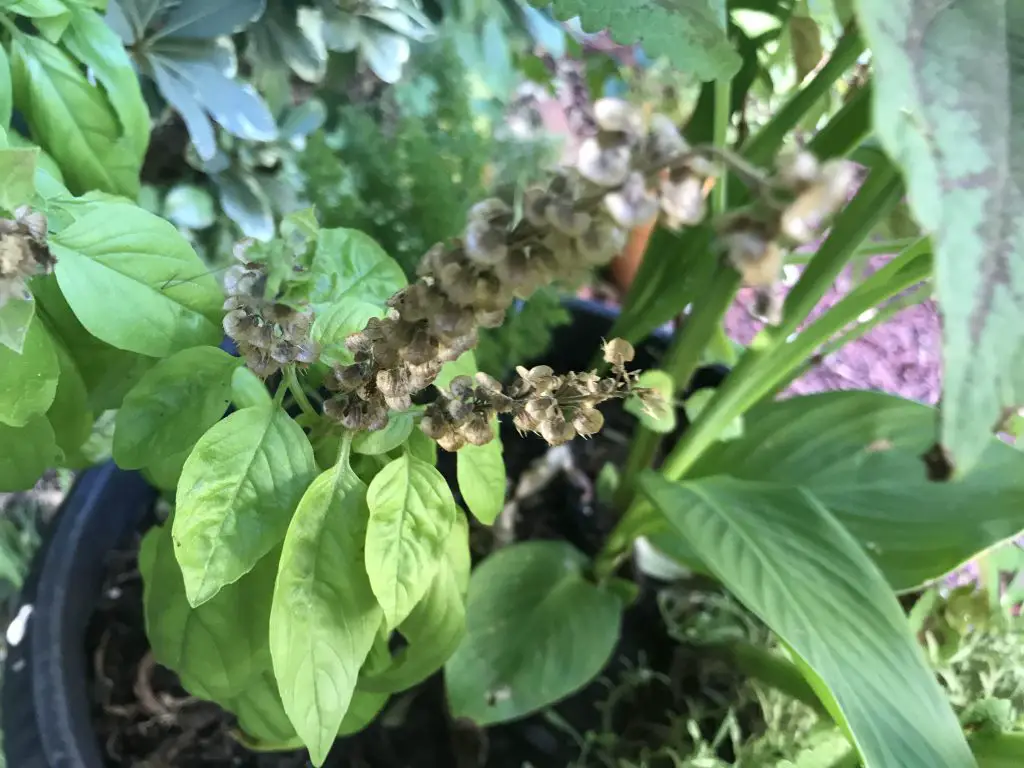 How to harvest basil seeds?
To harvest basil seeds, allow a few flowers to turn brown on the plant. Remove and set it on a plate to let it dry even more. Use your fingers to scrape off the seed buds from the stem.
Rub the buds energetically between the palms of your hands to remove the seed coat. Use a sieve to separate the rubbish from the seeds. Gently blow over the seeds for further cleaning. That's called winnowing.
Once clean, store the seeds in an airtight jar or seed paper bag. Label your seed packet with the name and the date. They should keep well for three to four years.
Never rinse basil seeds attempting to clean them. Like chia seeds, basil seeds swell and form a thick coat when wet. And they are not worth storing anymore.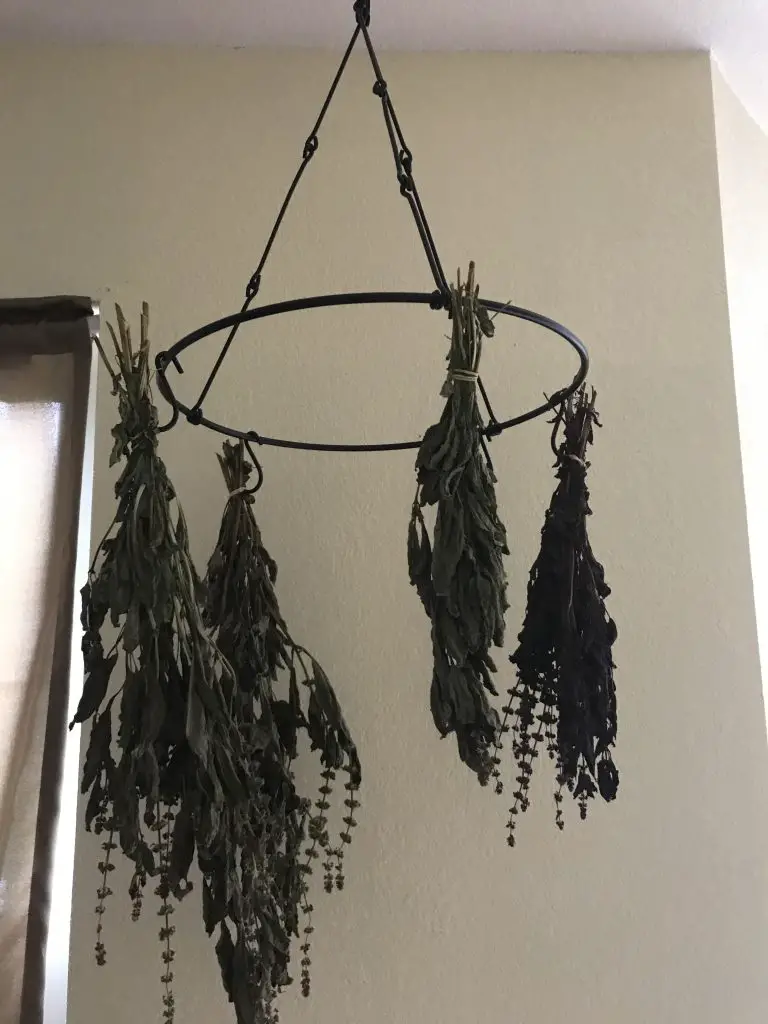 Basil in the kitchen
Basil is an essential herb in Mediterranean cuisine. Italians use it in pizzas, salads, and many pasta dishes, while North Africans flavor their tea with it.
How to preserve basil?
Drying basil:
The most common practice of preserving herbs, in general, is by drying. After a good wash, let the herb drain well from excess water. Then lay them flat on a dry clean towel or a bamboo tray, and allow them to air dry thoroughly in a cool shady place.
Another way of drying basil is to tie it into bundles after the wash. Hang them upside down in an airy place to dry. Once dry, remove the leaves and store them leaves in an airtight glass jar.
Pesto
Most herbs change flavor and aroma when dry, so pesto is an excellent way to preserve the fresh taste of basil.
Basil drinks
Steep a handful of basil leaves in hot water to enjoy a warm tea. Add some ice or allow it to cool in the fridge for a refreshing drink. To enhance the flavor, you might add some honey, sugar, or lemon wedges.