There is no doubt that each of us has experienced the pain of an upset stomach or the discomfort of feeling nauseous. In my household, we go through it at least twice a year: at the start of school and during vacation. Unfortunately, my little boys are the most affected by it. Luckily, my mom taught me how to make this soothing ginger and lemon tea to bring them some relief.
Why Ginger?
Ginger is a root crop grown in subtropical regions. It is widely present as a spice in Asian and North African cuisines and traditional medicine. It helps speed up the healing process of the stomach lining, which calms it down and reduces the pain.
Gingerol and Shogoal are the main active components that give ginger its medicinal effectiveness. Both compounds affect the digestive system by reducing stomach spasms.
Ginger also promotes the release of blood-pressure-regulating hormones, which can contribute to the relief from nausea.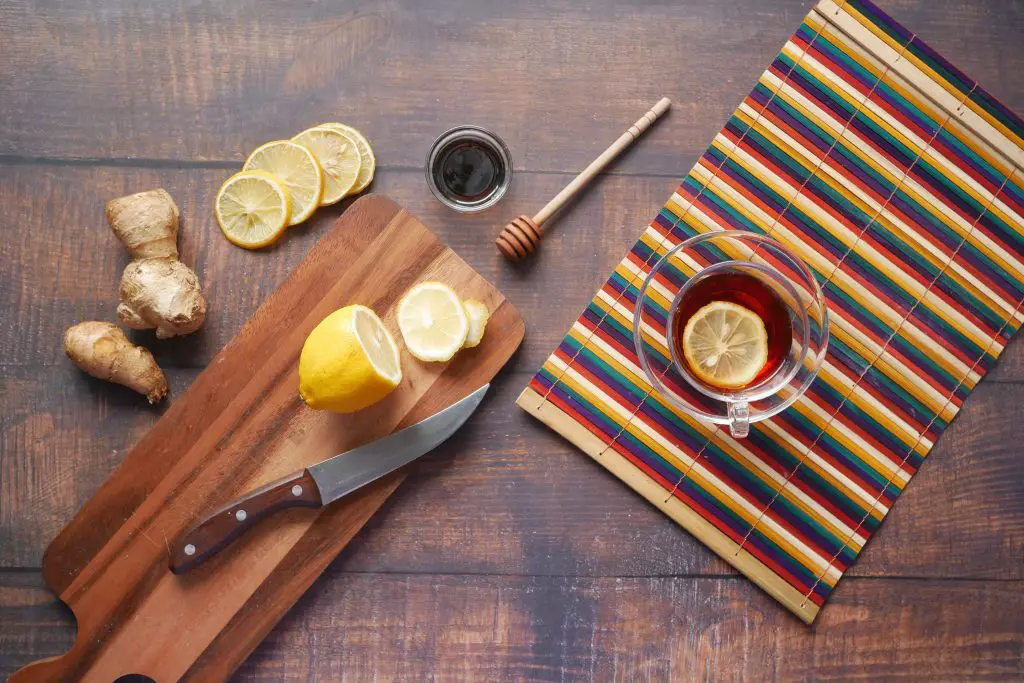 Could ginger be harmful?
In general, ginger is safe for consumption. However, for some people, it might cause acid reflux. Pregnant women should always check with their doctor before taking any herbal or traditional remedy, and ginger is no different.
If you take any medication for a chronic condition, check with your doctor for interactions. Also, check out this link to find a list of all the medicines that are not compatible with ginger.
Lemon and upset stomach
During an upset stomach episode, the acidity of the digestive system is higher than it should be. Lemon juice is a neutralizing acid, and taking, in this case, will balance the pH, bringing a much-needed relief by forming bicarbonate (salt) and water.
The high vitamin C content in lemons also boosts the immune system's responsiveness, speeding up the healing process. However, be aware that heat does destroy vitamin C, so try to avoid boiling lemons.
Print
Ginger Lemon Tea
This ginger and lemon tea is a great upset stomach and nausea remedy.
Ingredients
Fresh ginger root

Lemon

1

cup

Water

1/2

tbsp.

Honey
Instructions
Pour the water into a saucepan and bring to a boil.

Cut a 1/4 inch piece of ginger root, then place it in a heat-resistant cup.

Cut two slices of fresh lemon. Squeeze them into the ginger, then add them in.

Pour the boiling water over the ginger and lemon slices. Cover with a lid or a towel and allow to steep for five to 15 minutes.

Add honey to sweeten your tea.
Notes
You can use dried ground ginger instead of fresh. You might want to strain it before drinking the tea, though. 
The longer you steep the tea, the stronger the tea will be. 
Nutrition
Calories:
36
kcal
|
Carbohydrates:
10
g